HF:
The latest version of the shack.  I now have a full K-line installed as a K-stack. 
The station is made up of an Elecraft K3, P3+SVGA, KAT500 autotuner, KPA500, Palstar PM2000A true PEP Watt meter, a Balun Designs dual-core current balun attached to about 24.4-m (80-feet) of 450-Ohm window line to an "80-m horizontal loop" (actually about 305 feet or 93-m of wire) up an average of 14-m (46-feet). Power comes from the Astron SS-30M and the audio interface is a Heil Pro-Set Quiet Phone. The paddle is a W5JH "black widdow" #1028 that I built from a kit during 2012 January. On 6m I use the 93-m loop.
I now have an Elecraft KX3 with internal tuner, internal 8 NiMH batteries, and internal charger. Very nice!  I have already tested it field-portable with all carried in a small daypack.  I used an end-fed 41 foot "random" wire and have band specific counterpoises.  The KX3 internal tuner could find a match on all bands from 10m to 40m with/without the counterpoises.  I made my first QRP SSB contact with a Ukraine station on 10m with this set up, about 1050 miles per watt. I have a full Buddipole system for backup, emergency, and portable use. I now have a 4S2P LiFePO4 battery, Buddipole built from A123 cells, which are an amazing power techology that is super light-weight providing lots of power at a decent voltage.
2015 June I have added a FUNCube Pro+ dongle SDR and running SDR#. 
I added the K3EXREF module to my K3 on 2013 November 6. I have a G3RUH OCXO/GPSDO to generate the 10-MHz input frequency.
I have built the Elecraft AT1 41-dB step attenuator which is a very nice piece of equipment to have in the shack. I also have soldered up a hybrid splitter/combiner kit.  I also have an Elecraft XG3 signal source as well as the XG-50 which is used as a reference source for the KX3 calibration method.
VHF+:
ICOM 910H (2m, 70cm and 23cm). I have a K5GNA modified down-converter for the 13cm satellite downlink band to 2m.
Motorola GTX LTR 900 (33cm), Alinco DJ-296 (1.25m), Kenwood TH-D7 (2m & 70cm) and Yaesu VX-5R (6m, 2m & 70cm).
I have built a 222-MHz, 900-MHz, and 1.2-GHz "cheap-yagi".
From FM18lu:
VUCC 6-meters #1456 (KG4QWC)
VUCC Satellite #216 (N8OQ)
From FM07uv:
WAS Phone #57862 (N8OQ)
2014 ARRL November Sweepstakes Roanoke Division Plaque Winner - Single Operator, Low Power Phone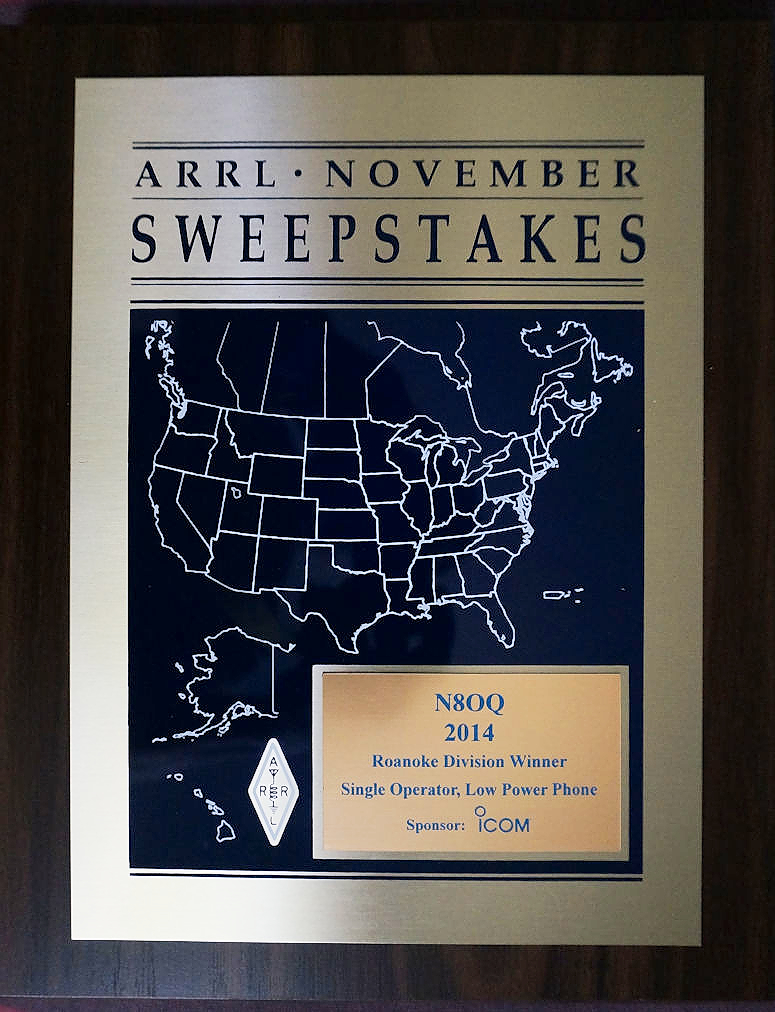 My page image is a picture of my rescue cat Nikita (Nik'). She has little use for HAM radio since her main hobbies are sleeping and listening to Elton John music.
73.