Thanks for visiting my page:
I will be part of the PJ6A team operating from Saba Island for the ARRL DX SSB contest this weekend. I hope to be active on the bands before and after the contest as PJ6/NV9L. If you worked PJ6A, PLEASE do not QSL me. If you worked me PJ6/NV9L, QSL's are as follows:
LotW within a month of returning.
QSL via bureau is free. Just send me a request via email or mail.
QSL direct to USA, please send me a self addressed stamped envelope
QSL direct international, please send a self addressed envelope with $1
IRC's will not be accepted.
TheARRL Centennial QSO Party

is in full swing! I will be part of the WI W1AW/9 team operating February 12th-18th. I am also part of the IL W1AW/9 team operating next December. Since I am a Maxim member (worth 50 points), you'll probably hear me calling CQ with my call sign too. If you are interested in what the Maxim Society is all about click here:

http://www.arrl.org/maxim-society

.
The operating conditions at my QTH are an Icom 7700, an Elecraft KPA 500, a 3 element tribander 45' up, and a loop skywire for the low bands. I recieved my Tech ticket in 2006, my General in 2009, and my Extra in 2010. I fell in love with Dxing & contesting in 2011. You'll usually find me on SSB & RTTY since my CW speed is only about 15 WPM. Some of the contests I've competed in were from WB9Z's QTH in Iroquois County, IL. When you see his antenna farm below, you'll know why. There are so many facets to amatuer radio and I hope to experience them all. I think I may be addicted to this hobby. Hello my name is Valerie and it's been 4 days since my last contact.
Besides my obsession with amateur radio, I enjoy camping, traveling, hiking, fishing, bowling, gardening, and baking. I have also taken some sailing and flying lessons.
Here I am in my shack with my dog Skipper nicknamed K3POD since she is a rescue with only 3 legs
Here I am operating the 2013 WPX RTTY contest from WB9Z's amazing shack.
We broke the 1st place 9-land record and made top 5 USA all time record for multi-single.
This is at the end of the 48 hour contest = No sleep, no shower, no make up.
Below is my Hy Gain TH-3 antenna. This was the best $100 I ever spent!!!!
Ok, above is my one lowly antenna; below is my boyfriend's magnificent assortment of antennas.
But that's not what attracted me to him, well maybe a little (lol).
It was his pick up line. He asked if I would hold his frequency for him right after I worked him during CQ WW SSB.
Here I am operating the special event station at the 2011 EAA Fly in.
Talk about your high noise levels.Except it wasn't plasma TV's or power lines,
it was jets and war birds with radial engines.
This QRP radio was my very first home brew project. And~~~ it worked on the 1st try!!!
This is WB9Z's custom-made 80 meter rotatable dipole.It's about 135' long and 5 7/8" at the center (YL not included).
I support the DX Code of Conduct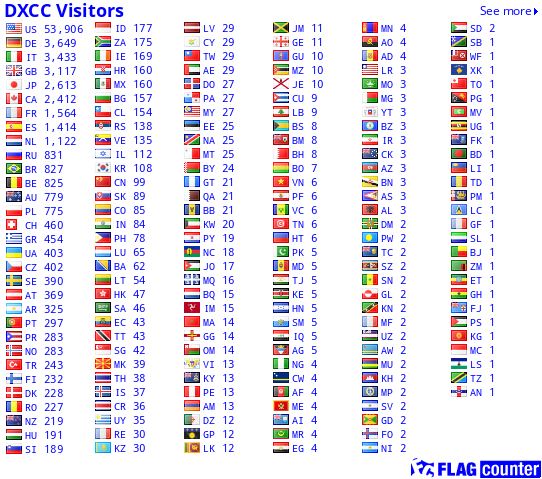 Large Visitor Globe