Thanks for visiting my page:
Attention contesters, even though my QTH is in WI, I've operated some contests from WB9Z's station in Iroquois County, IL.
My operating conditions are a Yeasu FT1000MP Mk V radio, a Yeasu FL-2100B amplifier, a 3 element tribander 45' up, and a loop skywire for the low bands. I recieved my Tech ticket in 2006, my General in 2009, and my Extra in 2010. I'm mostly into DXing & contesting on SSB or RTTY, since my CW speed is only about 15 WPM. There are so many facets to this hobby and I hope to experience them all. Where's that Ham Radio Addiction Hotline #?
I am currently a member of: The Northern CA DX Foundation, The Metro DX Club, The Greater Milwaukee DX Association, The Society of Midwest Contesters, The ARRL, The MCWA, The W/K Field day Group, INDEXA and the YLRL. I am also an ARRL VE. I think that covers every letter in the alphabet. I was also the N.A. pilot station for Swains Island NH8S in 2012. I am honored to be the lead pilot station for Wake Island K9W http://www.wake2013.org/ this coming fall and the just announced Amsterdam Island DXpedtion FT5ZM January - February of 2014 http://www.amsterdamdx.org/.
Besides my obsession with amateur radio, I enjoy camping, traveling, hiking, fishing, bowling, gardening, and baking. I also recently took sailing lessons and have about 13 hours logged in a Cessna 152.
Here I am in my shack with my dog Skipper ~ aka tri-bander since she only has 3 legs.
Here I am operating the 2013 WPX RTTY contest.
Below is my Hy Gain TH-3 antenna. This was the best $100 I ever spent!!!!
Here I am operating the special event station at the2011 EAA Fly in. Talk about your high noise levels.
Except it wasn't plasma TV's or power lines, it was jets and war birds with radial engines.
This little QRP rig was my very first home brew project. And~~~ it worked on the 1st try!!!
This is my boyfriend's custom-made 80 meter rotatable dipole. It's 136' long and 5 7/8" at the center.
230 COUNTRIES WORKED TO DATE!!!!
COUNTDOWN TO DAYTON 2013
I support the DX Code of Conduct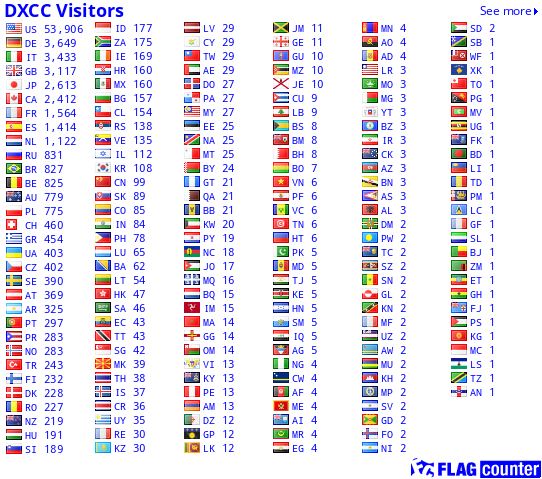 Large Visitor Globe