Thanks for visiting my page:
Contesters: Some of my contests were done at WB9Z's QTH in Iroquois County, IL and when you see his antenna farm below, you'll know why. I competed in CQ WW SSB from my little pistol station in Kenosha county WI.
The operating conditions at my QTH are an Icom 7700, a Yaesu FL-2100B amplifier (I rarely use this), a 3 element tribander 45' up, and a loop skywire for the low bands. I recieved my Tech ticket in 2006, my General in 2009, and my Extra in 2010. I fell in love with Dxing & contesting in 2011. I'm mostly on SSB & RTTY, since my CW speed is only about 15 WPM. There are so many facets to this hobby and I hope to experience them all. I think I may be addicted to this hobby ~ Hello my name is Valerie and it's been 4 days since my last contact.
I am currently a member of: The Northern CA DX Foundation , The Metro DX Club , The Greater Milwaukee DX Association ,The Society of Midwest Contesters , Maxim member of the ARRL , The MCWA , The W/K Field day Group , and INDEXA. I am also an ARRL VE. I think that covers every letter in the alphabet. I was the N.A. pilot station for Swains Island NH8S in 2012 and lead pilot for Wake Island K9Wthis fall. I will also be the lead pilot for the upcoming Amsterdam Island DXpedtion FT5ZM January - February of 2014.
Besides my obsession with amateur radio, I enjoy camping, traveling, hiking, fishing, bowling, gardening, and baking. I have also taken some sailing and flying lessons.
Here I am in my shack with my dog Skipper ~ aka K3POD since she only has 3 legs.
Here I am operating the 2013 WPX RTTY contest from WB9Z's amazing shack.
This was my 1st time doing RTTY and we still managed to score 5,902,944 points, a new 9 land record.
Below is my Hy Gain TH-3 antenna. This was the best $100 I ever spent!!!!
Ok, above is my antenna; below is my boyfriend's antenna farm; WB9Z. And what a bumper crop he has.
This is my new (to me) IC-7700!
Here I am operating the special event station at the 2011 EAA Fly in. Talk about your high noise levels.
Except it wasn't plasma TV's or power lines, it was jets and war birds with radial engines.
This QRP radio was my very first home brew project. And~~~ it worked on the 1st try!!!
This is WB9Z's custom-made 80 meter rotatable dipole. It's about 135' long and 5 7/8" at the center (YL not included).
I support the DX Code of Conduct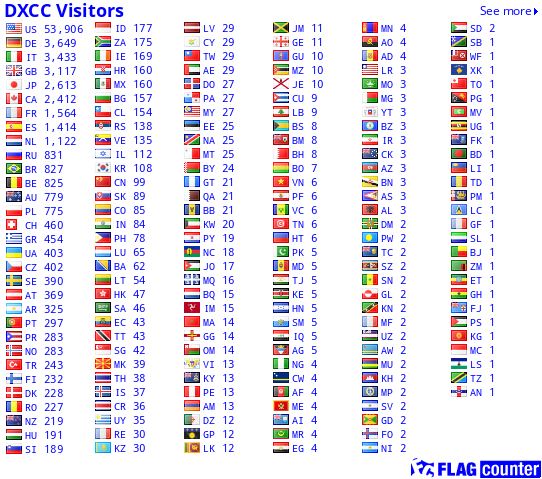 Large Visitor Globe