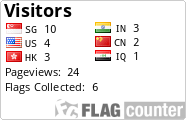 *thanks for visiting my site, my name is Bernhard and i live in the southeast part of Austria in a
small village "Neudau", the sealevel here is about +289m, this is the area of "Thermal Spas" in Austria,
Bad Blumau, Bad Waltersdorf, Bad Stegersbach, Bad Loipersdorf and Therme St.Gotthard(HA).
my distance to S5 and HA is about +35km.
* i am ham operator with license, made in dec. 2008.
* i am member of ÖVSV, ADL 601, Graz
*my antennas at home are all "Indoor!": Loop 21m long, 45°, for 20m,30m, 17m, feeding p. 13m
                                                               Loop 16m long, standing, for 15m,17m, 12m, 10m, feeding p. 13m
                                                               Loop 43m long, horizontal, for 40m, 12m, 10m, feeding p. 10,5m
*my antennas at second QTH are:        Delta Loop 90-100m, horizontal, for 160m-15m, with CG 3000 Tuner, feeding p.8m
                                                               Wire pyramide +90m, horizontal, for 160-10m, (with CG 3000 Tuner), feeding p.16m
*my transceivers are: Alinco DX70TH, Alinco SR9T, Sommerkamp FT 250.
*my power is 100W, but i am allowed to make 200W PEP SSB.
*the indoor antennas make a phantastic job and some antennas i also can tune for the 6m band.
*here a few ham awards:
tnx
73s
OE6HLF       Bernhard