I started ham radio in  the 1980s as OH2BJK, I got a new  call sign  OH2RF in 1982.
The new era of call signs started 1.1.2008 in OH. I was signing OH2RF from  1982 till 2008. I am a holder of  call signs OH2M, OH2RF, OG0M and OG2M. My profession is gastrointestinal(GI) surgeon consultant in emergency care unit (ECU) in the Helsinki University Central Hospital (HUCS). I also run own company, which provides health care services (since 2009) in the capital area.Main hobby is ham radio and DXing.
Station  and antenna set up:
In KP21TD:
6 m : 6M9KHWA 9 el yagi with 15 m boom at 39 mh
20/15/10m : 10 el tribander with 7,2 m boom ( JP2000) at 42 mh
40 m:  2 el yagi at 35 m high
17/12 m:   3+3 el WARC duobander yagi  at 21 mh
30 m : 2 el yagi at 19 mh
4 m:  8 el yagi  EF0408 design is  at 16 m high
2 m: 19 el yagi at 8 m high
80 m: delta loop NE-SW for CW and 1/4 lambda vertical with elevated radials for 80 m SSB.
160 m: 2 el vertical 22m h with elevated radials
RX antennas Hi-Z 4 sqr for 80-160.Beves 210-240 m to 350, 30 degrees
Radios: FTDX5000MP, FTDX3000, FT847x2, IC-970D, FF-5K, OM3500HF, Expert KFA 1.3 , PW-1 and GU84B for 6m, Beko HLV-600  and OM1002+ for 2 m.
Second tower:
4 x 7 el yagi 6 m LFA2-HD Innovative Antennas stack 33/27/20/14 m high
7 el Eagle 4M7DX by Vine Antennas for 4 m at 11 m high. 4 m set up modified FT847
2x 3 el SteppIR 37/29 m.
I have a high power licence for 6 m.
Third tower:
6/4 m duobander with 6 el on 6m and 5 el on 4 m at 10 m high
19 el 2 m yagi (3,5WL) at 8 m high
At summer house (KP21TE):
2x4 el SteppIR 47/30 mh
2 el 80 m yagi at 42 mh
2x6M7JHV by M2 at 32/25 mh
Rotary dipole for 30 m at 23mh
T-Vertical with 70 radials for 160m, flags for RX.
Separate military surplus tower 24 m with 6 el DK7ZB yagi for 6 m at 23 meters high
Radios: TS-480HX,MA-5,and Lin amp Discovery GS35 for 6m.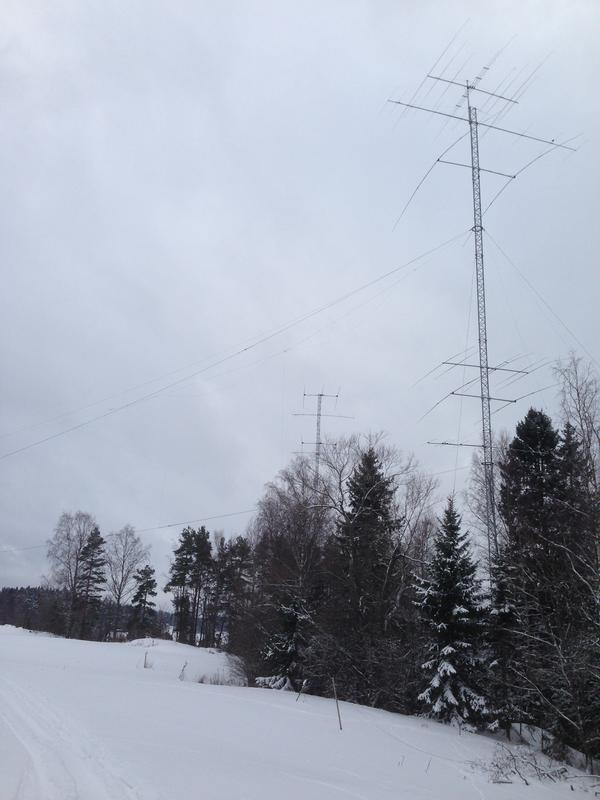 43
RX 4 SQR HI-Z and beve 250 m to 290 degrees