Dear fellow ham radio operator!
Please find here some information on OH2BR ham career.
I started my active ham career in early December 1960 at the age of 15. Before that, I had been an active SWL over a year listening to the ham bands and studying Morse code. My first station consisted of a TRIO 9R-4J communications receiver and a homebrew 15W XTAL transmitter and PSU. My novice license gave me the right to use maximum 15W output power and a crystal controlled transmitter ONLY on CW so I studied further to upgrade to General class (the highest class in Finland equivalent to Extra class in the USA). Also I had to make at least 300 CW QSOs before appearing before the examenation board and show my log to the examiners. It had to look neat and orderly. Happily, I passed that exam after 10 months of hard studies.
In October 1961 I upgraded to Extra class and here is my station after that. The receiver is a Finnish-made RP-65A and the 50W AM/CW transmitter was built for me by Reijo R Laine, OH2EW (SK), who was the elder brother of the world-renown contester and DXer Martti Laine, OH2BH:
Since then I have had many US made and Yaesu radios. I was a Yaesu distributor in St. Petersburg between 1992-1998 so I had full range of Yaesu radios available to me. Later, I have added also Alinco DX-70 and Juma TRX2A+PA100-D to my station.
Antennas are my special interest. I first used several home-made and commercial verticals and then upgraded to cubical quad and yagi beams, first a HB9CV bamboo beam. Nowadays, I prefer monoband yagi antennas. No tuners needed! 
Here are some pictures of my 30,5 m high tower for 80/160 m bands. The tower was built by Pekka OH7RM.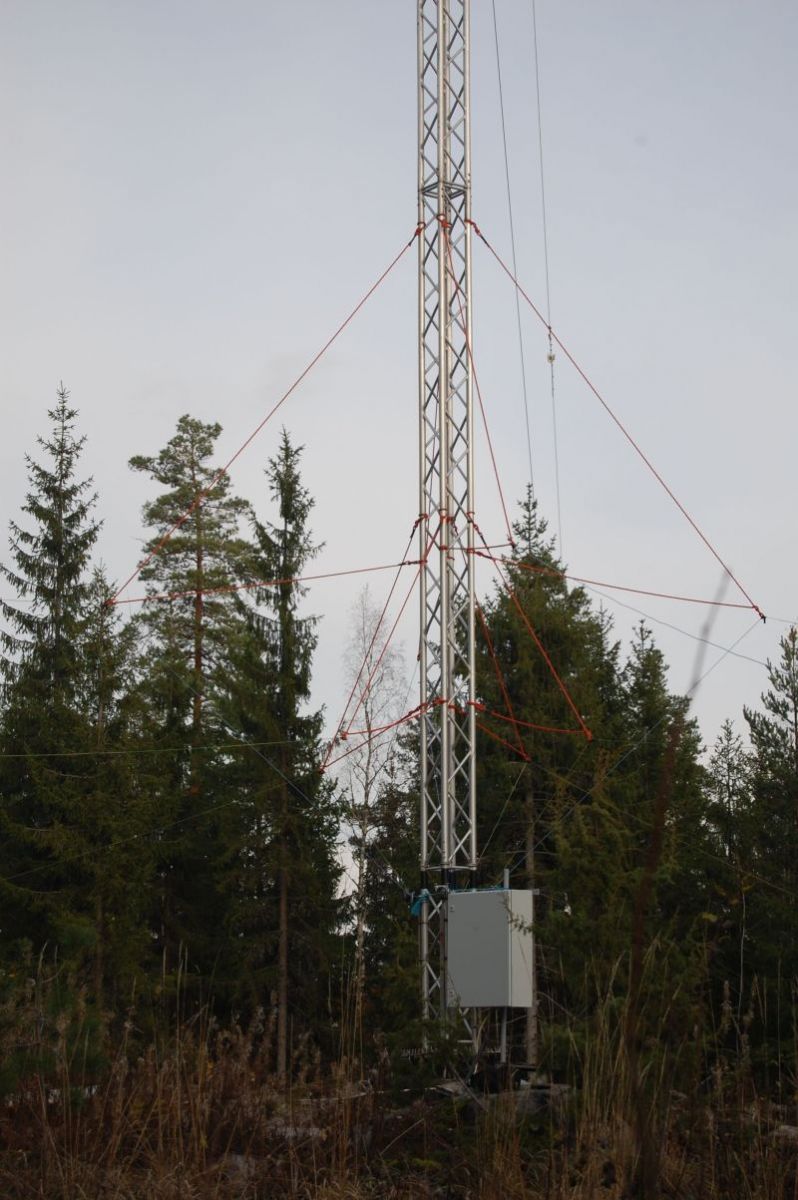 Arska OH2EC is standing beside the matching unit he designed for the low-band tower:
Here you can see all of my three towers. The 12m high tower has antennas for 6m, 2m and 70 cm. The second tower is a rotatable 36m high hot dip galvanized steel tower with monoband yagis for all bands from 40 to 10 m, all made by The Steel Tower man Jaska, OH8QD.
In 2000 I visited Pitcairn Island during the peak of sunspot maximum. In three months of operation I made 56 239 QSOs as VP6BR.
You will find much information about Pitcairn history and ham activities etc. at  http://www.qsl.net/oh2br/
Another story is also at  http://files.kotisivukone.com/ohdxf.kotisivukone.com/vp6br_story.pdf.
Now I keep my thumb up for Mark, ON4WW, to make a new Guinness record from Bouvet Island, 3Y, in 2016.
Thank you for visiting my page. CU on the ham bands, 73!