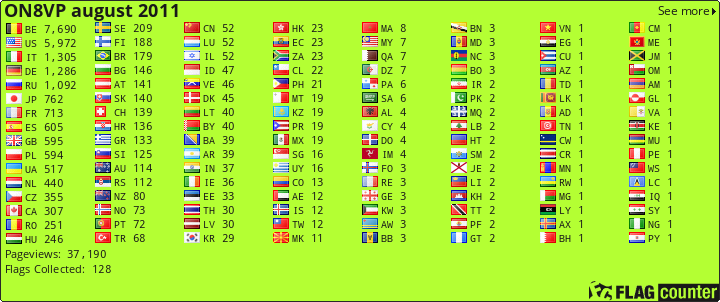 My hamshack dated 22/09/2012
UPDATE 11/11/2013
_________________
After a busy year of ham activities comes a welcome break. No big DX peditions or events, no contests and no fielddays for a while.
A small residue of the " Radio- virus" emerges when i travel to PA land to activate some Fauna and Flora or Iota places just as PAFF 015 or EU146 in the little port of Serooskerke on the isle of Schouwen Duiveland.
Wonderfull area called "Schelphoek" which means place where you can find or gatter shells !
Below some pictures of the hams joining me for one days trips , the car serves as occasional shack, hi. I don't have to tell we make a lot of fun .and qso's
UPDATE 08/07/2013
________________
The crew just returned from Märket reef after a long but satifsying trip.
We made 17.299 contacts during 6 days. Not bad as this was done with unexperienced OM's.
I would like to thank all hams making this expedition workable with reduced budget . Märket Reef will remain unique place to activate.
Below some pictures ;
Update 22/09/2012
-------------------------
Finaly got confirmation about our DX pedition to Märket Reef. We will be QRV from June 30th till July 6th 2013.
All arangements have been taken and from now on i will enjoy the planning. ON6QO Mike, ON4CCP Koen, ON4LEM Philippe and ON5JT Jean -Pierre will join me to as be supposed to be a stressless DX pedition which means no particulary target has to be achieved.
I applied for the OJØV call and got it last week; there is no way back now hihi!
Update 29/07/2012
_____________________________
After a long day trip back from Corsica i am finally back in the shack. I made more or less 1000 contacts, all in CW! I tried to do some phone but due to local QRM it was not possible at all. My set up consisted of a 12 m wire vertical and an FT897D producing 80 W which was enough to make contacts all over the world. As it was a holliday style activation i was not able to respond to all calls but i tried to satisfy all as much as possible.
Situated in the south part of the Isle near Porto Vecchio on a hill 650 m ASL the location seemed to favorise all contacts to any direction except to the North, howeverone day i had a Japanese pile up for 20 min
Below some pictures;
TK/ON8VP/P
UPDATE: 30/12/2011
-----------------------------
Just back from PA land where we were activating Iota EU146 on the Isle of Schouwen Duiveland. The group of operators consisted of ON6QO, ON5TC, ON5TQ and myself. We made about 2300 contacts in CW in 3 and a half days. Not too bad i should say for a holiday style DX pedition. The weather was just as it has to be, dry and not too cold, only the last night we had stormy weather but the antenna resisted extremely well and did a fine job.
Equipment;
----------------
Icom 7700
Vertical Hygain DX88
N3ZN -ZN5 Paddle
. a lot of ambiance.
Below some pictures.
Fortunately, one is working From left to right, Cécile , Michel, Ronald and Peter.
Michel at work.the dope always at handlevel! Yes, the antenna is fed from below, hihi.
Michel preparing his nightshift The lighthouse, once printed on a Dutch Gulden banknote.
Men and lady at work! Beside the contacts we took some breath at the beech, dunes .and enjoyed the nature on the Isle.
HISTORY/STORY
------------------------
Ever since my youth i was playing with transmitters (broadcasting 5 Watts) and the traditional WALKIE TALKIES.It all started at the age of 9 when Saint Nicolas ( children's best friend for a month or so) brought me some playgood , one of it never went out of my mind and since then the small walkie talkies grew up to the rig i actually work with as you can see on the pictures.
Due to different reasons it took me a long time to pass the Harec license and becoming a real Ham radioamateur. Since 2007 i am "playing" (yes still playing.) with my stuff and i am still addicted to it.
My favorite band is 40 m and favorite mode is CW which i can accomplish at a speed of 25WPM. I like trying out antennas , especially verticals in different shapes. Actually i am working at a" field "version of a 43 foot vertical made from a 60 foot fiberpole and electrical wire. I will try it soon as time permits.
My playground consists of:
Transceivers
1) Yaesu FTDX 5000 MP
2) Icom 7600
3) Yaesu FT 897D
4) Yaesu FT 8700
Antennas
1) Hexbeam 2 elements 6 bands at 12 m on a crank up/tilt over tower, asl 100 m
2) Steppir vertical Bigir MK3 with 80 m coil, ground mounted( a jewel when it works.)
3) Twin sloper from Alpha Delta 160-80-40 m
4) Diamond ant.for 2m/70 cm
Amplifier
1) Actually working with a solid state amp. from SPE about 2 kw output but i like also working QRP when trying out new configurations.
----------------------------------------------------------------------------------------------------------------------------------------------------------------------------------------
Below some pictures for your information:
My toys, the newest ZN-5 key and ZN-9A IRONMAN, both acquired at N3ZN in Pittsburgh USA.
These 2 pictures during UBA CW fieldday in 2009. ON6QO Mike and ON5TQ Ron andON2KMJ Jean-Paul (red shirt) after hours of hard working.and beers!
This is my new QTH still in finishing conditions. In the middle of the Hills of the Pays des Collines.
)5TQ 5tq
This picture shows John ON4UN in the middle (author of Low band dxing) and his pupils after getting their full license( Harec license)in 2007. Who else could we wish for teaching us and becoming a real Ham??!! I am on the right.