Hi, I started on a early age with CB dx-ing.
Main interest in this hobby is contesting while playing with monoband antennes.
Visit www.pi4dx.com to get the right impression. The PI4DX station is very close to my house where I live today.
In the begin of my radio time I was very active with the group PI4COM. (check www.pi4com.nl)
The last years I am only supporting the boys of PI4DX Hobby time is hard to find.
---
A small part of the hobby is sharing our special hamradio items which we sell, like automatic antenna tuners and power meters.
Just check our website.    http://www.stockcorner.nl
---
I did nice DX trips to HB0 and was active as 9G5BQ in Ghana. After 5 visits the 9G5BQ calls stopped. I traveled also a bit to VE5, VE6 & VE7,W, ON, F, DL, G ,OE, HB0, HB, SV,OZ, A41, S21, CN, LX , SM, TA, VR2 and I am always searching for the antenna farms
but I was not active fromall theseplaces
....
I own the PA7DX call from Januari 2013. I played on the HAM HF bands from 1993. I lived for 28 yaers in Rotterdam and now in a very small village. I am active from 1993 untill now and I still enjoy the hobby.My job is a service area manager by a global Communication and Security compagny.
>>>> Every QSL is answered via buro or direct with SASE <<<<<< I do not use EQSL anymore.
Regards and 73 tu TEST
Main picture : My QSL card since 2013
Below:
1 : Total antenna setup at contest location PI4DX jan 2012
2 : 5 element wide space 20 meter beam on a 12 meter boom, Tower is 24 meter high at contest location PI4COM.
3 : Our family dog !
Heredown a long time ago in 1996 I had a GAP Titan DX vertical antenna for 3,5 Mhz - 28 Mhz. The space was limited but I worked JA on 80 meters. (My parents at that time were not so happy........) Below the GAP there was a small 16 element UHF vertical beam
Heredown before the GAP I had a tiny triband Fritzel FB-13 dipole. This is arround 1994
Back in 1994 I collected some radio units: My budget was very limited at that time. I wish I had never sold my Kenwood Custom Special 599 line. Later on I also bought a Kenwood TS-430 line. You can also see the Yaesu FC-902 tuner and some small toys.
Heredown my hobbyroom back in 1997. Kenwood TS-700,TS-850,SW-2100,MC-80, Dentron GLA-1000, AEA PK-232, PK-88 Yaesu FT-2700
In the days of 1992 my QSO's started on VHF/UHF. Some old Kenwood TR-7400A was founded and I studied a lot for the CW exam wich I passed in 1993. On the picture below you can see my ZX-Spectrum computer wich I used for receiving Fax pictures on 137Khz. On this 137 Khz in those days all the weather cards were transmitted. I build my own receiver for that frequency with help of my friend. So funny, I did learn a lot aboutelectronics.On the picture you can also see the analoge PABX modem (under the small monitor) wich I used to send my messages to the BBS systems to the world. (before email) . The 2 big black units are 5,25 inch floppy drives for my ZX-spectrum. All kind of converters to let it run. I upgraded from Commodore 64 to Amiga. After that to DOS wich you can see on the pictures. Amazing how far Amiga was in those days. After DOS I upgraded to all the Windows versions during the years. But I still doubt to switch completely to Apple today. In my opinion DOS was the most stabel operation system ever made. (Yes Linux is also great)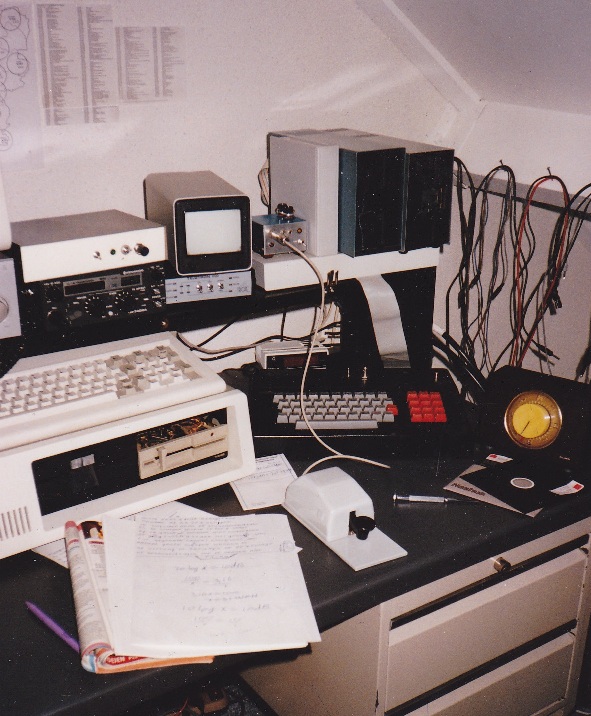 Vintage from 1998 : Heredown on the location of PI4COM my contest setup : Kenwood TS-850SAT, CT from K1EA with a PA0ZH homebrew AMP with a 3-750Z tube. The big PI4COM box is the HV-supply for the AMP
�
�