From the 13th of dec2013till the 6th of jan 2014 I run the special event station: PA14HNY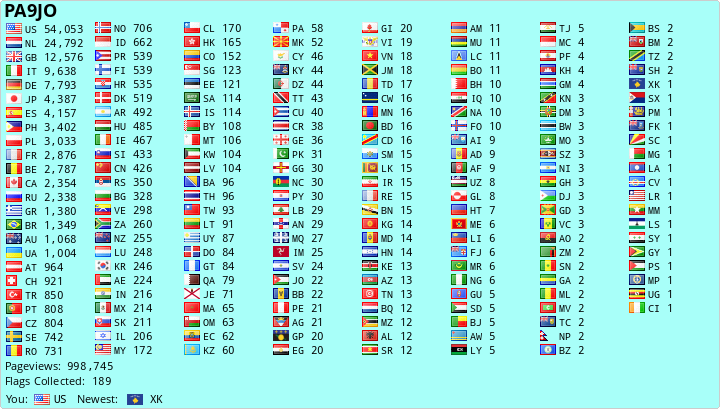 CLICK ON MY DASHBOARD (above) AND SEE MY CQFRIENDS PAGE
CLICK >>>> WWW.PA9JO.COM<<<< FOR MY PERSONAL WEBPAGE !!!
MJ/PA9JO

is the DXpedition call sign of PA9JO, we were at Jersey from

June 21 to 24

2013




Information about this Dxpedition at:

www.cqfriends.com/mj2013

>>>>>

QSL MANAGER PA1AW

<<<<<
LX/PA9JO is the DXpedition call sign of PA9JO, we were at Luxenbourg from Aug 30 till the 6th of Sept 2011
information about this Dxepedition at http://www.cqfriends.com/lx2011 >>>>> QSL MANAGER PA1AW <<<<<
From 3 to 30 April 2013 I did run the special event station: PA13KING
QSL INFO :
Qsl

received direct

is

returned direct

(please send a SAE)

NO IRC's

Qsl received by the bureau is returned by the bureau.

Also LoTW

We do NO longer E-QSL sorry.

Also Logbook on CQfriends.com
Thanks For The Nice QSO, Merci pour QSO Agréable, Vielen Dank für Den Netten QSO, Gracias por QSO agradable.
Hello my name is Jo, like a lot of us it all started at the 11 mtr band, I started about 34 years ago.

On this moment I'am active on all the bands where the action is ;-).

The radio I use is the Icom-7800 with the Heil PR 40 mic,

Symetrix 528E voiceprocessor and the great W2IHY EQ-plus.

The antenne is a 3 elm Stepp-IR. I also use a small vertical for 70cm and for 2 mtr a Cushcraft 13 elm.

This is just a short story about myself. I hope we meet (again) very soon, if you want more info check

www.PA9JO.com

73's Jo.
The 3 elm winter Stepp-ir ;-) and than it is summer
Some Awards
SSB and also a mixed Worked all zones (WAZ)
Phone and Mixed
Basic (WAS) worked all States and also 20 meter in Phone (WAS) worked all States
Worked all Continents (WAC) and IOTA Award !!

I Also like to make a ride on the bike !! further a picture of direct send Qsl cards