MEUS EQUIPAMENTOS NO MOMENTO.
KENWOOD TS 2000 - FABRICADO EM 06/2014
ANTENA DIEX 10-80 METROS
ANTENA VOYAGER MA 6000
ANTENA DIRECIONAL 07 ELEMENTOS VHF
ANTENA SABIÁ MASTER 10,11 E 12 METROS
ROTOR DE ANTENA

 
   SORRIA JESUS CRISTO LHE AMA.   
Obrigado por visitar minha pagina, sou radioamador desde 2012, Ficarei grato se confirmar o contato feito e me enviar o cartão QSL, aceito EQSL.cc e outros cartões eletronicos, enviarei cartões a todos que me enviarem seu cartões.
MINHA FAMILIA.
A BASE DE TUDO! !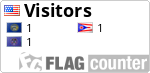 1500236 Last modified: 2014-12-06 19:59:34, 6266 bytes
Login Required

Login is required for additional detail.
You must be logged in to file a report on this page
Currently updating logbook display.