Low power station.
Maximum power: 80 Watts
               Click for weather forecast:
RAILROAD PLAQUE STATION IN FRONT PY2HH QTH
Also a SWL station. My SWL call is: PY2593SWL
PLEASE DO NOT SEND QSL CARDS VIA BUREAU - I'M NOT MEMBER OF ANY BRAZILIAN BUREAU.
DXCC (Mixed and Digital) and WAS (only - JT65 MODE)
---
"New Engine": Small Vintage Dell Server (1U) - the big left flat box - running Win 7 ULTIMATE - 64 bits - 6 GB RAM and all sort of ham softwares. Note: the flowers are "Christmas Flowers" - september 2014 from our backyard's garden. I'm 70 years old still solving the cube in 2 minutes ... hi !!!
---
Nowadays PY2HH station setup: TS-830S, AT-230, VFO-230, SM-220 - IC-706MKIIG (for VHF/UHF bands).
Résumé: Born in 1945 and since teenager being interested in radio and electronics. Starting in repairing tube radios and tube television equipments. Late working in transistors and digital. In 1968 graduated geologist by the Sao Paulo University. As radioamateur first licenced as PY4ACB in1979 next year approved to Extra Class using for many years the call PY4HH. In Brasilia - PT2AC - former Executive Director for the LABRE, the National Radioamateur League in Brazil. Also PY2OK for a while. As radioamateur mainly operate digital modes (JT65, RTTY and PSK31) and cw. In his professional life as geologist he works in all states of Brazil, including 5 years in the Amazon. Today retired, but working as consultant on engineering geology. He is married since 1969. His wife is Smyrna and they generate 3 boys Marcio, Tulio and Cicero and 2 grandaughters - Luiza and Julia Miho, plus 2 grandsons Joao Pedro and Arthur. He appreciate very much to play saxophone and clarinet, to care dogs, and to live in nature. As italian descending loves music, in special the italian classics, operas. Loves the good food and all kind of arts.
To all you greetings from the marvellous brazilian land.
73´s ES GD DX DE PY2HH - Op. Pedro
---
Wow... Navassa ???  Hooray !!!

  Yes, sure Navassa Island Hi !!!
---
Below my first both hams confirmed EUROPE 9 HF BANDS (PY2HH x SM0MEM).
(Also first South America 9 HF Bands for my dear friend Peder SM0MEM).
---
My tribute to the King of Football (soccer) - Sir Edson Arantes do Nascimento - Pelé
This picture is the front of my QSL card.
Below First Day Circulation stamp comemorative for the Gol number 1.000 (one thousand) of Pelé in 1969.
In his professional live Pelé reaches 1.366 goals... Fantastic.
More about Pelé in Wikipedia, see on links below:
Monday 13 January 2014
Pelé: The greatest of them all.
---
Below my
first confirmed CW DX QSL card
28 MHz on
25-dec-1979_
(36 years old - thank's PA0HR)
My first call was PY4ACB located in Araguari - Minas Gerais State.

---
Below my

oldest confirmed LOTW QSOs
from
1988-04-16
LA1MFA
and
1988-06-25
SM5FUG
(

26 years old

- thank's LA1MFA and SM5FUG)
---
Below some old and special brazilian qsl's of my collection ...
Above QSL from PY4OD - OM Talma - the ever higher Top Honor Hall from Brazil (381 DXCC entities).
---
Below two incredible and very nice confirmations - V51B and SM0MEM on Top Band (my conditions was 80 W, antenna 1/4 wave long wire (39.23 m long) - TXRX IC 706MKII-G.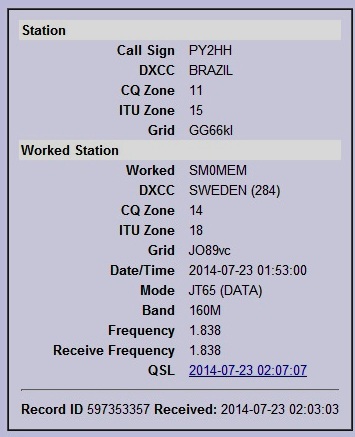 ---
Bellow old QSL's from the CCCP - old Union of Socialist Republics.
---
Below QSL's of the old German Democratic Republic before the drop of the Berlin Wall.
---
Below the 2 most distant QSO's (18,940 Kilometers or 11,770 Miles) Okinawa (deleted): JR6HI on 50 MHz CW and JR6TJP RTTY on 14 MHz.
Hi. Broken record: QSO PY2HH x JD1BDY (Ogasawara) Grid to grid = 11,804.9 mi (18,998.1 Km). See below:
Station
Call Sign
 
JD1BLY
DXCC
 
OGASAWARA
CQ Zone
 
27
ITU Zone
 
45
IOTA
 
AS-031
Grid
 
QL17cc
Worked Station
Worked
 
PY2HH
DXCC
 
BRAZIL (108)
CQ Zone
 
11
ITU Zone
 
15
Grid
 
GG66kl
Date/Time
 
2012-12-13 00:03:52
Mode
 
SSB (PHONE)
Band
 
12M
QSL
 
2013-07-15 10:28:03

---

Record ID509140760Received:2013-07-15 10:28:03
---
Wow - What a Wonderful DXpedition (all bands were worked from 160 to 6m).
Wow - Another nice DXpedition (were worked 80, 40, 20, 15 and 10m bands for my 5BDXCC).
Wow - Another nice DXpedition (were worked 40, 20, 15 and 10m bands for my 5BDXCC).
---
Below: PY2HH "opening" the 80m band on JT65 mode on june 2013 ...
---
Below older PY2HH operating position: 2 x TS-830S ** 2 x digital VFO-230 ** SM-220 ** IC-706MKIIG ** FC-757AT ** PK-232MBX
All keeping factory specifications and working flawless...
---
My 2 El beam for 7 MHz at 52 feet and my Triband for 14, 21 and 28.
Antennas made by PP5UA - Pedro.
Self-supported tower designed by PY2HH. All steel fully hot zinc protected.
an
---
---
---
---
---
---
One of my oldest licences - my second call PY4HH, from 1980. My first was PY4ACB.
---
Below - me as PY4HH, in 1980. FT 901DM line and a Ciclone 1 Kw amplifier...
---
Below me as PY4HH in 1990. A Collins 62S (rare xverter for 6 and 2 meters), FT101ZD and my proud Vintage Computer (TRS-80 clone - 16 KB RAM drived by cassete tape recorder). At that time I interfaced this computer to a Tono Theta gear by means of a self made assembler communications program and then I discovered the digital modes (RTTY, AMTOR, FEC...).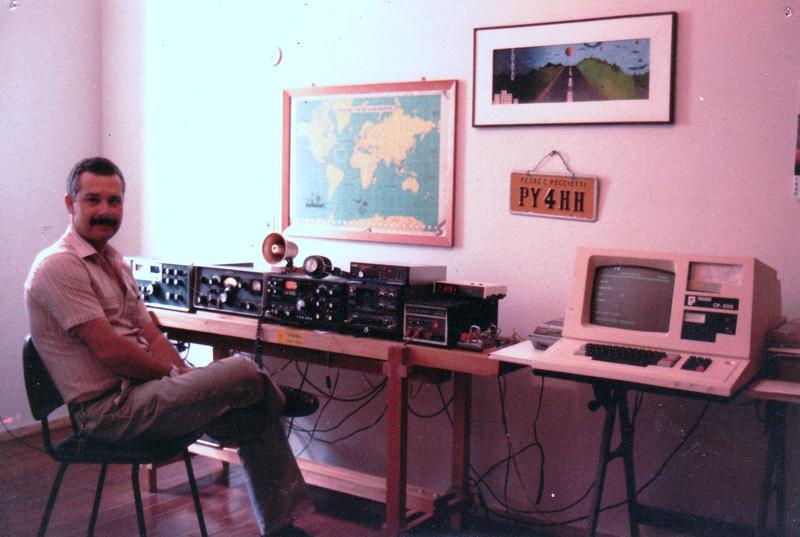 ---
Nowadays licence: PY2HH :
---
Colonel Marcos Pontes - PY0AEB (ISS op) - First brazilian astronaut.
Autograph to Pedro - PY2OK
---
end... for now, hi.