PY2NGN

Brazil




Login is required for additional detail.

QSL: LOTW , DIRECT,EQSL

Email: Login required to view

Ham Member Lookups: 22535
How it all began?

One afternoon returning from service with my Uncle Edward, in the car he spoke of a friend who had a radio and spoke to the whole world, and that this had radio channels, I do not understand anything about it and was in the year 1982 I went with my uncle in the house of his friend and there I saw on the table a citizen band radio, and it was Mr. Camilo PX2D5503, and when I saw him talking to Argentina, Chile, and other states of Brazil was delighted .. He had a Cobra DX, a linear Delta 120, an antenna 5 / 8 wave. So I take my leave to strip the citizen. I won my Mother and my Father a radio CCE SSB 8000 was launched at the time, met in 1983 and became a great friend PU2MIK Eger which encouraged me greatly to amateur radio, that's when it all started! Since then there have been many friends, PY2EX(PP2EG) Eger, PY2ZJ good friend Roberto, Jurandir Bernadino , Alexander, Antonio Szitas and many others, the radio was a great invention and is a really cool hobby! Nothing can describe the thrill of receiving the first character QSL, the first DX, the first radio and antenna all this is really cool,
I hope to see you in the air
A big hug
73
My Family

QSL and magazine W4AT
friend Claude. very cool!


25/12/2012 Lindo Presente de Natal do meu grande
amigo Claudio W4AT

25/12/2013
Gorgeous Christmas gift sent by my friend Claudio W4AT,
very very cool, Claude W4AT Thanks, God bless you!

Minha cidade(My City)
Video my City

Op: Band 40 M- 15M - 10M - 6M -2M
MODE - CW
QSL VIA DIRECT MY ADDRESS
ANTENA YAGI- DIPOLE - VERTICAL 3X5/8 VHF
POWER 100 WATTS
All QSLs are answered!
Courtesy end of the QSO is the QSL!
Stay with God all!
Rotor feito em casa por meu pai e eu, com peças encontradas
em ferro velho, motor de portão e engrenagens de uma maquina de assar frangos,
me custou U$100,00 e alguns dias de trabalho...

Rotor made ​​at home by my father and I, with parts found
in old iron, gate motor and gears of a machine
for cooking chicken, cost me $ 100.00 and a few days work ...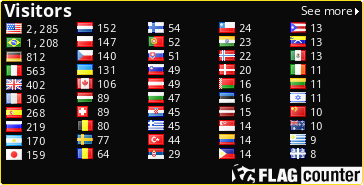 1782049 Last modified: 2015-03-14 12:44:32, 15997 bytes
Login Required

Login is required for additional detail.
You must be logged in to file a report on this page
Currently updating logbook display.
Grid Squared Award

#828


Granted: 2015-01-18 21:13:53



Endorsements:

World Continents Award

#883


Granted: 2015-01-18 21:13:52



Endorsements: