This is me and my son Linus
The old Pontiac Bonneville -65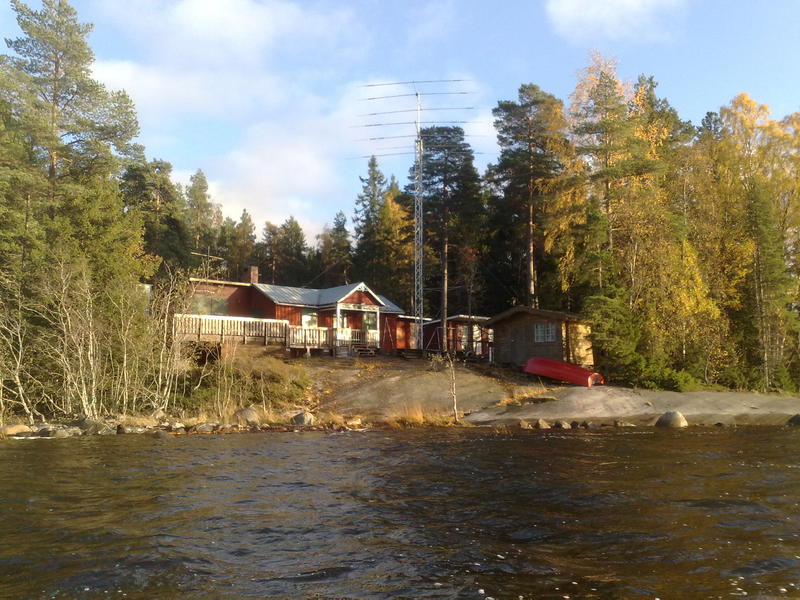 This is a pichture of my summer qth with a 55feet tower and a Cuchcraft A4s 10,15,20m yagie over that antenna its a Cuschcraft A3ws12/17m yagie. It has been working for almost 20years now.
Behind of the summer house its an Thunderbolt 40/80m Vertikal
I USE LOTW SO PLEASE SEND QSL VIA LOTW IF ITS POSSIBLE
I have been a ham since 1983 and have had a great time, met some really nice people here.
Live with my wife Annika and 5 kids. The oldest 29 years old and the youngest 10 years old, so its not much time over for ham radio.
During the summer we love to drive the old Pontiac Bonneville 1965 convertible, that we have had for 20 years now, its like a family member.
My wife and I also love to drive motorcycle and I have an Harley Davidsson 2004 Dyna Super Glide and my wife an Harley Davidsson Street Bob 2005
On this picture it was -27c and 1,5meter with snow.
You can also see my Eco 277 4el yagie for 10,12,15,17,20,30 and working as a rotory dipol for 40meter. The tower is a home made pole 10 meter high.
On the side is a 2 stacked 19el yagie for 70cm
On the other side of the house you can see 2 stacked 9el yagies for 2m
And at the middle part of the house is an 5el I9jxx 50mhz yagie
The main rig is an Yaesu Ft 1000 MP V Field and the backup rig is the Icom  IC7400 and Kenwood Ts 2000. Linear Kenwood Tl922.
Remote station Icom Ic 706mk2g
My favourite intressed is Long distance Dx, aourora, tropo, contest and so on.
In the future it would be fun to test Eme on 2m
Thanks for looking me up
I USE LOTW SO I PREFER QSL VIA LOTW
//Henrik