QSL for Special Callsign and Special event SU30ASR
Alexandria - Egypt 24 Aug. - 2 Sep. 2012.




Many surprises During SU30ASR event ERASD will be
awarded a certificate for first connected with the
SU30ASR station daily Also award daily for the first
Arab Radio connected. the Pyramids Award
will send Free without any return postage.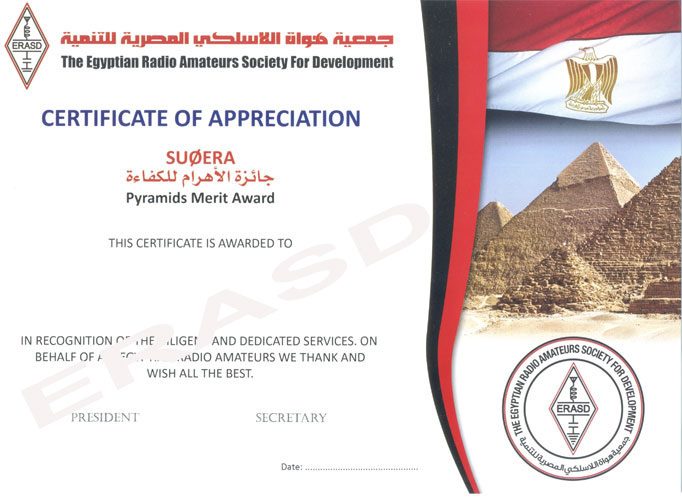 A lot of Activities and many surprises During celebration
of th 30 Arab Scouts Camp from 24 August until 2 September
we announce for Start the First Arab Jamboree on the air for 48 hours
30-31 August 2012. so SU30ASR will be two different QSLs here the first one.
The Egyptian Radio Amateurs Society (ERASD) members
will be active from Abu Quear - Alexandria as SU30ASR
from 24 August until 2 September 2012, Special callsign to
Celebrating the special event 30th Arab Scouts Camp
ERASD operators SU1SK,Said. SU1AO,Atef. and SU1AR, Ayman.
plans to operate SSB CW and digital modes on all Amateur band
10 - 160 m see you all on the air QSL Only Direct via SM5AQD
Please join The Egyptian Radio Amateurs Society
to learn of upcoming activities and all news about ERASD.