CLICK on the Web tab above and Add-
 Please add your callsign to my " Web " contact - Thank you!
Lütfen üst,teki Wep ,i Tık'layarak Kendi Çağrı işaretinizi Listeye Ekleyiniz Teşekkürler
clicca su Web sopra e aggiungere
Klik dan op bovenstaande Web en voeg
cliquez sur Web ci-dessus et ajoutez
Нажмите на Web выше, что бы
добавить ваш позывной
Veuillez laisser votre indicatif d'appel sur ma
page en cliquant sur le bouton Web-knop
Bitte terlassen Sie Ihr Rufzeichen hin, indem Sie auf meine Web-Schaltfläche
Si prega di lasciare il vostro identificativo facendo clic sul pulsante il mio Web
Por favor deje su distintivo de llamada pulsando el botón Web
Web ボタンをクリックしてあなたのコールサインを残してください。
Harap meninggalkan tanda panggilan Anda dengan mengklik tombol Web
Por favor, deixe seu sinal de chamada clicando no botão Web
TURKEY QSL POLICY
SAE ( Self Addressed Envelope ) + 1 New Valid IRC ( Stamped by the Post Office ) or 2$ ( Green Stamps ) %100 Qsl Card Direct Addres.
 Unfortunately we don?t have an outgoing bureau service in Turkey. However, incoming bureau service is possible. If you prefer to use the bureau, you will have to wait at least 1 year.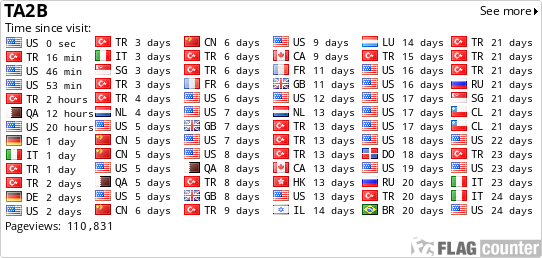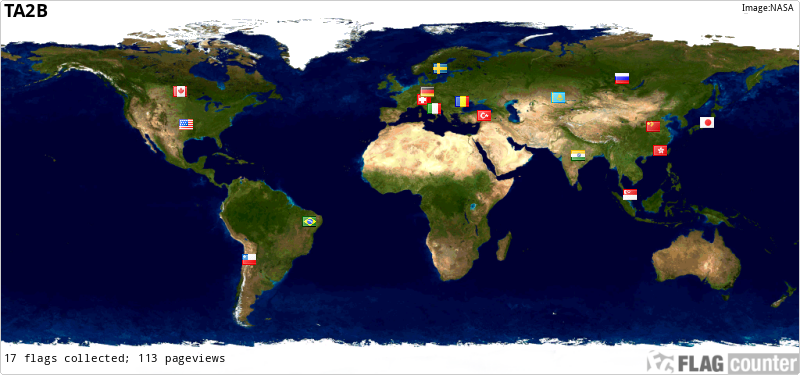 ICOM 78** - ICOM 7700 - ICOM - 9100 - ICOM SP-20 - ICOM PW-1 
 Madein İtaly Yagi Echo (3 el) 10-15-20-kit40  - Rotary Dipol 40 - Home mode Deltaloop 10-15-17-20-40-80  
YEASU Antenna  Rotators G-1000DXA - Diamond x7000 VHF-UHF-SHF  
BEHRINGER 5 Full Set - Mix - Mic Chort CCM1 - SignaLink USB sound Card  
EQplus by W2IHY - 8 Band EQUALIZER and Noise Gate - Mic HEIL PR 40  
KENWOOD TS-480 HX 200w Mobile Radio 
KENWOOD TM-D710 APRS Mobile Radio  
ECHOLINK CONFERENCE ROOM TURKIYE  
  ISTANBUL 144.925 7/24 TA2B-L ONLINE  
Large Visitor Globe