VE6AO is the call sign of the Calgary Amateur Radio Association's club station.


CLUB STATION
The club station is available for members and interested individuals to explore operating aspects of amateur radio.
The station is outfitted with an impressive array of antenna and radio equipment including Yaesu FT2000 transceivers, Alpha 9500 amplifiers, twin 100 foot tall towers with stacked Bencher Skyhawk antennas.  HF and VHF contesting and DXing are major activities and the club station gives members the opportunity to practice and develop their skills in a competitive radiosport environment. Our recent logs show 286 DXCC countries worked.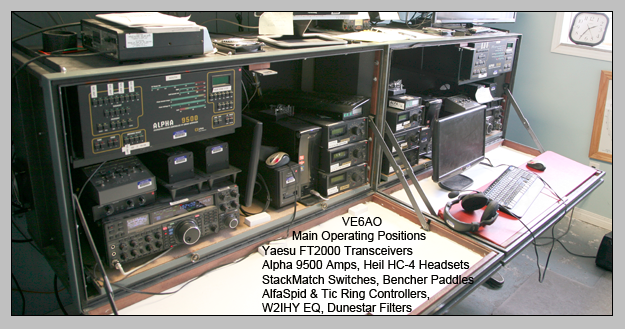 The Club is funded by memberships as well as grants from the Province of Alberta's Gaming and Liquor Commission's (AGLC) Charity Casino Program for the purpose of supporting Amateur Radio as a service to the community.
The station stands ready to be used as a highly capable emergency communications facility in times of world disaster.


QSL INSTRUCTIONS
The VE6AO QSL card shows a beautiful full colour image of the Calgary Stampede rodeo.
Direct QSL via mail:
Send us your card and ...
DX Stations : Please include a Self Addressed Envelope and $2 USD.  
US Stations :  Please include a Self Addressed Envelope and $1 USD. Please do not send US stamps.  
Canadian Stations : Please include a Self Addressed and Stamped Envelope

Any cards received with insufficient return postage funds will be sent in the next bureau shipment.
Bureau QSL: All cards received via the bureau with a return QSL request will be returned via the bureau.
Digital QSL : All contacts uploaded to LOTW.
EARN OUR STAMPEDE CITY AWARD  
The club sponsors an award for contacting stations located in the city of Calgary.
To earn the award you need to be operating from outside of Alberta, and accumulate 10 points.
Points are awarded by logging contacts as follows:
2 Points for CARA club or contest call signs: VE6AO, VX6AO, CK6S or VE6NQ.
2 Points for CARA lifetime member call signs, VE6MX, VE6ZQ, VE6SHB, VE6VO, VE6RQ, VE6WSI, VE6CN, VE6VK.
1 Point for any other station call sign with an address and operating in Calgary.
Each callsign claimed may be used once per band.  The award is a 8.5"x11" certificate.  
To claim send log extract and $3US to our address above, attention Stampede City Award.
>>>>> For more information on our club please visit:  http://cara.memberlodge.com  <<<<<<<
VE6AO QRZ Page Visits since January 25th, 2016: