NOTE: If you just worked me on DIGI mode then please log me as

VK2DX/QRP

.  I am running 5W on JT65/JT9.

      
US stations: I need your QSL card for WAS and County Award. My goal is to work 500 counties with 5W QRP on 40m band. Please QSL via W3HNK or direct. 
Current 40m QRP WAS total: 48 states, need SD and NE. QSL via W3HNK
Visit and tune in into my 'baskers' Internet Radio. I play music performed by local Sydney baksers and street players. No advertisments! Some amazing voices- check it out:
I've got into amateur radio at the age of 13, and have been on air for over 35 years from various locations. ARRL A-1 Op since 2012.
Residing in Sydney since 1994. I am a watchmaker by trade and make living buying, selling, repairing and making my own mechanical watches.
My interest in radio is diverse: from chasing IOTA and DXCC to contesting and DXing on the low bands. I enjoy CW, but also spend tme listening and chasing NDBs, VLF/LF signals, DGPS,Time signals and SWL on broadcast bands.
Equipment: Mostly home-made, Genesis Radio G11, G40 and G59 running 5W.
GenesisRadio G11 multiband all-mode SDR transceiver. Check it out at http://genesisradio.blogspot.com.au/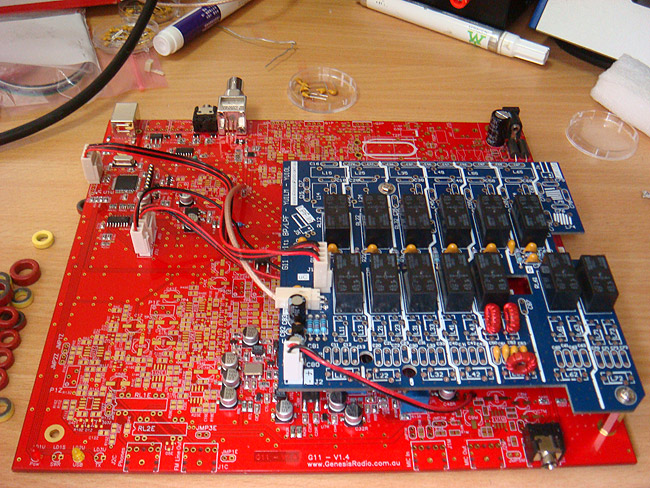 I was born in Yugoslavia (now Serbia). This is my 'other home location'
which I share with my brother Brane. He is YU7U and my call is YU7XX.
The antenna on the picture below is our latest project:
3 element full size yagi for 40m band, setup in a quiet rural location
Ham activity:
VK2SSI 2015. OC-194 South Solitary Island (operator)
VK2DX 2011. Chasing "new ones" from home, mainly on CW. Utility, bizarre SWLing, time signals etc.
VK1AA/JA1 2011. (Multiple trips)QTH: near Tokyo.
YU7XX January 2011. LF operation from Serbia, Eu: bevrages, VLF, NDBs- great fun!
VK1AA/2 IOTA OC-223 Montague Island, April 17-20 2008.Total of 1716 QSO running 75W, vert. antenna, battery power.
VK1AA/2 Vaucluse Bay Lighthouse ARLHA # AUS-178 April 4, 2007:
VK1AA/2 IOTA OC-212 Broughton Island, February 25-28,2007. Total of 1105 QSO running 75W, vert. antenna, battery power.
VK1AA/2 Cremorne Point Lighthouse ARLHA # AUS-176 January 22, 2007:
VK1AA/2 Bradley Head Lighthouse ARLHA # AUS-243 January 14, 2007
VK1AA/4 Bundaberg, QLD 2001-2008.
H40XX Temotu Province, Solomon Island May 2002.
H44XX Solomon May 2002.
VK9WI Willis Island (operator) 2001.
VK9LX/9 Norfolk Island 2000.
VK9LX Lord Howe Island 1997-1999.
YU7XX - Serbia 1979-1994
Age 52, married, with one son Josh, VK2FJDX . Watch dealer. located in Sydney, Australia www.clockmaker.com.au
73 Nick VK2DX / VK1AA