My interest in radio stems back to my childhood, watching and listening to my father tune on overseas broadcasts on a small transistor radio. The sound of foreign stations as their signals faded in and out held a strong fascination, even to this day.
During the 70's, my teenage years, a school friend bought a CB radio. Early mornings were spent cycling to his home, hoping to hear a long distance station, while the band was quiet.
I was first licensed as a novice in 1985 as VK3NAD, later gaining my limited call VK3KWP and finally my full call in 1987 as VK3EBM. I finally changed to my vanity call sign VK3OJ, which will hopefully remain with me until my amateur days are over.
My QTH is far from an ideal radio location. Situate in a valley and restricted by space, my directional antennas are limited to 20, 15 and 10 meters. I also operate inverted V's for 80 and 40 meters.
My other interest is photography and some of my work can be seen on the link below
http://www.treklens.com/members/otherpete/
If you hear me calling CQ please say hello.
This is VK3OJ's page under construction
Click on parts of the image for a different perspective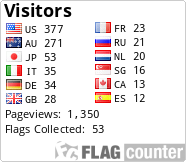 Large Visitor Globe