"It is not the class of license the Amateur holds.
but the class of the Amateur that holds the license."
Please follow
,,,,, It will save lot of time,,,,
MY HOMBREW HF TRX WITH NEW 20x 4 VERSION OF MY DDS VFO.
For More info and other details, go to
URL : http://groups.yahoo.com/group/dds_vfo/
URL : https://sites.google.com/site/pbshaji/
Hello ,Thanks for visiting my QRZ page :
Here : Name is

SHAJI,

I'am born in 1978, Living in Koodaranji, a remote village of Kerala - South India
Mob No : +91 9809 866 866 or 9349 449 339
Mqth : Electrical Engineer working in the State Electricity Board.
Family : XYL + QRPs + Parents
:Licensed ham since 1998 with call VU3WIJ, Active DXing from July 2012 onwards, and now VU2WJ
Interests : Serious Homebrewing, being on AIR chasing DX & enjoying homebrew stuff.
Rig here : Yaesu FT-990 / Homebrew all Band HF TRX
Antenna : All Band Homebrew Yagi.  80m 1el rotary dipole , 40m 3el loaded,
**********  20m 5el, 17m 5el, 15m 6el, 12m 4el, 10m 5el, 48 ft boom, 20m high
Amplifier : ECB Modified TL-922
QSL Policy.
QSL : Prefer LoTW. I sent eQSL(AG) & HRD QSL for all QSO. Pl.Confirm QRZ log. No bureau
If a Paper QSL required,  use Online QSL Request via ClubLog or Provide Self Addressed "India Post" Stamped Envelope (SASE)
Foreign Country Stamps / International Forever Stamps or IRC is not accepted in my village post office.
Please don't ask me to pay for your award, Sorry. Toomany direct cards. 
PLEASE DON'T SEND ANY MONEY or IRC INSIDE THE COVER AT ANY RISK.. sorry... sorry....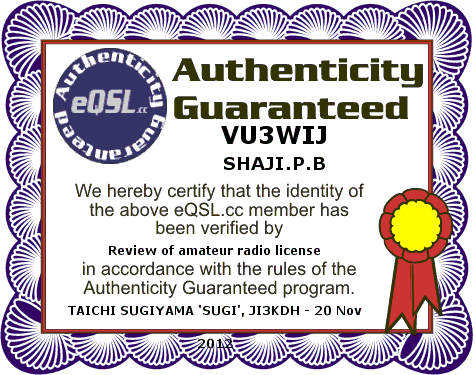 +++++++++++++++++++++++++++++++++++++++++++++++++++++++++++++++++++++++++++++++++++++++++++++++++++
+++++++++ HOMEBREW TOWER and ANTENNA - My Dream project on air- helps me a lot ++++++++
+++++++ HOMEBREW ROTATOR - Another low cost, but best one doing the job for me ++++++++++
The Homebrew Rotator - Worm Gear and Truck Wiper Motor- Made it simple and it does the job for me!!!! Try it out....
MY HOMEBREW FORCED AIR COOLED DUMMY LOAD WITH BUILT IN POWER METER
######################### Our Club Actiities - some sweet memories ############################
INAGURAL & FEILD OPERATION SPECIAL CALLSIGN of MARSS (VU2MLQ), SPECIAL FEILD RADIO OPERATION conducted at KAPPAD Beach Resort
#########################  ############################
MY LOG IS ONLINE SINCE 1st Nov. 2012. Please verify & confirm OUR QSO.
IF YOUR ARE SENDING ME DIRECT QSL CARD FOR SURE RECEIPT, MAKE SURE IT IS VIA REGISTERED AIR MAIL ONLY! ONLY IF YOU MUST!!! No Missing QSL if so....
I have homebrewed all possible setup here in my limits, to work with any average ham station around the world..
If U hear my CQ, give a call, I am happy to work you....
The best DX es, Cu on air !
very 73 !
SHAJI - VU2WJ