My XYL Joyce, WB9NUL and I live in the tropical south tip of Texas near the border with Mexico and the Gulf of Mexico. We live in a rural farming area. The main crops here are citrus, sugar cane, cotton, sesame, vegetables, corn & sorghum.
Our ham station is in the northeast corner of our great room next to a sliding door out to the lanai and courtyard.
We use an Elecraft K3 transceiver  with diversity receive capability. We have an Elecraft P3 panadapter & a KPA500 amp and another amplifier is a Tokyo Hi-Power 2.5 kfx. We also have a TenTec Hercules 420 solid state amp. We have a number of QRP rigs for low power fun and a third independent rig on the desk consisting of an IC7000 and MFJ993 autotuner.
The main antennas are a 565' loop at 60' and a top loaded 82' vertical, Minooka Special style. A remotely controlled matcher/tuner at the base allows the vertical to be used on all HF bands. We use an MFJ998 autotuner for the open-wire fed loop on all bands. We have a small 6 meter tuner to use the loop on that band.
82' Top loaded vertical
We also have a HI-Z 4 element receiving array. It is fantastic.
My XYL has an IC706 and homebrewed antennas on her Chevy Equinox. I have an FT-857 and Flying Saucer antennas on my old Grand Marquis.
.
A secondary station with a TS850s and a TenTec Hercules amp is in a seperate building near the antenna test stand.
I have held W9UCW since 1954 when I was in 8th grade in Joliet, Illinois. I have always favored 160, 80, & 40 meters, in that order.
My wife Joyce, WB9NUL is a county hunter and is Past President of The Mobile Amateur Radio Awards Club. She has operated a number of radio contests and she is a world class needle arts person.
We answer QSL's any way the get to us but expect SASE's for direct cards.
What follows is small sample of past station setups, memorable people, places & activities. I made 20 trips to Central & South America and enjoyed Ham Radio with friends on every trip. I've been a casual DXer on 160 meters for 60 years. I do a lot of antenna measurements and experiments and give antenna programs at clubs and conventions. I have published the results of measurements of the performance of shortened loaded antennas Iin QEX, in the first and second issues of 2014.
.
Operating as W9UCW/HK0 at the Bahia Marina, San Andres Island
Barry operating HK0BKX                                                                                  Joyce operating at Field Day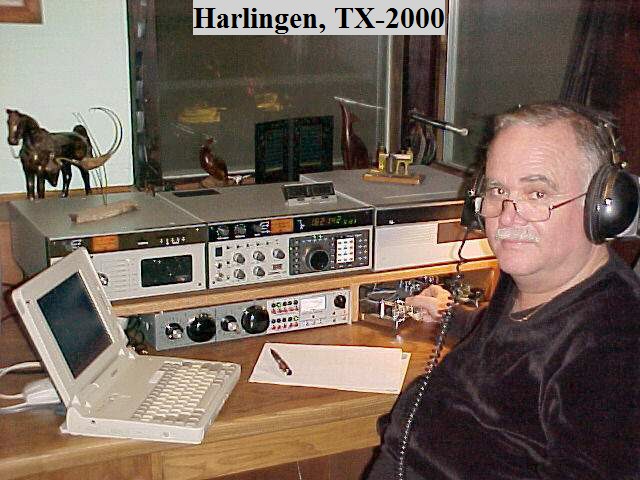 Aki, JA5DQH and his friend Tom visited us at our home in Illinois in the mid 80's.
A large group of us drove over to Ohio to visit with W8GDQ, W8ANO and others in the area. Stew, W1BB came from Boston to join the fun.
Andy Devine, WB6RER was working in a stage play in Joliet in the 70's.
We set up a rig in a motor home behind the theater and he joined us for
several hours, operating on the local repeaters and spinning tales.
The first "160 Meter reunion was held at our place in Minooka Illinois in 1968
On our way home from San Andres in 1973, Herman, HK1QQ put four of us on a cargo plane in Barranquilla for afree ride back to Miami. Johnny, WB9AOX, his young son, my daughter Jane and I enjoyed that adventure.
I have always enjoyed building gear. I have built receivers, transmitters, amplifiers, transverters, about 60 antenna tuners, repeaters, diplexers, lots of antennas and other assorted gear. I also enjoy woodworking and have built a lot of furniature hundreds of small items.
I'm very prowd of having won two cover plaque awards for QST articles.
I hosted the 160 meter Hospitality Suite at Stoufer's for several years during Dayton Hamventions.
Victor, who had helped with our first contest setup on San Andres, flew back to the states with me a few years later to attend to some business and go to the Tropical Jamboree.
Stew was a long time close acquaintance. I built a receiving antenna for use with his station at the water tower in Winthrop, Mass.
I'm fifth from the right end. High school years.
Barry, W9UCW & Moose, W9YYG (SK)                                         Victor, HK0AI (SK) & Pacho, HK0BKX (SK)
Field Day in New Lenox, Illinois in the 60's. K9SKX, Bob operating W9OFR/9. (Old Fat Rascal) Joliet ARS.
Hammarlund Super Pro receiver, a Johnson Viking Ranger transmitter with a 2E26 in the final to run in the 30 watt class and a Heathkit phasing type single sideband adapter. We made 600 contacts with that junk and used paper logs and checksheets.... imagine!
Joyce, WB9NUL on Johnny Key, San Andres Isla Joyce, WB9NUL & Justo, HK0COP
W9UCW & WB9NUL getting married on a walking bridge over a canal called "Lincoln's Folly" in a forest preserve near Channahon, Illinois, Friday the 13th of June, 1980.
WB9NUL & W9UCW on that same walking bridge 32 years later. "What time hath wrought."