First of all Thank You! for visiting my QRZ.com Page.....
Photos below are of my HDX555 Tower with the Cubex/W4QN 7 Band / 5 Element HF MK345-PT5-2 (5 Elements on 10 and 12 Meters, 4 on 15 and 17 Meters, 3 on 20 Meters, 2 on 30 Meters, 2 0n 40 Meters),  Phased Cubex Scorpion II 8 Element/2 Meter Quads, InnovAntennas OP-DES 6 Element 6 Meter Yagi,  and finally a Diamond 2 Meter FM Vertical for the local 2 Meter Activity. The next photos are that of the New Addition.  It is a DX Enginneering Full Size Quarter - Wave Vertial Antenna DXE-7580FS-VA-2. Along with the Vertical is a photo of the Vertical Base, showing the 60 Radials, 4 - 8 Foot Copper Ground Rods (Installed) and the Coax Feedpoint.  The second row photo is the Radio Operator (me) not trying to commit suicide but taking care of some "Boom Droop" by installing two Turnbuckles. The third photo is me (again) changing out my Tailtwister with a G2800 Rotor.  Also shows the new KF7P Safety Stand Tower Platform (www.KF7P.com).  Both resulting from a visit to the Dayton Hamfest.   I can and have worked for hours on the tower/antenna without any stress.  Just tie in and start servicing the tower/antenna.
QSL thoughts............... First of all QSL's are the mark of a complete contact, a handshake so to speak. My beliefs are that any New Country, State and or Received QSL will be 100% responded to. I prefer the "Old School" Method and that is a Card via the Mail or Bureau. However, keeping up with the Technology I will ALSO process my logs, Daily and or Monthly, through LOTW, CLUBLOG, HRDLOG.net, QRZ.COM and eQSL and respond in same. I have recently activated the Club Log "Look Up" Tool to my page. As a final comment, the station is located in Columbia County, Florida. If your a County Hunter you may want to "jump" on this as Columbia County is a "Rare One" for HF.
My first call was WA3LID in 1967. What a shock getting "LID" was and made my goals very clear..... "Be the Best Op". I then moved to Florida in '70 and had to change my call to the present one. At that time the FCC would not allow the transfer of addresses and a change had to be made, thank goodness!  Then on February 12, 2011 WB4VMH went from Advanced License to Extra Class. See you on the Expanded Bands!
Worked for Motorola in Plantation Florida from '73 to '07. Living in S. Florida or the "Land of NO" seriously effected my Radio Operations. After 34 years and an request to move to Chicago the decision was made..... Retire! and move to the new home in Lake City, Florida.
The Working Conditions for HF and VHF Stations are a choice of four rigs. First, is the FlexRadio 6700, fed to an OM Power OM - 4000A. Secondly, an additional HF/VHF station is the Elecraft K3/100 (160 thru 6 Meter) fed to a Elecraft KPA500 160 thru 6, 500 Watt Solid State Amplifier along with the Elecraft P3 Scope and KAT500 Auto Antenna Tuner (Full K - Line). VHF 2 Meters is now a 20 Watt, SSB, CW and FM Operation using the Ten-Tec 526. This station is fed to a Mirage B2518G 150 Watt Amplifier then to two Phased Scorpion II Quads at 70 feet. The fourth rig is one that covers 2 Meter FM ONLY. That is a Yaesu FT-2900 75 Watt FM Rig that I leave on to listen and talk to the locals on the different Repeaters in the Lake City Area.
Additions to the shack are the W2IHY 8 Band Equalizer and EQPlus. What an addition this was based on the early reports. I highly endorse this product and suggest that you add these to your station for enhanced transmit audio. Contact Julius (W2IHY) for more information. To add to the overall Modes Of Operations such as SSB, CW,  Digital Modes are handled Internal to the FlexRadio 6700 but use HRD, DM780  Software we can offer contacts on the Digital Modes mainly PSK31 and RTTY.
As far antennas are concerned, 40, 30, 20, 17, 15, 12 and 10 Meters are covered by a MK345-PT5-2, 5 Element Cubex Quad up at the 58 foot level on the HDX555 US Tower.  The Quad Antenna is based on the MK345-PT5 (5 Band/5 Element on a 24 Foot Boom) with 2 Elements added on the Reflector and Director (Ends) for 30 and 40 Meters.  With great assistance from both Norm, W4QN, who Designed and Optimized the Quad for the 7 Band, 5 Elements on a 24 Foot Boom and Roger at Cubex/Tennedyne. There is also a 80 - 10 Meter Antenna and that is a Carolina Windom 80. The Feedpoint is at 30 Feet.  80 Meters is addressed by the new dX Engineering Full Sized Quarter - Waver Vertical Antenna DXE-7580FS-VA-2.  This along with the Windom and all Quad / HF Antennas are assisted thru the Palstar HF-Auto Antenna Tuner.  6 Meters is being taken care of via a InnovAntennas OP-DES, 6 Element, 6 Meter Yagi thru the Elecraft KAT500 Antenna Tuner (Not Needed). The 2 Meter SSB/CW Antenna is a Cubex Twin Phased Scorpion II's. Configured in the Horizontal Polarity, 16 Elements total.  Local 2 Meter FM is taken care of via a Diamond Vertical . The three HF/6 Meter Stations are switched fed utilizing the two MFJ Antenna Switch Systems. MFJ RCS-8V Remote Coax Switch for the Quad Band Switching and MFJ-4726 Desktop/Remote Antenna/Transceiver Switch. This now allows a combination of switching of up to 6 Transceivers and 6 Antennas.
Major Ham Radio Accomplishments: DXCC (80, 40, 30, 20, 17, 15, 12, 10 Mtrs),. 5BDXCC + 30, 17 and 12....  8BDXCC? #8,505, WAZ - SSB, Mixed, WAC, WPX - Mixed, Europe Endorsement and finally WAS.
Clubs / Associations - ARRL, SFDXA, INDEXA #4455, NCDXF #6574, EPC #17895
See ya'll on the bands. We QSL 100% for everyone received.!
73's
Richard "Dick" Griest - WB4VMH
As Of September 14, 2010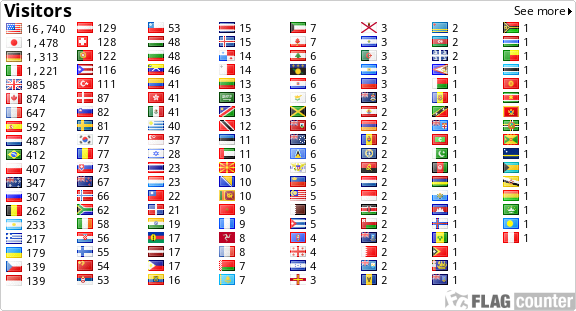 Large Visitor Globe