Aerial view of the WD9IVE QTH
Conditions from the weather station at my QTH.
You can also view webcams from my QTH at this link.
Me and my best pal shown below.
Me and my ground crew waiting for me at the bottom of the tower.
West Brooklyn Illinois is about 100 miles West of Chicago.
HF Antennas; Mosley CL-36 Tri Bander, phased verticals and several wire antennas. Picture is looking to the North East.Three Hygain 18HT Hytowers installed in a tri-angle configuration spaced 66' apart operated as a phased array on 40 & 80 meters.
Another view of the HF antennas looking to the East.
Ground radials being installed around one of the verticals, I did this in the fall after the last mowing. Radials are laid on the ground and secured with pins. I let the grass grow long the following spring before mowing, The grass has grown over the radials and I've never snagged one with the mower, not yet anyway. Each vertical has 60 radials 66 feet long around the base, a bit over 2 miles of radial wires.
Typical of three verticals: Vertical antenna base, used heavy wall copper pipe (refrigerant type) for radial wire connection bus.
Home brew rats nest for phasing the verticals located in one of the out buildings. Relays switched remotely from shack provide selection of a single vertical or any pair of verticals, and allow for selection of endfire or broadside configuration. Coax cable coils are matching xfmr's and delay lines for 40 & 80 meters, looks ugly but works pretty good.
VHF/UHF and 6 meter antennas mounted on the old TV antenna tower along side the house.
Here is a cool view from the tower above looking to the West. 
I built this from a kit, the old Eimac tubes served me well over the past 30 plus years.
fast forward 30 years....put in a pair of Chinese tubes.
SSB HF rigs; Kenwood TS-590 & TS-2000, SB220 amp.
Collins 20V2 and Gates BC500 broadcast transmitter converted to operate on 160m. (R390 rcvr on bench)
The QTH security system shown below, Shadow, Lucy and Carter.
Shown below our Beagle Lucy, she can sniff out even the most stealthy intruder.
Below is our dog Carter, 85 pounds of Canine with sharp teeth.
Below is our dog Shadow, 65 pounds of pure bitch. If you are going to try to pull off any funny business at my QTH you'll have to deal with Shadow and her pal Carter.
breaker breaker 19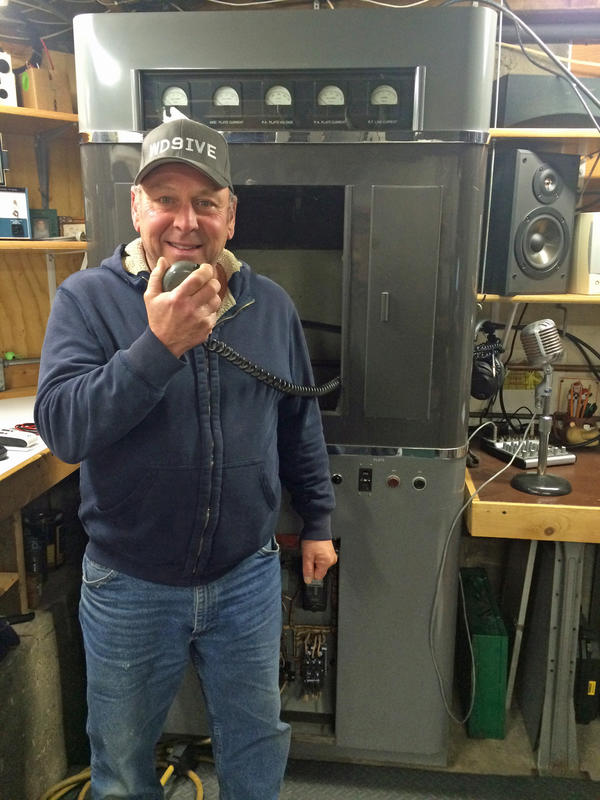 The XYL and I. The Croation Princess.....My real best pal....
The Croation Princess in 1986 the year I meet her...My real best pal....
WD9IVE back in the day.....
Thanks for checking out my page. 
73's
WD9IVE
Dan
ps: the fat guy up on the tower is WD9IVE....