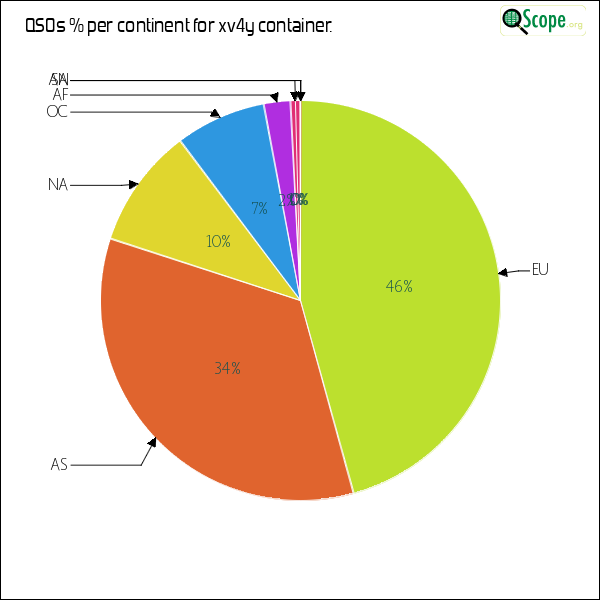 My online log is available on QScope.
I have launched a new service called QScope.org .Registration and access are free.
It's an online application offering free statistics and charts for HAM Radio logs, with focus on contesting.
Have a look on what kind of statisctics and maps it can generate with your logs.
Irek SP3SUX has been using my station (and callsign) between 2013-04-06 and 2013-04-10 including SP DX contest. All QSLs to his home call.
Before March 2011, my former callsign was XV4TUJ.
I am located in Mekong delta (south of Vietnam). My activity is mainly CW on 20m, 17m, 15m and SSB for contests. Antenna are :
I have been asked about an operating time schedule. In fact since I run my own home business, I do HAM radio when I have free time for it. That said, you have better chance to contact me in the early afternoon (0800-0900z) or evening (1330z-1500z), no matter if it is week day or week-end. You can follow my DX activity planning on Twitter (XV4Y).
From may to october it is low season for my business, so I usually have more spare time for radio. Anyway, with two young kids at home, it is hard to have full days (even full hours) free to spend at the shack. I will try to be on WARC bands in the evenings as much as possible since demand is still high. I will mainly do CW as I don't want to keep the whole house awaken, but my days start at 5am so I turn off the station around 15.00z. Please be indulgent for my CW, I am barely good for DX not rachewing in this mode.
I have not so much time for contests but I try to be active for the main contests with my best effort during All Asian DX.
QSL manager is OK1DOT. Please send QSL direct with SAE and postage return 2 USD or 2 IRC. QSL send to my home address will not be answered.
I will not answer to eQSL request any longer. The website ergonomic is 10 years old and I need too spend to much time clicking.
Apart from DX, I am also interested in building kits. I have built the following kits :
ANTAN antenna analyser
BITX20 version 3 modified for digital modes
K5BCQ Si570 controller used in the Bitx
SoftRock RXTX Ensemble mainly for WSPR
QRSS beacon from QRP Labs
W5JH Black Widow paddle
Moutain Topper Rig (MTR) designed by KD1JV
MultiBand Direct Conversion transceiver (MBDC) designed by KD1JV
Dirt Cheap Paddle from American Morse Equipment
Now it is my turn to offer some easy to build "discovery" kits. You will find kits for WSPR DDS beacons, Audio spectrum scope, and weather stations on my online shop.
You can follow me on my blog Les Chroniques Hertziennes. Together with Freddy FK8RO we also run the QSLWatch.com website and we expect you to share your QSLing experience.
My main professional activity is tourism now as my wife and I are running a Bed & Breakfast in our city of Can Tho, near the Cai Rang floatting market.
Licensing in Vietnam is easy, so we can help in organizing a trip that mixes HAM radio and nice cruises over the Mekong river.