Please send all QSL Cards only Directly to my QSL Mgr : IK2DUW , no Buerau
You are in LOTW ? Looking for DXCC , WAS , TP award ?
Please come here and join us in the LOTW SKED Web :
اهلا وسهلا ومرحبا بالهواة والمحطات العربية في نادي كيو ار زت العرب
http://www.arabqrz.com
ونتشرف بأنضمامكم في نادينا
الدعوة للهواة المرخصين فقط


02/01/2014 | In Loyal Memory of JY1 King Hussein of Jordan

Feb 1-Feb 28, 0000Z-2359Z, KB9GSY, Hammond, IN. Arab QRZ Club.
14.250; All bands, all modes.
Certificate. Ayman Azar, 4421 Clark Ave,
Hammond, IN 46327.
Arab QRZ Club and Its members will make QSOs on all bands,
all modes.
Stations will be participating and signing with their own
country issued personal call signs but will mention that they
are with the Special Event Station.
All stations participating world wide, will have their call
sign posted on our website www.arabqrz.com.
A certificate will be Issued for any station that makes five
contacts with participating stations. arabqrz.com/visitors.htmcontacts with participating stations. arabqrz.com/visitors.htm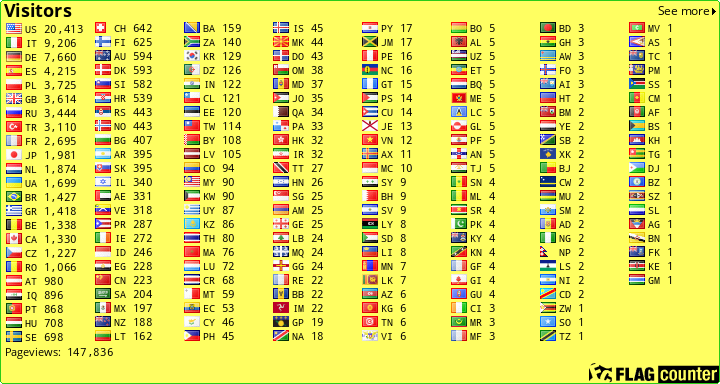 Large Visitor Globe
Hello Everybody
My name is Razi Naji , I was born in Baghdad 1974.
I got my first license in 2005, but I like this hobby from the time I was just a kid .
From 2005 to 2009 My Callsign Was YI1RAZ .
Then After 2009 Till Present My Callsign Is YI1RZ .
My QTH is Baghdad and my Home locator is : LM23EF ( Baghdad City )
I did most of my QSO's from this location .
My Digital Modes Activity
Watching ISS over Baghdad
Watching SO-50 over Baghdad
The Photos below is for my homemade 4-ele Yagi for 6m band about 8.5 dbi .
My 5- ele Homemade Yagi for 2m band
My Spots around the World
And this is some information about me :
My Echolink Station : IC-2100 , 10 Watts , Vertical Omnidirectional Antenna 3dbi
Membership:
1- EPC# 3182 for my ex: callsign YI1RAZ and EPC# 8933
for my new callsign YI1RZ
2- 30MDG # 2862
3- DMC # 2545.

4- CTC# 2.098 .
5- http:// www.arabqrz.com

6- CWJF Club

My QSL Cards : -


Awards :






My other Hobby :-

Best regards for all ham radio around the world.
See you on the air. de Razi / YI1RZ
73