ALL cards I receive will be answered sure!!!!(100%) Direct or Buro
I REALLY LIKE PAPER QSLs, I collect QSL cards, including SWL, so, please send me your QSL via DIRECT or BURO, I will send mine in the same way on the same week.
NOW I ASLO USE OQRS
For DIRECT I have an P.O. Box in Miami Florida USA (only receive), I prefer this P.O. Box because is FASTER and

RELIABLE,

with the P.O. Box in USA your QSL will be

SURE

in my hands in 3 weeks.

My QTH is Caracas Venezuela, so I respond to all requests QSLs from Venezuela (receive in my P.O. Box into USA but shipping from Venezuela)
I am also a Radio Club Venezolano member, so you can send your QSL card via BURO
I'm LoTW user, and eQSL certified user (Bronze Member)
ANTENNAS:
Yagi 2 elements full size (19,6 mts each element) monoband for 40 mts (homemade

YV5APF

)

Yagi 7 elements (8,9 mts boom) for 10, 15 and 20 mts (homemade

YV5APF

)

Antron 99, vertical antenna for 10, 12 and 17 mts.
Hope to meet you on the air.
GD Luck, and best DX
73 de YV5EPM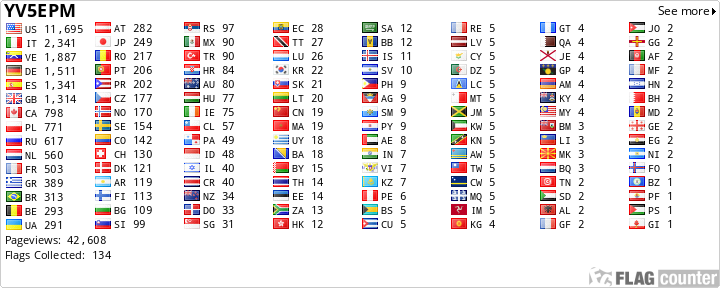 1552820 Last modified: 2014-12-27 00:05:02, 10191 bytes
Login Required

Login is required for additional detail.
You must be logged in to file a report on this page
Currently updating logbook display.
DX World Award

#313


Granted: 2015-01-23 01:25:39



Grid Squared Award

#1191


Granted: 2015-01-23 01:25:43



Endorsements:

40 Meters Mixed

20 Meters Mixed

15 Meters Mixed

World Continents Award

#1306


Granted: 2015-01-23 01:25:49



Endorsements:

40 Meters Mixed

20 Meters Mixed

17 Meters Mixed

15 Meters Mixed