Hello All,
My name Diya,
QTH Juba, Republic of South Sudan - Locator: KJ54SU,
Radios: FT-dx3000, FT-950, IC-7000, Antenna Tuner LDG AT-7000
Linear Amp. ACOM1000 and Ameritron ALS-500 .
Antenna switch, Delta-2 (Donated by S57CQ) Thanks Dane,microKEYER II (Donated by OH0XX) Thanks Olli.
Antennas:
- Cushcraft MA5B HF 5Bands (Thanks to Ken K4ZW for assist brought the antenna with rotator, FT-950, MFJ1701, Heil Proset)
- 6ele 6m OP-DES from InnoVAntenna, Thanks to UKSMG and for contributions
-Broadband folded Dipol Antenna160-10Meters,
-Inverted L for 80 & 160m
My other antennas :
HF3bands new product 2013, from InnoVAntenna.
( http://www.innovantennas.com/latest-news.html )
Thanks to: UKSMG for sponsoring 6M antenna from InnoVAntennas
Thanks to: Waasland Radio Club (WLD - ON6WL) in Belgium for donate small antenna rotator.
Thanks to, All who contribute : K4ZW, S57CQ, S53R, G0KCS, EA8AK, JY4NE, PA5M, ON5NT, Z81A, Z81B, OH0XX, OH2BH, JY4CI
-The license for this call issued in 13/Sept/2012, first two license in Republic of South Sudan beside Z81A
Please send your QSL card for Z81D
To QSL-Mgr:
STEFAN HORECKY, OM3JW
MLYNSKA 2
900 31 STUPAVA,
SLOVAK REP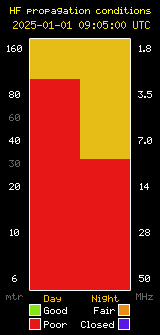 WX: http://www.accuweather.com/en/ss/juba/306813/weather-forecast/306813