Hello, & Thank you for looking me up on Qrz.com.
My previous call sign used to be ZB3B, but I have now upgraded to the full license, & have been lucky enough to obtain the ZB2B call sign.
I know that many of you already know me by my old call sign ZB3B, so if you hear ZB2B, it's the same old radio operator under a new call, & with slightly more out put power.


From the 5fth of May, to the 10th of June 2012
A special event call sign ZQ2B was used
Commemorating Queen Elizabeth II 60 years of
reign. ( HM the Queen's Diamond Jubilee ).
God save our Queen.
My Name is Ronald,
I'm married, & have one daughter (Lianne ), & a son, ( Jonathan ).
Since very young I have always been fascinated about radio communications, & how it works.
Since an early age ( 16 yrs ) I started with a simple citizens band radio, after a couple of years I upgraded to a much more professional set up, on the ( 27 MHz band ) this time with SSB, so I did spend some years learning to listen, & identifying different stations on the bands from around the world, as well as short wave Amateur, commercial, & utility stations, so I took up the hobby of shortwave listening ( G.R.S.- 001 ), as well as monitoring, scanning the VHF /UHF bands, such as Air, Amateur, marine bands, & Space communications, to which I still do.
After several years, the foundation amateur radio courses were introduced.
I decided to take the opportunity, & studied the course, & after several months, I took the exam to which I passed, & was the second foundation Licensee holder on the rock.
A couple of years later, I was then given the option to upgrade my license by taking the Intermediate course, of which I did, & passed again, so I was the first to obtain the first ever Intermediate license to be issued on the rock.
I have just upgraded my call sign to ZB2B, ( full license ).
My radio station consists of the following equipment :

Yaesu FT-920 HF + 50 MHz TxRx.
Icom IC-7400 HF / VHF TxRx.
Icom IC-7100 HF / VHF / UHF TxRx.
Yaesu FT- 450AT HF + 50 MHz TxRx.
Kenwood TS-480SAT HF+50 MHz TxRx.
YaesuFT-897D HF+ 50, 144,430 MHz TxRx.
Yaesu FT-857D HF + 50, 144, 430 MHz TxRx.
Yaesu FT-840 HF TxRx.
Kenwood TS-50S HF TxRx.
For narrow band modes I use the Microham Usb micro keyer + Pentium 4 computer.
------------------------------------------------------------
For portable, & Qrp operation I use the following :

Icom IC-703 HF + 50 MHz ( 10 watts ).
Yaesu FT-817ND. HF + 50, 144, 430 MHz. ( 5 watts ).
------------------------------------------------------------
For VHF / UHF I use the following :
Icom IC-7100.

Ranger RCI 5054DX-100.
Yaesu FT-897D.
Yaesu FT-857D.
Yaesu FT-817ND.
Kenwood TM-V71E.
Yaesu FT-8900R.
Yaesu VX-7R.
Anytone AT-5189 4 mtr FM.
President Lincoln + 70 MHz Transverter constructed, & kindly donated to me by my friend John ( G0JJL ).
------------------------------------------------------------
My Antennas consists of :


Cushcraft - MA5B Mini Beam for 20 / 17/ 21 / 24 / 28. MHz. @ 25 mtrs AGL.
Zx yagi- ZX6-4 , 4 element yagi for 50 – 54 MHz. @ 25 mtrs AGL.
Eco trapped dipole for 3.5 / 7 MHz. @ 40 mtrs AGL.
Windom antenna for 7 - 28 MHz. @ 40mtrs AGL
Sandpiper 3 element yagi for 70 MHz. @ 22 mtrs AGL.
144-LFA-7,7 elelment yagi for 144 MHz @ 25 mtrs AGL.
Diamond X-300, vertical for 144 / 430 MHz. @ 22 mtrs AGL.
Diamond X-510, vertical for 144 / 430 MHz. 22 mtrs AGL.
Diamond V-2000, vertical for 50 / 144 / 430 MHz. @ 22 mtrs AGL.
------------------------------------------------------------
Antennas for portable operations I use the following :


Diamond A-502HBR 2 element beam for 50 – 54 MHz.
Diamond RHM-5 portable antenna ( Qrp ).
Sandpiper 3 element portable yagi for 144 MHz.
Moonraker base loaded mobile whip for 50 MHz.
Half size Van Gorden G5RV dipole.
Long wire ( 10 mtrs ) + Snowdonia magnetic balun.
-----------------------------------------------
My shortwave listening, & scanning equipment consists of the following receivers :


Icom IC- R8500. Rx.
Icom IC-R100. Rx.
Icom IC-R6. H/H Rx.
Kenwood R-5000 + VHF conv. Rx.
Kenwood R-1000. Rx.
Signal R-535. Air band Rx.
Yaesu FRG-9600. Rx.
Realistic pro 2032. Rx.
Yupiteru MVT-7100. H/H Rx.
Uniden Bearcat BC 125XLT. H/H Rx.
Uniden Bearcat UBC9000XLT. Rx.
Daiwa SR-9 for 144 -145 MHz. ( 2 mtr amateur band ).
Daiwa SR-9 for 156 - 162 MHz. ( marine band ).

Wide band, & dual band colinears are used in conjunction with some scanning receivers.
! PLEASE NOTE !



Reference the Qsl cards, I do no longer send Qsl cards via the bureau, nor accept any E-Qsls, so I'm afraid I only work Qsl cards direct.


If you require my Qsl card please do so direct, & remember to include a Self Addressed Envelope, & sufficient contribution to cover for postage i.e.:
*( $2.00, or 1 New International Reply Coupon, The Doha Model 2013. )*


Please Note: If you are including IRCs, please make sure the IRC coupons are stamped, & validated by your local post office.


If they have not been properly stamped, & validated, then the IRCs are of no value, & therefore I will not send my card in return.


I do not like the accumulation, or delay of outgoing Qsl cards, so as soon as I receive your card, I usually reply within the same, or the following day.

( Shorwave listeners reports are also welcomed )
711 - Moorish commander commander Tariq Ibn-Ziyad captures the "Rock".

1462 - Spain takes back the territory as it drives out the Moors.

1501 - Queen Isabelle annexes Gibraltar to Spain, granting it its present-day coat of arms a year later.

1704 - Gibraltar is captured by English troops with Dutch help during the War of Spanish Succession.

1713 - The Treaty of Utrecht formally cedes Gibraltar to Britain from Spain.

1830 - Gibraltar becomes a British crown colony.

1939 - Civilians evacuated as World War II begins.

1954 - Spain cuts air links to protest at a visit to Gibraltar by Queen Elizabeth II.

1963 - Spain begins campaign at the United Nations to win Gibraltar's handover back to Spanish control.

1967 - A referendum on the Rock sees residents overwhelmingly vote to remain under British rule.

1969 - Britain draws up a constitution for Gibraltar, according internal self-government. The move prompts Franco-led Spain to withdraw its workforce and close the border.

1973 - Gibraltar joins the European Economic Community (now European Union) along with Britain.

1981 - Gibraltarians are granted full British citizenship. Prince Charles and Princess Diana visit on their honeymoon, a move that caused King Juan Carlos of Spain to reject invitation to their wedding.

1984 - Under the Brussels Process, both London and Madrid agree to seek an accord on links relating to Gibraltar.

1985 - Spain formally re-opens the border.

2002 - Referendum shows 99 percent of residents oppose British and Spanish plan to seek joint-sovereignty.

2004 - The Rock celebrates third centenary of British rule.
Hope to work you on the bands, as well as from my portable station where I work from different areas around the Rock.
( Grid Loc : IM76HD )
I am quite active on 10 / 6 / 4 / 2 mtrs during the summer months, or during Es season, as 6 mtrs is one of my favourite bands.
73, Best Regards, & Many Thanks.
Ronald. ZB2B.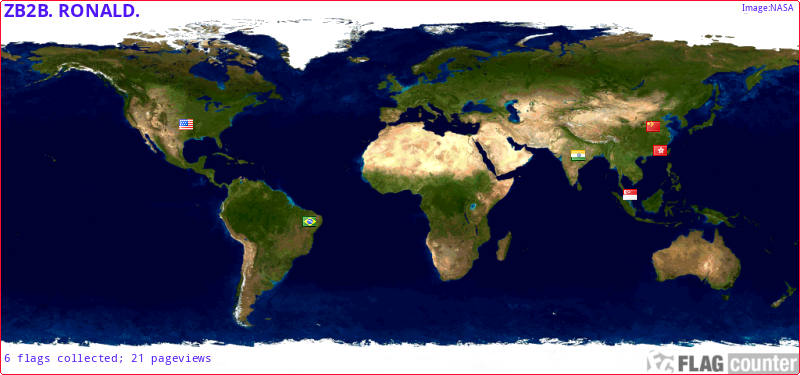 Large Visitor Globe