Please Note: I am NOT the QSL manager for ZD7FT - all requests must go direct to him.
Pictured above is a photograph taken by me a few years ago of the Spanish Longliner NUEVO GOLDLONDRINA seeking emergency medical attention for a crewmember who had chopped off two fingers. 
LCM from the French Amphibious Assault Ship - MISTRAL.
Looking down from Putty Hill at the Briars (foreground) and Jamestown to the North.
The 78m Malaysian registered ocean going landing craft the N.P. GLORY 4 chartered by the South African construction company Basil Read contracted to build an airstrip on St. Helena Island due for completion in 2016.  This ship shuttles between Walvis Bay and the Island bringing all necessary equipment.  Seen here making history as being the first ship to ever dock at Island, in this case at the Sheers in Ruperts to a makeshift jetty extending a little way from the shore.  Loaded with 30 & 40 Ton Volvo articulated dump trucks, Caterpillar D9 & D6 Bulldozers.
The correct mailing address:
Bruce R. Salt
PO Box 5
Jamestown
St. Helena Island
South Atlantic Ocean
(VIA GREAT BRITAIN)
When mailing please remember to include a self addressed envelope (please do not use stamps on your envelope from the country that you are mailing from) and 2 US Dollars or Sterling/Euro Notes.   No IRC's or Euro Coins- thank you.
Strictly NO eQSL or LOTW - DIRECT ONLY
If I disappear from the air suddenly while in QSO or running a pileup it is because there has been a powercut.  The Island's powerhouse (2 x 1 MW generators) is always dogged with problems.
Antennas: Force 12 C-4E & most recently (2014) a pair of 4 Element LFA Yagis for 6m from InnovAntennas www.InnovAntennas.com  e mail: Justin G0KSC justin@innovantennas.com
LOGGING SOFTWARE:
Since October 2014 the logging software has been Log4OM, www.log4om.com  after 16 years of using logging software by Tom Dandrea - N3EQF, firstly the DOS based version LogEQF and later when it was upgraded to the Windows based version WinEQF.  It was a struggle initially to use Log4OM as I had become so accustomed to WinEQF.
My QSL cards are printed by the best in the QSL printing industry Tipolitografia dei F.lli Bonanno A. e V. A. snc www.printed.it   e mail:  Alfio Bonnano it9ejw@printed.it since 2001 when I discovered that he had sponsored the QSL Cards for the ZD7K & ZD8K Dx-pedition in 2001 by the Barry Amateur Radio Club - UK, absolute works of art everytime resulting in impressive QSL cards printed on quality card stock.
St. Helena Island is a very tiny & remote Island in the South Atlantic Ocean without any aircraft not even a resident helicopter, so please be patient when mailing your letter as everything is brought to the Island by the supply ship ST. HELENA the last Royal Mail ship left in the world apparently and it is not unusual for a letter to take 3 months from the time it is dispatched to the time that you receive it back.  I do QSL 100% and process the cards as rapidly as possible but always have to await the return of the supply ship.
St. Helena Island is very remote and is often considered to be behind the rest of the world by 20 years and still living in the post Colonial era.  Our internet is via Satellite with very limited bandwidth and the speed of a dial-up connection for an astromonical monthly fee.  We regularly run short of essential food commodities and are no longer self sufficient, in earlier years the Island would supply up to 1,000 visiting ships now one ship the ST. HELENA (pictured above) supplies the Island.
Flag of Saint Helena
The Flag of Saint Helena was adopted on October 4, 1984. It is a defaced Blue Ensign, i.e., blue with the flag of the UK in the upper hoist-side quadrant and the Saint Helena shield centred on the outer half of the flag. The coat of arms of Saint Helena features a rocky coastline and three-masted sailing ship, with a Saint Helena Plover atop. Prior to the adoption of the current coat of arms and flag in 1984, the flag and shield showed the ship and coastal scene taken from the colonial seal of the colony.
Ships registered in Saint Helena fly the Red Ensign; there is no defaced variant for the territory.
The coat of arms of Saint Helena was authorised on 30 January 1984.
The arms feature a shield, with the top third showing the national bird, the Saint Helena Plover Charadrius sanctaehelenae, known locally as the Wirebird – stylized, but with its unmistakable head pattern. The bottom two thirds depict a coastal scene of the island, a three-masted sailing ship with the mountainous island to the left. The coastal scene is taken from the colonial seal of the colony and shows the flag of England flying from the ship (when the shield was first introduced in 1874 the flag was a White Ensign).
The motto is Loyal and unshakable. The full coat of arms features, above the shield, a woman holding a cross and a flower. This represents Helena of Constantinople, also known as Saint Helena, after whom the island is named. The cross is shown as Helena is credited with finding the relics of the True Cross (cross upon which Jesus was crucified).
The local two pound coin has the full coat of arms on its reverse.
Embossed envelopes:
Most if not all letters leaving the shack of ZD7VC will be embossed, a feature that has been unique to the station of ZD7VC since 2013.  This creates a one off and as I live on a very remote island in the South Atlantic Ocean I wanted to create a special envelope (and QSL card) that would be cherished for years to come by Amateur Radio Operators and Short Wave Listeners world wide. 
This, in conjunction with a good array of stamps (please don't write your address in the upper left hand corner of the envelope as this is where my embossed return address if undelivered will go - also please leave enough space for stamps - thank you!) makes for a rather official looking envelope which I hope you will like.  If you have any ideas how this can be improved the just drop me an e mail or tell me on the air.
---
It's intriguing to see which countries visit my page and all I can say is thank you for visiting and look forward to working you on the air sometime either on 6m or HF.  I am an avid 6m DX-er and run a beacon on 50.007mhz courtesy of Dave N3DB and company.  I also have a keen interest in 2m SSB & FM which I need to develop upon.
I am also chasing US Counties, a quest that I began in 2011, in addition to this I am also chasing IOTA (Islands on the Air) numbers despite the fact that I live on a tiny & very remote Island myself which is AF-022.
At this point I should mention KX2A - Jan who in more ways than one and through his generosity has enabled the five operational ZD7 stations to remain on the air at times of difficulty through the geograpical location of the Island.  He is a small man with a BIG HEART!!!!!!!!!! 
ISLAND LIFE IS ALL ABOUT ADAPTATION & IMPROVISATION - THAT'S HOW WE GET BY.
Aside from work my primary interests are:
Ship Photography (Maritime Enthusiast), Amateur Radio - of course, and lastly I'm very interested in Metal Detecting.  It sure would be nice to hear from anyone that's heavily into metal detecting.
A strange trend has begun developing over the past six months and that is that a number of Amateur Radio Operators are sending me QSL cards for Peter -  ZD7FT, I am NOT ZD7FT's QSL manager, I just manage his QRZ web page.  Please direct all QSL cards for ZD7FT direct to him via his QSL information on QRZ.com - Thank You.
73's Bruce ZD7VC
�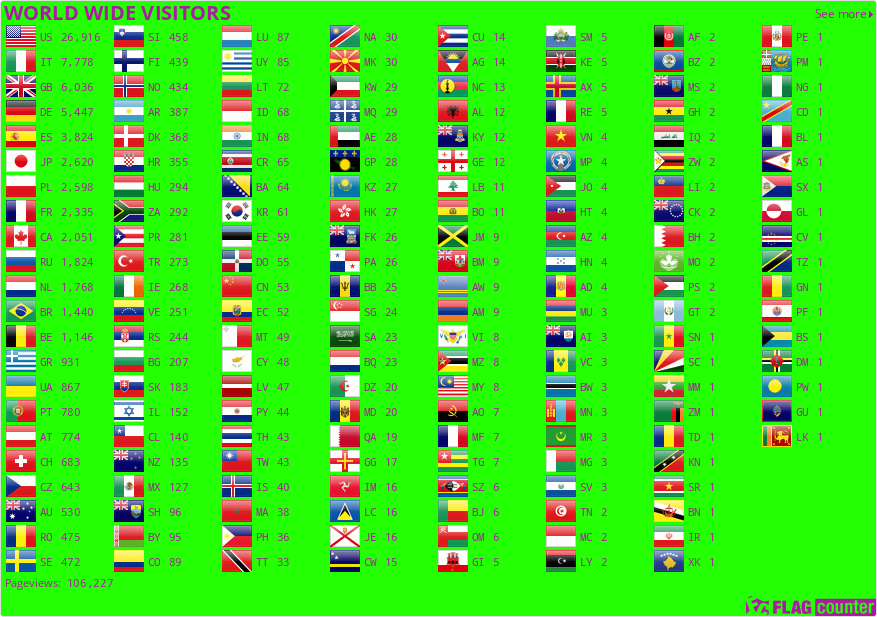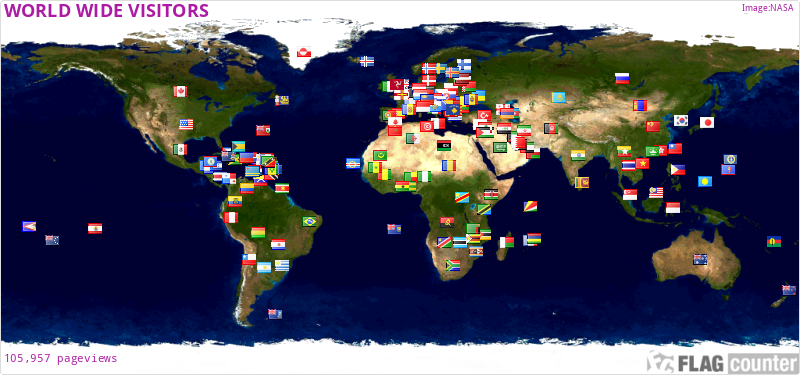 Large Visitor Globe
Large Visitor Map
Large Visitor Globe