---
I am a retired pharmacist, married to Isobel. We have a daughter (with 2 grand-daughters), and a son. We live 12Km north of the town of Balclutha on a small block where we enjoy "the country life".
Born 1940, I was not licensed until 1976. I enjoy casual contesting and am very keen to work DX. I have 5 Band DXCC plus DXCC on 30m, 17m & 12m, and DXCC Challenge (1924 confirmed). DXCC total is 336 entities confirmed (330 current).
My log is loaded onto ClubLog several times each month. I strongly recommend you make sure you are in my log before requesting a QSL card.
Check to see if your callsign is in my log (last loaded 25 May 2016 - but you may need to check again up to 24 hours later due to ClubLog processing time) - enter your callsign and click GO:
QSL CARDS. You have 4 choices:
1. LoTW: I prefer QSLs via LoTW (Logbook of the World - http://www.arrl.org/lotw/ ) - for non-DXCC awards I may request a paper card.
2. OQRS: set up on ClubLog (http://www.clublog.org ) - costs you $US2.00 for direct, but nil via bureau (See above) - your overall cost will be less
3. DIRECT: with SAE + $US2.00 or 1 IRC (lowest cost airmail postage from July 1, 2016 is $NZ2.70). PLEASE NOTE: Cards received without $$ OR properly stamped and current IRC (= new Czech version only), will go to the bureau. I always respond to direct QSL cards as quickly as possible - usually next day provided I am not away from home.
4. BUREAU: Please note, if you have already asked for a QSL card using the OQRS, DO NOT send a "paper" card by the bureau. Also if we have previously exchanged QSL cards for a particular band/mode, DO NOT send or request another by the bureau - sorry but I do not need and will no longer respond to multiple requests. I send cards to the bureau only a few times per year (last packet sent to bureau 28Aug2015).
Sorry, but

  I DO NOT USE E-QSL or the QRZ.com log = please do not ask

.
---
MY STATION:
My HF station is currently an Elecraft K3 (built April 2010 #4212 - since added 2nd Rx & P3 Panadapter). I have linear amps to 1Kw from 1.8 to 54 MHz.. I have Heil microphones with HC4 or HC5 elements and a Goldline. My paddle is now a nice Begali so I must now try to send better CW! Maybe some more Rx practice would help even more!!
Antennas: 40m-6m: 3 element SteppIR beam (20m-6m) + 30/40m dipole, 17 metres above the ground (installed May 2007). 80m + 160m: Wire dipoles about 15 metres up. I am planning to erect a higher wooden mast (~23m) to support something else for 80m & 160m (maybe a T or inverted-L with elevated radials).
I work Phone, CW and Digital and use all bands from 1.8MHz to 50MHz plus local VHF & UHF
My logging software is LOGic 9 - http://www.hosenose.com
For NZ County hunters, I live in the Bruce County #103. My home QRA Grid Locator is RE 43 vt. IOTA is OC-134 (South Island of NZ).
I am a member of NZART, secretary of Branch 35, South Otago - http://www.nzart.org.nz
Member/supporter of the Northern California DX Foundation - http://www.ncdxf.org
Member #7 of International Pharmacists Ham Group (IPHG) - http://www.malpensa.it/iphg/index.htm . My station is valid for IPHG Award.
Member of the Kiwi ZL DX'ers group - http://groups.google.co.nz/group/kiwidxlist - a good place to contact keen DX ops in ZL
Member #9691 of FISTS Club. Supporter of http://www.dx-code.org/
And for DX news I am a subscriber and a big fan of The Daily DX produced by Bernie McClenny, W3UR -  http://www.dailydx.com
PHOTO GALLERY:
Visit to Cook Islands July 2010:
Cliff ZL4AS, Jim E51JD, Victor E51CG, Bob E51BQ . . . . . . . . . . . . . . . . . Frank W3LPL, Cliff ZL4AS (below):
Frank & Phyllis visited Dec 2009. Frank loved our fresh raspberries with ice cream!
Since this photo was taken the large Eucalypt trees behind Frank, have been removed. The oregon tree immediately behind my tower was on my neighbour's property but he recently gave me permission to fell it so my beam has a bit more space.
Two of the ZL9HR team visited 22 Nov 2012: John 9M6XRO, Cliff ZL4AS and Gene K9GS:
Atsu 5W1SA, Pai and Cliff ZL4AS - visit 24 Dec 2013:
Bob VP8LP, Cliff ZL4AS & Janet VP8AIB visit Aug 2014:
Ted VK6NTE & Jenny visited via cruise ship Feb 2015 - We had a very quick visit to the Catlins area south of my QTH:
?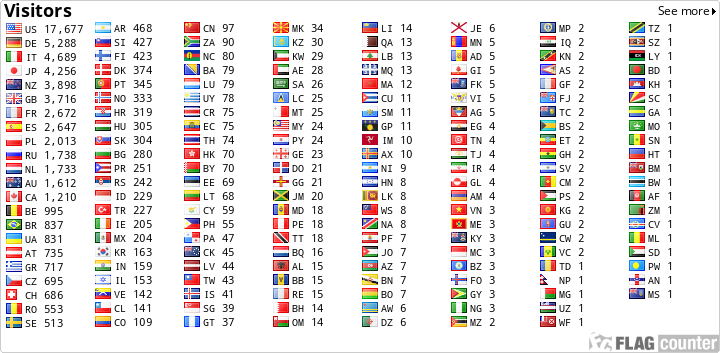 I like fly fishing
?

?
?
Rev: ZL4AS - Sun 02-August-2009 06:00utc