Thanks for visiting my page
I am Tomi, but my friends simply call me: "Mr Gardenbeam"
Licensed since
1970.

Born in Budapest in 1953. Radio amateurs like HA7PF (sk), HA7PG (sk), HG7PI (sk) and HA7PJ made me fall in love with radio.
This is why I chose radio communications as my profession. I have been working in different fields of telecommunications.
I was HF contesting at several club stations for decades, including
HG5A for more than 25 years, then also from my home station.
My favourite mode is CW.
My life's too short for QRS and QRP
I am member of:--->
I look for friends around the world.
The Shack:
2007: I met with my old friend George (AA7JV) after 34 years and we started mounting DXpeditions together.
Each time we tried to break with some common practices.
---
My motto: "we need to climb the peaks because they are there."
---
DXpeditions: VK9WWI, C6AGU, 5K0T, VK9GMW , TX3A with my friend George (AA7JV) and the last one: PT0S
---
2012-November.
From left: HA7RY Tomi> AA7JV George> PP5XX Peter> PY2XB Fred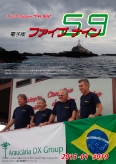 CW around the Rocks - 13/11/2012 - 20m cw pileup
PT0S, this signal is from the team on Saint Peter and Saint Paul Rocks.
http://www.facebook.com/pt0s2012
The previous:------->>>>
2011: Jan.-Febr. Rum-Cay Bahamas C6AGU
The new HF antenna improvement project:
In the HAM world we tested the first antenna array floating on sea water surface.
Antenna Farm at C6AGU
That was enough for world 4. place of the ARRLDXCW MS HP category (2 op's).
The before--->>>
2009: November. Chesterfield Reef-
TX3A:
.
.
http://www.radioamator.ro/articole/view.php?id=619

2009: March.-Apr. MELLISH REEF
Narrative from WX0V Scott: http://www.eham.net/articles/29467
2008: Nov.-Dec. Serrana Bank & Bajo Nuevo
WLOTA ( North America)
IOTA NA-133, NA-132
Guest op: HA8MT Fero
Serrana Bank NA-133