W7FED
HISTORY
I have been a ham since 1972 in El Paso, Texas with first call of WN5JXY (Novice), (Vince Sparacino taught me morse code with an old paper tape code generator at Ft Bliss, TX if anyone alive remembers him) then after a few years, I upgraded to TECH with call WA5JXY.
I currently hold a FCC General Class license as W7FED.
Here I am in my old hamshack in El Paso, Texas;
I remember sitting on top of the Franklin mountains in El Paso, Texas about 25 years ago. I was playing "briefcase packet" from the top of the mountain (4692 feet ASL). You can see three states (Texas, New Mexico, and Chihuahua Mexico) and two countries (US, Mexico) from up there !
I was one of the first in the country (especially El Paso) to get on PACKET RADIO. (Waaaaay before the internet. Actually pre-Compuserve and 300 baud dial-up modem!) Packet radio isn't as popular as it used to be (except for APRS and some new digital messaging modes), but I sure enjoyed building one of the FIRST PACKET Bulletin Board System (Xerox 820 CP/M - W0RLI software). I also helped build the FIRST DIGIPEATER in El Paso with a home-built GLB PK1-L TNC (with Dave W5DBC-SK) as well as the FIRST Modem/Packet BBS cross-link and the ELPWX Packet-Based "WeatherNode", and even a PORTABLE PACKET System in a briefcase (utilizing a GLB-PK1L TNC and a Radio Shack Model 100 portable computer. (see above).
I have enjoyed many modes of Amateur radio over the years including RTTY, AMTOR, Packet, AM, SSB, FM, and Satellite.
I think I have owned most every rig ever made. Most of my friends can attest to that!
Some of my favorites were/are;
HF:
TEN-TEC CORSAIR II
KENWOOD TS-520, and TS-830
KENWOOD TS-570DG
YAESU FT-900
VHF/UHF:
ICOM IC-820H Satellite Rig
KENWOOD TM-V7R Dual-Band Mobile
YAESU VX-7R Tri-Band+ Handheld
ICOM IC-2/3/4AT Handheld. The BEST Radio and Quality made by anyone to date.
RADIO SHACK HTX-202 Handy Talkie. The 1% of product that RS sold that worked OK.
RECEIVERS:
STEWART-WARNER R-390A
HALLICRAFTERS S-20R Sky Champion
NATIONAL NC-300
OTHER:
Teaberry CB's - All were fantastic!
Cobra CB's - 148GTL (with Freq counter). Still own this!
Golden Eagle MARK I - Never could afford it, but sure wanted it!
E.F. Johnson "White-Face" - My first rig along with a Turner +2 base mic. Wish I still had it!
---
Some of my LEAST favorites were;
ICOM IC-02/03/04AT Handheld. Good Radio but finicky and when the internal battery dies, just throw the radio away.
Early Kenwood "pocket" single band walkie-talkie. TH21, TH31, TH41 - Pure crap!
Alinco - ALL OLD and NEW MODELS ARE JUNK!
RADIO SHACK - ZERO SUPPORT - 99% of them are JUNK. Not a real radio inside. Probably made by Mattel for Barbie.
I still enjoy shortwave listening with my Icom PCR-1000 receiver. Now that I live in a HOA
I'm going to have to be more creative on what antennas I can stuff in the attic.
I used to be very active on FM VHF/UHF repeaters and the TRASH linked repeater system (10 repeaters/sites) that the El Paso TRASH group and I built, but all sites/repeaters have been shut down and sold due to my recent career move. Just can't move all that stuff across the country!
---
START SOAPBOX
I do not have any radios on the air currently. Mainly due to the fact that I moved into a HOA
and also because most of Ham radio (at least HF) makes me ANGRY now. Everyone is cussing, causing INTENTIONAL interference, playing back of recorded voices/noises and looping them constantly (14.313). I do NOT see any purpose of "Contesting". Using a digital recording with an automatic push to talk to repeat the word CONTEST and your call over and over and over and over and over and over and over and over for hours and just to what? To "exchange a signal report" and then do the same thing over and over and over and over, etc. Why?
Ham Radio is BUILDING STUFF (like your own RADIO RECEIVER and/or TRANSMITTER!)
or how about some RaspberryPi or Arduino projects?
The ARRL has a nice "Arduino for Amateur Radio" book. BUY IT!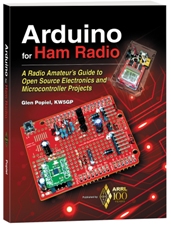 And of course the
great
"

ARRL Handbook

"
.
BUY IT!
I ENCOURAGE existing and NEW hams to "do your part" to help reduce and eliminate "poor operating habits" such as I mentioned above. Ham radio has always been "self-policing". Help track down these "offenders" and DO NOT ENCORAGE THEM in their efforts to give ham radio a bad name. Build an antenna and do some investigating and direction finding. REPORT them!
END SOAPBOX
---
RECENT HAPPENINGS
I just got back from the Mike & Key Electronics and Ham Radio swapmeet (March 7th, 2015) at the Puyallup Fair Grounds, Puyallup, WA. - Amazing how many people attend this event! I had a great time selling and talking with everyone and I am glad I got rid of some stuff that I no longer need and that others can now enjoy it. I didn't get a chance to walk around and look at other tables, which was probably a very good thing, as this year was my "clean-out and get rid of" and not a "go buy new goodies" weekend.
---
WORK
I currently support Motorola ASTRO P25 trunking radio systems.
73 de W7FED (ex WA5JXY) Neil
---