Hi and welcome to my QRZ page. My name is John recently retired from the oil and gas industry after 26 years and live in the village of Westsleekburn in South east Northumberland in the UK. Hope to make contact with you soon 73 and good DX.
I love working DX  on HF, 2m, 70cms.
Equipment working at my QTH
Yaesu FTDX5000MP 200w +SM5000 +SP2000 x2  +MD 200
Yaesu FT847 +MD100
Yaesu FT857D +DMTF +Atas 120a ( Mobile )
Palstar HF Auto Tuner 1800w
Palstar AT2K Manual Tuner
Palstar DL2k Dummy Load
Acom 1000 160m to 6m Amplifier
12m Tennamast  Yaesu G1000DXC  Mosely Mini 33AW
Tennamast Adaptamast 10m  Yaesu G400RC Wimo 2m&70cms Log Periodic and Diamond X50
SGC230 Smart Tuner with a 50m triangle horizontal wire
Western HF 10 Wire inverted V
Portable field days  Yaesu FT817ND for QRP 5w max with telescopic wonder wand and Wonder loop  and Sandpiper Dipoles.
Kenwood TS570s  2x 10m poles and 2 x Western HF 10 inverted V  N/S and E/W lay out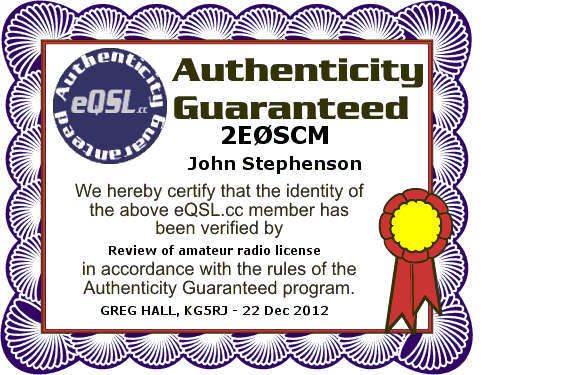 script tags are not allowed.