Hi.
**Please confirm any QSO we have on QRZ where possible** Thanks.
**Now participating in LOTW**
I am Dennis..... also known as Den to some friends and family, had to take a bit of time away from the hobby but back into it now. Took some time as relocated to a Ground floor flat (apartment) that has a communal path between my flat and my garden but eventually managed to tunnel under the above mentioned path so some coax cables are now in place! See photos further down.
I entered the hobby in March 2014 after passing the foundation exam and gaining the call sign M6XDC and then I progressed to intermediate level and claimed 2E0YDC as my call sign in August 2014. I passed the full licence exam in May 2015 and surrendered the previous call signs as would not be using them again.
My interest in all things radio go back to my childhood being a Short Wave Listener as a child and then had CB radio through my teen years in the 1980s and into the early 1990s and always had a scanner or radio or 2 throughout the years.
I am an RSGB registered assessor for foundation and intermediate levels.
Equipment: Radios keep changing! I am using a Nested Marconi type antenna based on a design by G7FEK which is 7.5 metres high supported by a fibreglass pole and a Butternut HF2V (stronger copy of and modified) which is ground mounted and used for 80, 40 and 15 meters. I have an MFJ-1835 5 band cobweb antenna which is currently 7 metres high. I also have a Silver Rod vertical for 10 meters (and tunes for 12 and 15 meters) which is 6 metres high. I use a Watson W2000 for 6 meters, 2 meters and 70cms 6.5 metres high and a Sharmans X300 for 2 meters and 70cms at 6.5 metres high. I don't have a big DX station and I do lose some power through my 50 meter coax runs so please be patient if my signal is weak to you. I have a few hand held radios also, see photos below.
My Gridsquare is: IO90UV. My WAB Square is: TQ11
I get an S5 to S8 noise floor on 80 and 40 meters also whether I use a vertical or horizontal antenna so fighting a losing battle at this location due to being close to other 2 and 3 story flats (apartments)

My garden size is 15 metres by 5 metres so limited for antenna size also so 80 meters is a challenge so any suggestions on anything I can make for 40 and 80 meters that will fit are welcome.
This is the path I had to deal with that all residents can use:
I dug a trench either side as one side is my garden and the other is my flowerbed next to the building. I then used a scaffold pole and sledge hammer to knock a hole through the clay below the path:
That was an extremely hard thing to do!
I then used an aluminium flagpole as my tube for the coax to run through:
I then cut it to size and used these soil pipe inspecton covers for my access points. You will see I cut a slot for cables to come out through a grommet.
Finished:
There are now 5 coax feeds and room for more!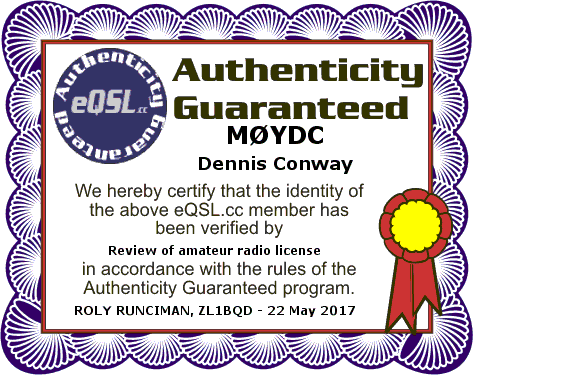 DX Code Of Conduct
(I wish a lot of other stations would adhere to this....!!!)
I will listen, and listen, and then listen again before calling.
I will only call if I can copy the DX station properly.
I will not trust the DX cluster and will be sure of the DX station's call sign before calling.
I will not interfere with the DX station nor anyone calling and will never tune up on the DX frequency or in the QSX slot.
I will wait for the DX station to end a contact before I call.
I will always send my full call sign.
I will call and then listen for a reasonable interval. I will not call continuously.
I will not transmit when the DX operator calls another call sign, not mine.
I will not transmit when the DX operator queries a call sign not like mine.
I will not transmit when the DX station requests geographic areas other than mine.
When the DX operator calls me, I will not repeat my call sign unless I think he has copied it incorrectly.
I will be thankful if and when I do make a contact.
I will respect my fellow hams and conduct myself so as to earn their respect.
Hope to speak to you sometime.
73