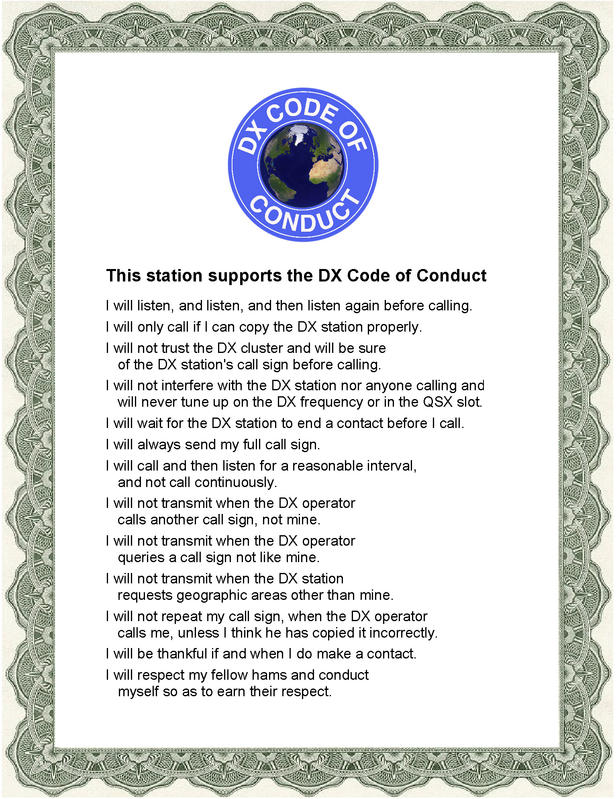 Bauanleitung für einen Ständer Yaesu Ft 817:
ganz einfach aus einem alten Metallkleiderbügel gebaut (;-).
Icom IC 7100:
Der IC 7100 ist ein schönes Universalfunkgerät.
Ein schönes Gerätchen mit tollen Funktionen und der Möglichkeit QSO`s und die eigene Aussendung aufzunehmen.
Da ich die Modulation des mitgelieferten Mikrofones HM-198 ein bißchen muffig und mit etwas wenig Punch empfand, habe ich mir das Mike mal näher angesehen.
Im Innern befindet sich in dem Gehäuse direkt vor der Mikrofonkapsel eine dicke Gummidichtung.
Diese deckt leider auch die Mikrofonöffnung so ab, dass die Sprache nicht direkt zum Mikrofon auf der Platine weitergegeben wird - schade.
Ich habe diese Gummidichtung etwas angehoben, so dass der Schall nun direkter auf die Kapsel trifft- das war schonmal eine Verbesserung.
Dann habe ich noch aus meiner Kramkiste einen 2,2 uF Kondensator auf der Platine eingelötet - siehe Fotos.
Ergebnis ist eine vollere und kräftigere Modulation - wobei der Sprechabstand zum Mike so um die 15 - 20 cm sein sollte - näher bringt nix, viel weiter auch nicht.
Mikrofon Modifikation Icom IC 7100 - Mike Umbau IC 7100 - Mike Modifikation -  IC 7100 Mike Mod.
Bauanleitung für ein Yaesu MH-31 Mike von Dynamischem Mikrofon auf Electret Mikrofon, Yaesu MH - 31 Electret Mike Modification, MH 31 Mike Modifikation.
Liebe OMs, es ist wirklich sehr leicht sich sein MH 31 auf Electret umzubauen, ich würde dafür niemals Geld ausgeben,
um mir von sogenannten Mike "Profis" das machen zu lassen, das können wir Funkamateure doch ganz einfach selbst.
Was wird benötigt:
Gehäuserückseite des Mikes entfernen:
Dann wird der kleine Kondensator ausgelötet und das dynamische Mike entfernt: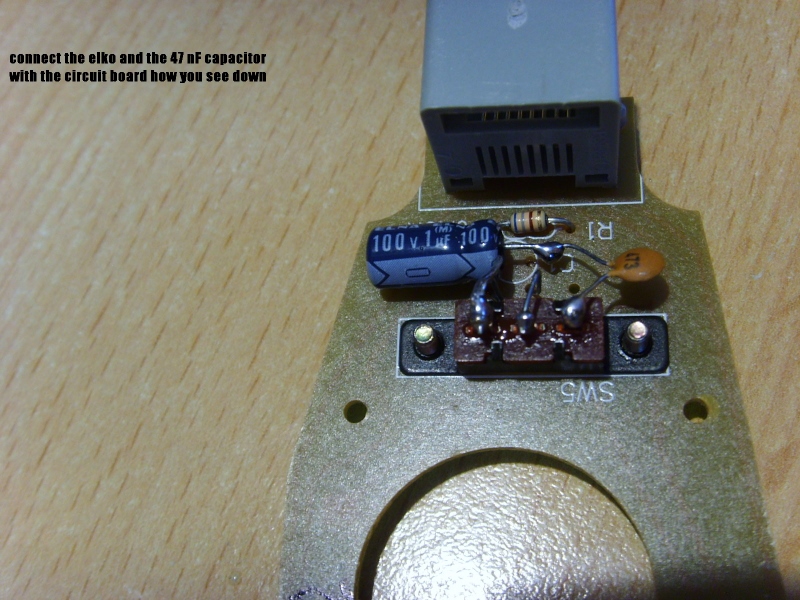 Dann Mike wieder zusammenbauen und viel Spass beim Testen.
Einstellungen;  Mic Gain ca. 40 - 60 bei SSB ( austesten )  und ca. 30 bei FM.
Bitte beachten:
Ich bin nicht verantwortlich für evtl. Schäden durch Bauanleitungen!!
Vielen Dank an John - M0UKD - für die guten Tips und Informationen.
Thanks to John - M0UKD - for the good Informations.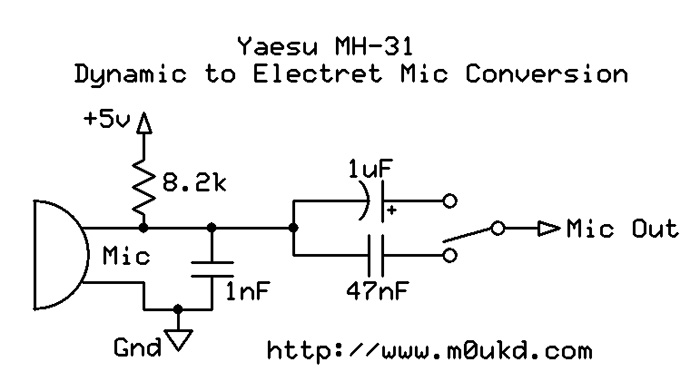 Viel Spass beim Nachbau!! 
Hinweis:
Ich freue mich immer über neue Beiträge auf der Seite von Antons Funkperlen.
Lieber Anton, das machst Du wirklich klasse, den vielen Neidern und unsinnigen Kommentaren zum Trotz.
Bitte mach so weiter, Deine Fangemeinde ist viel größer - als deine "Feindgemeinde"  (;-).........
Anweisungen für die Herstellung einer  Filterbrücke mit Murata CFJ 455 K 13 SSB -Filter  und Verwendung für den Yaesu FT 857 und FT 897 !
Liebe Funk Freunde.
Wer mit einem Yaesu FT 857 oder 897 Gerät ein QSO geführt hat weiß,  dass sich die Modulation schnell deutlich verbessern läßt.
Sie müssen nicht ein Elektret-Mikrofon vom Händler kaufen und die damit verbundenen Umbauten für teures Geld bezahlen, lassen sie das, es ist wirklich einfach selbst zu bauen.
Die Yaesu FT 8xx - Geräteserien haben die Möglichkeit des  optionalen Filtereinbaus.
Sie können die relativ teuren Original -Filter von Yaesu usw. verwenden, oder basteln sich eine Filter Brücke " einfach selbst- es ist es nicht schwer , und der Arbeitslohn wird eine  deutlich verbesserte Modulation sein.
Sie benötigen ein Filtermodul des Herstellers Murata CFJ 455 K 13 , dies ist der Name für  ein  2,7 kHz breiten SSB -Filter.
Die anderen Buchstabenfolgen markieren noch die Filterkurven .
Sie benötigen noch eine Lochplatine und die kleinen Stiftleisten.
Quelle bei mir war die Firma  Reichelt Elektronik .

Sind die gebohrten Löcher in der Platine nicht zu groß ist , wird der Filter  ohne Klebstoff auf der Platine halten, ansonsten werden einige Tropfen Sekundenkleber verwendet.
Auf dem Boden werden die 5 - Filternasen nach dem folgenden Schaltplan angelötet.
--- siehe Bilder -----
Wenn alles fertig ist geht man in das Menü des Transceivers  und aktiviert den jeweiligen Filterplatz, wie  bitte in der Bedienungsanleitung des TRX suchen.
Dann im Kurzmenü auf der Anzeige des TRX von  CFIL auf FIL1 wechseln.
Ist alles richtig installiert hört man schon den Unterschied sofort.

Viel Spaß beim Aufbau.
Ich bin nicht verantwortlich für Schäden o.ä. die durch Bauanleitungen entstehen, also immer vorsichtig arbeiten.
English:
Instructions for making a filtering bridge with Murata CFJ 455 K 13 SSB filter and use the Yaesu FT 857 and FT 897!


Dear radio friends.


Who has a QSO  with an OM worked with a FT 857 and FT 897knows, that the modulation can rapidly improve considerably.


You need not be a electret microphone and the associated conversion.


The Yaesu FT 8xx series, so the KW mobile transceivers have the option of optional filter installation.


You can take the relatively expensive OEM filters from Yaesu, etc. or tinkering a "filter bridge" simply self, it is not hard and the wages of labor is significantly improved modulation and better specifications when properly adjusted the TRX menus.


You need a filter module Manufacturer Murata CFJ 455 K 13, a 'is the name for 2.7 kHz wide SSB filter.
The other letter sequences mark nor the filter curves.


There is still a breadboard and the necessary headers are needed.


I chose to download the PCM 2.5, but this can always try yourself.

Source at the company I was Reichelt Elektronik.


You look at the breadboard tailored to fit the length of the slot in the transceiver and drilled the necessary holes for the 5 ports of Muratafilters into the board.

The holes are not too large, the filter holds without adhesive fixation on the board, otherwise some superglue use.


On the left side (as viewed from the top of the filter), the 4-pole and the right side applied the 3 pin connector on the board, also helps glue or a hot glue gun.


On the bottom then the 5 sockets are soldered the filter according to the following wiring diagram.
In Case of what connectors you have used, when installed in the transceiver 3 or 4 pin plug sockets on board to be fixed a little, so that the bridge can filter insert easily.


Then in the menu of the transceiver of the respective filter space is activated, please to look into the Handling intructions of each TRX.

Then in the short menu on the display, the filter options are displayed and you can switch from CFIL on FIL1.


Everything is installed properly you can hear the difference immediately.

Have fun building your own.
I am not responsible for damage by copy and use these instructions.
I love Lebanon!
some pictures from my duty time in the beautiful lebanon: