Last Update: 13. Jan 2017 

AMATEUR RADIO IS: 
"THE GREATEST OF ALL SCIENTIFIC HOBBYS" 
 


Cockpit Glance
 
C O N T E N T S
Topic   o:  My HAM Bio 
Topic   1:  My Recent Activities
Topic   2:  My Photographer Bio  –  My Macro-stand studio concept with sample images from my 2nd hobby
​Topic   3:  My Amateur Radio Station
Topic   4:  PROJECT Antenna Configuration Extension  –  DL4EAI Remote Base Station  a n d  my brand new 630m WSPR KISS PROJECT
Topic   5:  Tips For Accessing Remote Base Stations 
Topic   6:  Online User Guide with tips how you can access my IC-7400 transceiver over the Internet from RemoteHams.com
Topic   7:  Tips for Setting Up A Remote
​Topic   8:  free


Tip: Google Map shows here locations of assigned German amateur radio stations.
​

Topic 0
My HAM BIO
HAM-Radio is not just a hobby,   it's a way of life

In Brief:  License  (Callsign) Since
1966: SWL  approved by ...  DARC          CW 5 WPM
1972: VHF / UHF HAM  ...... DC3EQ 
1981: HF / CW HAM      ...    DL4EAI       CW 12 WPM                  
2004: EchoLink Gateway ....DM0ZAA-L  discontinued
2013: Remote Base Station DL4EAI         in service
2017: EchoLink Gateway    DL4EAI-L     in service     Note Number 242226 and mobile device DL4EAI 232364                 


SWL & HAM Bio
Thank you for reading this information and for your interest in me and my hobbies. My name is Rüdiger (Rudi). As a small boy, at the age of 11, I developed an interest in electronics by a friend and got my first detector receiver. And later I started as a hobby on the radio (SWL) when I heard the AM bands in the 1970s. 
My interest in Ham-Radio (HAM) began at the age of 16. When I was 17 years old, I acquired my SWL license (Shortwave Radio Listening) from DARC in 1966. I was proud to use a BC-348 military receiver in the 1970s, which I got from a licensed friend. At the age of 23 I received my C Class license for VHF/UHF and higher frequencies and a few years later I acquired my CW Extra A Class, full license.


Biography
I live in the city centre of Düsseldorf (JO31je), 40m above sea level, east of the border between the Netherlands and Belgium at the largest German river called Rhine in the middle of North Rhine-Westphalia. My Amateur Radio Hobby and Toolmaker apprenticeship led me to the University of Wuppertal, where I completed and followed an Engineering Career in Electronics and developed more than 20 patents which are registered in DL, EU and worldwide.

.
Lifestyle  –  "no more 9-5"
Now, I`m 68 years young and retired ham since 2014, sitting in my rocking chair and being happy, watching WSPR, enjoying HAM-Radio. 
To get moved, I'm active as photographer making nature and macro photos at home and on-site as well.
Visitor Highlights in our Garden


Terrace and Garden Panoramic View
My antenna configuration is described in detail below under topic 4.
​

Topic 1
My Recent HAM Activities
To be radioactive is a way to keep the doctor away!
Mainly digi modes

Welcome to the land of whispers. 
Currently beside FT8, WSPR (Weak Signal Propagation Reporter) has become my favorite mode.
It is absolutely fascinating to see what distances are possible with low power QRP signals.
The core software was written by Joe Taylor K1JT, who happens to be a Nobel Prize winner.


I Am Active in WSPR on Following Bands.
----------------------------------------------------------------------------------------------------------------------------------------------------
RXing: 2200M, 630M, 160M, 80M, 60M, 40M, 30M, 20M, 17M, 15M, 12M, 10M, 6M, 2M; (active on 14 bands)
TXing: (2 Watt) 630M, 160M, 80M, 60M, 40M, 30M, 20M, 17M, 15M, 12M, 10M, 6M, 2M; (active on 13 bands)
----------------------------------------------------------------------------------------------------------------------------------------------------
RX/TXing: During daytime my IC-7400 transceiver running predominantly in Bandhopping mode on a Long-wire using IC-AH4.
TXing:---     During nighttime I use a DDS synthesizer (DJ0ABR) + its 9-W QRP PA on a Long-wire using MF matching network.


 Nighttime TXing on 630m  -  details see KISS project  -  Topic 4
Foto: DB2DR, 12/2017.             Latest news see topic 4

 
630-Meter Band WSPR TXing Distance Test
Topband: Band activity on MF has increased significantly since this year. I opertate a WSPR beacon on 475 kHz
most nights from sunset to sunrise on my 42m Long-wire plus matching network.



20-Meter Band WSPR TXing Distance Test
I use WSPR as an unique automatically running real-time test tool for comparing different antennas,
propagation study, locations, band spot openings and antenna performances in general.


 
2 Watt on my 42m Long-wire
2200-Meter Band CW RXing Distance Test
Another fascinating very slow speed CW experiment. My first DXing across the North Atlantic to Newfoundland.

Below is my QRSS (CW) reception report via waterfall screenshot. Joe, VO1NA has transmitted at 137.777 kHz
with 500 W into his huge and impressive antenna farm!




 
Tip: This 2nd visual example of the QRSS (CW) waterfall was created by Joe, DF2JP with
an ALA 100 LA, which shows better results than my Longwire in a 2200m band comparison.
Tip: QRSS Grabbers for LF/MF from DF2JP are online here.


 
A dot duration = 90 sec. 

Successful cooperation. Many thanks to Joe in Germany asking Joe in Canada switching on his transmitter especially for me.
In return, I achieved my 1st long distance QRSS RXing experiment across the North Allantic to Newfoundland on 136 kHz!

Tip and General Information: On LF I usually use 3 software programs (WSPR-2, WSPR-15 and QRSS) running simultaneously 
on the same PC with a receiver tuned to 136 kHz. Further information's: QRSS Grabber compendium. Antenna loop for 136 kHz.


6-Meter Band JT65 RX DXing Distance Test
Excellent Trans-Atlantic Sporadic-E opening on the 6m magic band.
DX reception of 3 US and 1 JA station achieved on 6m in JT65 mode!




Make More Miles, With Digi Modes
73's, see you in the pile up!
Rüdiger, DL4EAI


 
Topic 2
My Macro Stands Studio Concept                                  
You see more and know more with super macros
Here are samples of my self-made multi-functional macro desktop stands, applying mostly standard devices, practically combined in a unique and pro way.
 
Horizontal Multi-Functional Focus Stacking Macro Stand
Tip: "Come Closer"  - Take a closer look. There is a life beyond ham radio.

The art of macro photography is infinite with the right tools –> going beyond the limits.

Performing by special technology extend depth of field composed images with an optical magnification of up to 20x, getting ultra-high resolutions images by aid of "Helicon Focus Software" applying focus stucking technology!

Macro Stands: As you can see below, I made several macro stands for different applications to create high magnified and focus stacked images, which afterwards are rendered by aid of a special software to create also unique 3D images like the last coin section sample below showing or creating 3D Videos of the stacked images as well.

Focus Stacking Software: The focus stacking software is a tool allowing to achieve images with theoretically unlimited depth of field. It means that if you have a number of partially focused photos, or a stack, the program will render it into a fully focused image by combining the sharpest areas from each photo of the stack.
Macro Stand + Image Sample: The macro stand below showing the quantity of extension tubes required to perform a 10:1 optical magnification images with the EF-60 Canon macro lens. The image that I made of a hornets head (Hornissen-Kopf) shown on the bottom left hand side was made with 4:1 optical magnification (4x optically enlarged, plus your screen enlargement).



Vertical Multi-Functional Macro Stand
The camera display showing a enlarged details of a Five Euro Note.

Combine the right things together making life easier


MY FOTOGRAPHIC SUPREME DISCIPLINE   –   Super Macro of a Copper Coin Section
What's about the image below?
You can see below a simple coin or specimen device holder which can be integrate into my multi-functional horizontal stucking stand (1st macro image above).

Furthermore, as one can clearly see, in the center of the complex created image a star. This star image was made by aid of macro lenses and stucking technology mentioned above. It is one out of six stars which are located on every 2-cent euro coin. The stars size are only 1mm in a diameter in its original size!
What is superb in the image?    
You can see high-resolution details of a manufacturing embossing process, showing the very huge enlarged star. By a macro stucking rail process, I have combined 200 pieces of high magnified single images, which are processed with aid of photo stucking software like "Helicon Focus".
Have you seen the magic details?  
If you take a closer look to the center of that high magnified and high resolution image below,
you may see:
    -  A machine made embossed star in a real 3D effect.
    -  A raised 3D effect at the image corners as well.
In addition, one can also see, especially for analytical purposes and that's the target for such images, 
the abrasiveness (roughness) structured surface caused by embossing work!

What can we learn from it?
Advanced analysis and quality control feedback information's of the ongoing manufacturing process: 
Quality results and consequences.
The more the coin surface roughness and less corner sharpness becomes an issue during machine made process, the more worn is the mold forming tool to be renewed or consequently be replaced.
Screen enlargement
Tip: If e.g. the star reaching 90 mm in size on your screen surface, 
that makes a 90x enlargements of the 1mm star in its original size on the coin.


Grasshopper Macro in its Beauty Surreal Environment
Nature Pure  –  Enjoy Your Meal
​Wide-angle super close-up overall macro photo is extremely difficult to take, unless the light is overcast
and a special high-magnification relay lens setup applied covering macro up to infinity (DOF) range.

The easiest way is to use a compact camera that has a "1cm" macro mode with sufficient magnification. ​Another way is
to use a wide-angle lens on a very short extension tube, for instance use a Nikkor AI-s 20/3,5 on the old K1 5,5mm ring.


 
In the middle of nowhere? No, it's only a 15 minutes' walk from here, in the middle of the botanical garden of the University of Düsseldorf.


Amazing Details  –  Housefly Macro Photography  
Extend depth of field composed stacking close-up macro image,
showing spectacular details of a facet eye and mouth tools of a housefly.
Even dust contaminations is visible in details!




Image Resolution:
Tip: All images on this page had to be resized down to a size of 800x800. Consequently, the image
resolution quality of my here published images cannot be by fare as high as my original images are.

 
Finally, A Helpful Marco Image Contribution for HAMs  –  Critical Corrosion Development

Troubleshooting Tip:
A very interesting macro photo for radio amateurs to see. It shows a power supply fuse head showing 
an extended corrosion progress, which has taken place over many years causing my radio dc creeping
and from time to time abnormal voltage and power droping problems. The fuse was not blown up!

One can say: An undetected strongly corroded (gradually resistance-increasing) fuse can become a danger for ham device!
 Fuse head with raised 3D effect


Düsseldorf my Hometown
Caution,  i'm  watching  you ...
targeting on you, with a harmless shot!
 Düsseldorf
Catch you on air.

DL4EAI, Rüdiger R. Westphal
Macro and Nature Photographer
​
Topic 3
My Amateur Radio Station
Amateur Radio around the Globe
VLF / LF / MF / HF VHF and UHF
CQ CQ CQ  
  DE  DL4EAI  DL4EAI  K
Some QSO every Day, keep the Dr away!
IC-7400 Mode TransceiverIs
(Remote Base Station)
- RX: Covering all amateur bands from 2200m to 2m
- TX: 80, 60, 40, 30, 20, 18, 15, 12, 10, 6 and 2-Meter ham bands.


IC-AH4 Random-wire Automatic Tuner
(Used for the remote base station)
- Wide tuning range: 160m  -  6m and wide impedance range: 10 to 5,000 ohms.
- Minimum interference QRM because super-fast tuning and only 0.3 W radiated PWR during tuning!
​- Once tuned, no tuning during the sending process, preventing to damage the tuner components
  against high PWR tuning, resulting in a long service life for transceiver filter and PA unit and tuner as well!


SDRplay RSP1 All Mode SDR Receiver
(Used to monitor the remote base station)
The SDRplay is a powerful Software Defined Receiver (SDR) which has an exceptionally wide frequency range​ and covers all frequencies from 8 kHz up to 2 GHz (without gap). Super high sensitivity (!) with a low noise floor. The front end is protected by a series of automatically selected passive RF filters and 2x2 antiparallel overload front end protection PIN diodes.

Tip: My SDRplay is connected to a MiniWhip, which is placed only at a distance of 6m to my Long-wire, which is connected to a 100W HF transceiver, which causing no overload on the MiniWhip as well as on the SDRplay!

Tip: I am using for the SDRplay designed SDRuno Software v 1,11.
Multiple 'Virtual Receivers' which allow simultaneous reception and demodulation of different types of signals within the same receiver bandwidth. Signal Indentification guide for digital modes is here. More information can be seen on the schematic drawing (topic 4 and 7) below). SDRplay schematic diagram is here


Antique Radio  –  Atlas 215X HF SSB/CW mode transceiver
A fully transistorized vintage mobile transceiver from the 70's. I use it for decoration only


End-Fed Wire as Inverted-L Random Wire Antenna  –  HF ANT 1
For 160-6 Mtr I am applying a IC-AH4 tuner with a 42m Long-wire connected.

Tip: As my antenna is used for low bands as well and as it is located in the city, I have to live with a high noise floor. Due to "electronic pollution" I use the antenna at low bands preferably with digi mode and in difficult cases more and more in WSPR TXing mode.


Vertical HF/VHF/UHF ANT 2
For 20-6 Mtr alternatively I am using the 6m section of a vertical Diamond V-2000 antenna (matched by coax tuner).
On 10m it is nearly a 1/4 vertical polarized pin, with an efficiency like a good working mobile antenna. 
As it is mounted on top of a high roof, it has a very low urban noise floor compared to Ant1.
Topic 4 and 7 below showing the wiring configuration. This antenna is also used for VHF/UHF.


Original MiniWhip E-Field-Probe ANT 3 (RX) (new since 11-2017)
Since recently, I am using the original and improved PA0RDT-Mini-Whip antenna version (10 KHz to 30 MHz). For WSPR on 2.200-Meter and 630-Meter I use preferably the high performance of the antenna, hanged up in a small tree, 3m above ground. It works excellent on my SDRplay receiver using SDRuno and WSPR-X software together. On 40-Mtr. or 2200-Mtr e.g. the spots with the MiniWhip compared to my Long-wire are on the same level.
Tip: Background and development history of the antenna design issued by Roelof Baker, PA0RDT, which he published in the VERON magazine is shown here.

Tip: Twente wide-band WebSDR http://websdr.ewi.utwente.nl:8901/ is using this antenne as well. They have also a WSPR decoder built-in covering 2200m up to 10m WSPR bands at a time! WSPRing reception callsign is  PI4THT: You can check you WSPR transmission or compare signals easily with PI4THT. 

Tip: Note that the height of the antenna above ground makes a difference to the output signal level, but once you get outside the local noise field it does not make much further difference to the S/N ratio. It is a preferred solution to put the antenna up in a tree (>3m) and as far away from any building (>10m) as possible! I c

Testing: my vintage Dressler ARA 30 Active RX Antenna 200 KHz - 40 MHz.
parallel in real time on the SDRplay running WSPR RX mode using the MiniWhip active antenna having no overload problems! 
Topic 4
Antenna 

Configuration and Features
​a
re very limited in a city

                                                    ANTENNA   I  -  Horizontal  -  42m Long-wire (Inverted L)
                                                    ANTENNA  II  -  Vertical  -  16m AGL on a roof - 6m/2m/70cm Diamond V-2000
                                                    ANTENNA III  -  Omnidirectional  -  Original MiniWhip PA0RDT 0-30 MHz
 
Surely, a dipole in our huge garden can be better (less noise floor), but it is not permitted by 11 owners. We all want to enjoy our poor nature garden located downtown!

 
My Long-wire Backyard Antenna is Invisible and Suspended in Azimuth Direction 100 Degree
Tip: In summer time e.g. at a distance of 2m from the wire, one cannot see the wire of the antenna at all. 
What does it mean: If 11 flat owners do not see the antenna, during garden inspection, they do not care about it!
Never give up, there is always a way...
My Hardly Visiable 42m Long-wire is Suspended in 12m - 15m Altitude in Our Garden
Below in the photo you see, for me, two rare cases:
a) an overall view of our completely snow-covered garden in winter 2017.
b) And here you can see a hardly visible Long-wire, which is normally invisible.



A summer panoramic view of our community garden you can see above under topic 0: "Visitor Highlights in our Garden". 

Tip: A top-hat is necessary to get a desirable current distribution and as high a radiation resistance as possible. Additionally, the top-hat adds a lot of capacitance to the antenna, reducing the inductance of the loading coil needed to resonate it and reducing the losses associated with the loading coil (this information was published by: Robert Bicking, W9RB) .   

Tip: How to improve a vertical antenna by inductive top loading for low bands are explained here: In an environment with a lot of 'vertical objects' (trees etc.) close to the antenna inductive toploading (horizonal part) can significantly increase the performance of a short vertical antenna.                


PROJECT MF Matching Network for 630m Band

HF Antenna Switching Configuration Architecture (42m Long-wire)
has been extended, to be able to transmit on 630m band. A loading coil and variometer is used to bring the antenna to resonance on MF.

Transmitting on the nighttime band  –  630m Band.
In order to transmit on MF is another headache. It is no longer the men-made-noise level in the city, but the antenna length and height over ground as well as the efficiency of the matching network (loading coil - variometer) and of course, the earth conditions which is getting on low bands the most important of all.

Tip: Using my Long-wire for MF TXing:  I want to avoid, that my 630m RF transmit power output (TPO) gets burned up in ground loss and dissipative ohmic conductor losses. Therefore, I have upgraded the matching system for 630m band. Instead of IC-AH4, I am using for 630m band a loading coil (325 uH) inserted in series with a variometer (40 uH - 175 uH tuning unit) connected also in series to the Long-wire, which is more or less an inverted-L antenna.

To match this on MW resonant ANT 1 to 50 Ohm I use for impedance matching an toroid core FT-140-43 using coil with taps (impedance steps). For better understanding I have made below drawings and photos. 

Coming back to the main point, I have improved the counterpoise grounding system of my Long-wire, by connecting the water pipe buried under ground in the garden by wire to the copper pipe heating network, which I have well experienced as good running counterpoise for HF already. The 40m long coax wire of the roof ANT 2 is also joint as counterpoint!

Tip: How-to-build-a-630m-antenna: http://www.f6ciu.com/630m/630vk2/630vk.html.

 

More components with other drawing details are shown in sketch under Topic 7

 
Antenna Matching Arrangement Setup For HF (80m - 6m) and MF (630m)
As one can see: the antenna matching network for HF (IC-AH 4) is located at the base of the antenna,
directly above the earth and next to it for MF as well. 

All components (except the IC-AH4) belonging to the MF matching System.


With 9 Watts On-The-Air on MF  on my 42m Long-wire (inverted "L")

Micro Henrys in wintertime
a total inductance of 110 uH variometer + 330 uH loding coil = 440 uH required for resonanz on 630m.
Micro Henrys in summertime 
a total inductance of 110 uH variometer + 260 uH loding coil = 370 uH required for resonanz on 630m.
Tip: The following detailed illustrations and photos showing a lot of helpful features!
        I use a series of fine taps for coarse adjustment on the coading coil in combination with a ball variometer inside. 


  
 For more details see photo below
Tip: Online variometer design calculator and more is here.
 
Ultra-Compact Medium Wave Matching Network
Designed for at least 100 Watt rf input or up to 1 watt ERP antenna output power on 630m.
Excellent Kit Project(s) Made by DJ0ABR  U02-DDS Synthesizer etc.

Advanced Multimode U02-DDS Synthesizer  –  Autonomous 15 HAM Bands WSPR Beacon Exciter
Tip: This extendable kit project can discover and revitalized the interest in our 'hobby' again and invite to issue a lot of electronics, RX/TX and antenna experiment ideas!
Multiband, multimode beacon with testing and measuring features

11-Band stand-alone TXing WSPR & CW beacon
10 Watt rf output power controllable between 0 - 10 W
15-Band beacon: DDS on its own running on all HAM bands from 2200m up to 2m 
Signal generator function: 0,1 - 160 MHz (0 - 25 mW), extra RF shielded
Bandhopping on 10 bands from long wave up to 2m band

An analog SWR / power meter specially calibrated for low-band applications

All-in-one metal box: Suitable for field day, mobile and stationary

operation

Absolutely silent and safe night operation  –  low heat dissipation  –  no fan required (10W)
Stand-alone WSPR TXing at night on MF (loding coil) or HF (1:9 balun)   
DDS Mode: WSPR, CW, D-Star, FM, AM and
Sweep Frequency Signal Generator 100 kHz to 160 MHz
Direct Digital Synthesizer (DDS)
10-Watt ultra-compact PA (DJ0ABR): 400 kHz - 60 MHz 
with

8 low-pass filters (harmonics -40 dB) covers 11 HAM bands

The idle current for the QRP PA is adjustable for C/A-mode


(The PA was built-up for me with the friendly help of DH5RAE and other components by DB2DR)

Powerful toroidal transformer 15,5 V / 10 ampere is in use

Powerful 13,8 V / 5 A dc power supply and low noise 8V for DDS 

RX / TX attenuator 0-10 dB (1 dB steps) and 0-35 dB (5 dB steps)

Calibrated 100 W SWR and RF PWR meter for MF (630m) 

TFT display shows WSPRing parameters
GPS receiver and socket for external GPS antenna
Mains Line AC filter for 230 V ac
Antenna vacum relais: Long-wire between MF WSPR KISS TX and HF remote (IC-7400)

 



The Screenhot Below Showing an 
Online Antenna Simulation Program 

Tip: As medium wave (MF) operation is becoming more and more popular and in order to get my existing end-fed wire antenna (inverted-L) matched on MF as well, I applied below stated simulation online program on my Long-wire antenna. http://www.472khz.org/pages/tools/antenna-simulator.php




Radiated power on MF (630m) is limited to 1 Watt ERP.
One can say: No limitations on transmitter power or antenna size, i.e. we can use a small transmitter with a large antenne or a high
power transmitter out put with a small antenna.
Tip: Experimental 600 Meter Vertical Antenna Chart by W5JGV - WD2XSH/7 is here. This chart was put together at the suggestion of Paul Signorelli, W0RW. He suggested that it might be a good idea to   model a simple vertical antenna system that could be built by Amateur operators who would like to get on the air on the new 600 Meter band when it is authorized. Because the allowable power level will most likely be one watt, this chart has been calculated for that power level.




Special Test Variometer Made by DF2JP
A very interesting test device can help to simulate accurately a required inductance value for a required loading coil for e.g. for a low-band application.
The special feature of the device is. It's including the local antenna and ambient capacities as well as the ground conditions at the antenna feeding point which are therefore reliably determined, in conjunction with an antenna analyzer or low pwr test signal, which is in contrast to mathematically calculated mostly estimated inductance value.
Main feature: This mini variometer covering a very wide operating range (176 uH ... 8,5 mH (!) it is shown here.



This is a SLOW-HELL Mode Transmission on MF, Issued by DF2JP Addressed to me.




I hope to meet you on the bands.
Rüdiger, DL4EAI
Topic 5
Tips for Accessing Public Remote Base Stations 
"Don't worry, be happy"
Information's 

how 

to access and

remote (

my)

transceiver's trough internet from your location (home, hotel e.g.)
 
PREFACE
HAM RADIO DXing
Public Remote 

 

 Remote Controlled Internet Based Amateur Radio Stations 
 
In the case that an internet is available, you can access to control and operate my or other ham radio stations remotely from anywhere or optimize propagation by monitoring your own station on the other end. Just a WINDOWS pc / tablet or ANDROID smartphone / tablet and a low-cost headset will do!


Tip: On client Internet user side you require only a PC, Tablet or Smartphone and RCForb software to a access my transceiver IC-7400 and perhaps other online remote stations as well.

In other words, overcome local stations restrictions or limited station capability. If all that is interesting for you, than follow the information and tips with further amount of interesting features below.

Please be informed, you have to be a registered user of the "RemoteHams" community. Therefore, visit here to create your free account.
You can enjoy operating remote amateur transceivers & more by joining the remotehams community. Don't miss rare DX you may never have a chance to hear. Test your own signal propagation, are you being heard in a DX location.
Furthermore, it can be a good occasion to use a remote, especially if you do not have a:
    - suitable antenna permission
    - locally high noise level, interference
    - or you are on a business or vacation trip
    - discover generosity remote operations
Advantage: A transport of transceiver, antenna and installation is not required at all!

What you need is the RCForb (Client) software for Windows SYS or an Android handy / Tablet App). It is an application you install on your computer for using all the online remotes.

You can use it for RX only or for TX and more! The client software also has a new built-in VOIP feature allowing users to easily RX and/or TX on remotes using a single application.
 
Get First Impression and Listen Online to Transceiver's or Receiver's
A online list of available remotable radio stations are published here. 

Software Downloads
In order to remote control transceivers within the "RemoteHams" community, the  RCForb (Client) software version for Android, WIN based device are required to be download at this link.
Tip: Getting started with RemoteHams software, see here.

International Legal Information's
It is highly recommended to look at this legal information's posted in below listed link! Can I allow a licensed ham from another country to transmit? Information's see here.


Licensed Amateurs Radio Operators may can have Transmit (TX) Privilege
If you have a valid radio amateur's license issued by your government, a TX privilege may be given, provided you have uploaded a copy of your license here, which is an obligation!

Hereafter, you have to request TX privileges on each remote you want to use. Just click the "TX" button on the remote, and a message window comes up, asking if you want to request TX privileges, and answer "yes".

Each remote owner will have his own rules for granting TX privileges. When you are approved, there will be an (X) next to your user name (user name sample: (X) dl4test.


Rules to use Remote Stations
Operating Guidelines. General Remote Usage Guidelines. Ask To Tune Policy. Wait To Tune Policy. Preventing Hi-Jackers (Reserved Slots). Legal Information (General Public). Disclaimer. Information for USA Amateurs [FCC Laws] information's can be found here as well.

Documentations / Users' Manuals
of the client and server remote software you may find here. 
Documentations / Users' Manuals to the Remote Station IC-7400 of DL4EAI.
If you are a registered at RemoteHams and granted to be a user at the remote of DL4EAI you will receive a completed and extended English and German User Manual version with many tips by email from me personally.


Tip: Listen to my Skype Account
Alternatively to above and below described technology, you as SWL can simply listen to my open Skype account: dl4eai-1 to the live audio downstream coming from my online remote transceiver IC-7400 DL4EAI.
 
Hope to meet you on the frequency or on my remote.

SWL reports are always welcome! Especially for transmissions below 1 MHz!
Topic 6
Online User Guide and Tips Using my Remote, DL4EAI
Accessing and Remoting my Transceiver by aid of RemoteHams.com      

                   ...stay tuned

Guided Tour...
CQ CQ CQ   DE   DL/HB9TEST  DL/HB9TEST  K     
   (example via remote)
Photo of my IC-7400 Transceiver used for the remote of DL4EAI 
Detail of the rear side showing the wiring of IC-7400 to remote it, is illustrated under topic 7.

Screenshot of the RCForb Client Program (WIN) Showing My Transceiver as Virtual Device on Your Screen
If you are connected to my remote at remotehams.com on a Windows pc, than you will see below remote functions of the IC-7400 available. The screenshot showing main receiver (RX) and transmitter (TX) related remotable functions which can be accessed by Internet and controlled.   

Guests and amateur radio operators logged in with an account at RemoteHams can enjoy to tune and listen online here to my remote for free, without need a permission by me!
Mobile Device Screenshots of the RCForb Client Program (Android)
If you are connected to my remote at remotehams.com with a mobile device, than you will see the remote functions of the IC-7400 available on you smartphone or tablet in individual windows.


The aim of this just to the point limited user guide document is, to give feature overviews with handling tips, how to make use of my Amateur Radio station consisting of various components in a highly efficient and secure manner, regardless of your location in compliance with the law, operating and controlling the remote on HF & VHF frequency bands, are described below:


A Request for Using my Remote!
It should be of interest reading this user guide from time to time getting more familiarized with operating features and having more fun with the remote handling. In return, I keep this user guide for the remote of DL4EAI permanently up-dated!


Hints and Tips.
I read such highly technical things always in the morning, when the brain is empty (hi) and fully open for new thinks, rather than after a daily job been done. The learning efficiency is than with me the highest (less hard work to be done)!


My Public Remote Equipment Setup of DL4EAI Consisting of Following Main Components:

   *  HF base station  –  ICOM transceiver IC-7400  (160m - 2m)   
​   *  Internal transceiver coax tuner  –  (20m - 6m) for my vertical antenna-2 (see topic 4 & 7)
   *  External long-wire tuner  –  IC-AH4  (160m - 6m) for my horizontal antenna 1    -" -
   *  Sufficient counterpoise for the Long-wire antenna-1 (central heating system of 11 flats)
   *  Powerful power supply** 13,8 V / 35 Ampere with a transformer avoiding RF interference (!)
   *  Special 8 pin RX and TX audio cable between TRX and sound card
   *  ICOM CAT interface C-IV to USB for remoting transceiver
   *  An end-fed 52m long-wire suspended in 15 m altitude above the ground in the backyard   
   *  Vertical (10m)/6m/2m/70cm Diamond V-2000 antenna-2 mounted high on the roof
   *  Unsymmetrical Coaxial RF-choke balun 1-30 MHz, 50 Ohm 
​   *  Diamond MX2000 Triplexer (details see topic 4 & 7) connected to the Diamond V-2000
   *  SWR/wattmeter to watch VSWR and output power (LF-UHF)
   *  Calibrated PWR Meter (dBm, uW, mW, Watt, Temp, Volt) made and designed by DB2DR 
   *  Desk top mike: ICOM IC-SM 6  (IC-7400)
   *  Intel dual core PC with windows 10, HRD, Digital Master 780 and WSTJ-X
   *  A fully metal covered "exone notebook server PC", without any fan!
   *  HP ZR24w Monitor  
   *  A very good and stable internet is absolutely required
   *  Android tablet PC for portable operating and for testing the remote radio system

** the secondary circuit of the power supply is protected by an self-made over voltage protection
    with a thyristor and primary its protected by a relay which let blow up the transformer fuses!  

Please keep in mind, I have invested a lot of money in above listed devices and equipment's.
Therefore, treat my private remote station with care!

More details on all devices used for the remote, see topic 7. 
 

Guest, SWLers and DX Listeners are Welcome 
Guests logged in with an account at RemoteHams have free access to the receiver functions of the transceiver, without transmitting function of course, like a listen only membership.

I hope it will helps to recruit more newcomer to the hobby. ABC's of getting a Ham radio license one can find here.
Tip: An informative great video about Amateur Radio is here,  "Amateur Radio a hobby for the 21st century" [ Great Video ]. Information in German language, search under Google for this PDF: BehelfAmateurfunkV8.pdf.

Amateur Radio Operators 
Licensed / legitimated amateur radio operators as a new remote user can get familiarized by starting to test the remote functions without having TX permission requested. It is also useful to check signal propagation without being registered. I hope it will help to recruit more hams coming up also with an own remote as well! 
Tips for hams intended setting up a remote based station should have a look at topic 7.
   Login Popup Message

Connect Formality
If no one else is logged in to this radio you may tune / change the frequency or perhaps transmit "TX" without asking in advance.  


Identification operating through a remote is required! 
You have to announce, that you are transmitting through a remote station located in Germany!
It is independent from your physical present location. 

If you are a foreign operator (TX Users) on my remote, you must identify yourself independently from voice and or digital QSOs as follows: 

For example:   cq cq cq de dl / your callsign 
​                                  qrz de dl / your callsign

As my remote is located in Germany, do not forget to add:
DL/ in front of your callsign on my remote!


Receiving Ranges "RX"
Usable bands: VLF / LF / MF / HF and VHF. All amateur bands from 2200m to 2m

The receiver  (RX) covering in total 14 ham bands and
the transmitter (TX) covering in total 11 ham bands.

The receiver frequency ranges: 
0,03 -  60 MHz - Info:  The Citizen Band (27 MHz) and sometimes also outside HAM band sections have been blocked on this remote
144 - 146 MHz - Tip:  Try the SCAN knob. To resume scan push 2x scan button.

Tip 1:
If you are interested in other frequency ranges, you may find here and here some interesting remote receiver links.

TIP 2: 
All Mode Web-SDR Twente Receiver
University of Twente, Enschede in the Netherlands. On the page of that listed link below you can listen to and control a short-wave receiver located at the amateur radio club ETGD at the University of Twente. In contrast to other web-controlled receivers, this receiver can be tuned by multiple users simultaneously, thanks to the use of Software-Defined Radio, see link here and here.

TIP 3:
WSPR Mode Integrated in the Wide-Band WebSDR located in Twente
Continuously monitor the WSPR frequencies in all amateur bands below 29 MHz http://websdr.ewi.utwente.nl:8901/wspr/

TIP 4: Online SDR in the UK, see link here. This HF WebSdr is located at the Nantwich Secret Nuclear Bunker, formerly R.A.F. Hack Green, now a working museum.



Mode Available on My Remote
LSB, USB, CW, FM and AM mode can be selected and executed.


 Mode selecting window

Please check during a band change, if also a "Mode" change from e.g. LSB to USB 
(10 MHz to 14 MHz) manually is necessary.


Repeater Shift and Split Mode.
It happened several times, that users wanted to operate in SSB mode and did not noticed that a shift is still running. Therefore, FM repeater shift or split mode is only on request for a session available.


IF-Filter Bandwidth
You can select the "Filter" bandwidth "Wide", "Medium" and "Narrow" separately for each mode.


 Medium is recommended
(e.g. 2.4 KHz for SSB)

Generally start to use the medium filter. If you receive a strong signal and there is no QRM, that you toggle to filter wide. If there is QRM from the adjacent frequency, than use the narrow filter. 
 
                           Wide              Medium            Narrow
                                                (recommended)
SSB:                 3.6 kHz             2.4 kHz           1,8 kHz
CW:                  1.6 KHz             0.9 kHz           400 Hz
FM/AM:           15.0 kHz           10.0 kHz           7.0 kHz


CW RX
Tip: If you want to receive CW and digital signals in SSB mode, be sure that the auto notch filter "ANF" is switched off. In "CW" mode the notch filter is switched off automatically. CW TX mode is due to
Tip for CW Freaks: Following IF kHz section combinations can be used for cw reception:
3.600 LSB,  2.400 LSB,  1.800 LSB,  1.600 CW,  0.900 CW,  0.400 CW.


CW TX Simple Made
Tip: You can operate CW via Keyboard on my remote.
A simple way enabling CW TX mode is to use LSB mode on (any) remote station.
Just use MixWin3 / HRD etc. in CW mode and generate CW TX audio side-tone signals with the pc keyboard, that's all.

The CW enthusiast of course preferring a normal paddle against a keyboard.
Note: CW TX direct mode with a paddle is due to difficulties (extra comp port) not yet possible?


Digital Mode via Remotehams and Its Power Settings
Use always "USB" mode to apply following digi modes SSTV / PSK31 / RTTY and
WSJT-X (WSPR). 

Note: To protect the transmitter at digital modes, the transmit power must be reduced to less than 30% of the maximum adjustable output power of 100 %!

Therefore, check on the drop down, named "TX Mtr" that the TX power is below 30 % = 30 Watt.

Since recently I am controlling the TX pwr locally. Remotely not possible anymore.
 Example Copy: SSTV ISS

As mentioned above, avoid audio clipping and TX overloading.
Please remember to reduce your internet to be transmitted audio in order to reduce the power output of the radio down to say 30 watts or less, as most Digi modes are 100% duty cycle modes.
Tips from DM5SR. Stephan located nr Koblenz Germany has published details how to apply digi mode tested with several popular software programs via RemoteHams.
​MGM - Digi mode software download collection listed here.

As foreign operators​ (TX User), do not forget to add: DL/ in front of your callsign on my remote.
Digi mode copy sample from WSJT-X user guide (JT65) made by K1JT:

CQ DL/K1ABC FK68
                                  K1ABC G0XYZ IO91
G0XYZ K1ABC –19
                                  K1ABC G0XYZ R–22
G0XYZ K1ABC RRR
                                  K1ABC G0XYZ 73
 
Meteor Scatter Mode (MS)
When calling CQ with FSK441A (WSJT) on 144.370 MHz most amateurs have adopted the method of sending 'CQ 385' which indicates they are calling split by transmitting on 144.370 MHz BUT listening on 144.385 MHz for replies, this avoids congestion. When the original station hears your reply on 144.385 MHz they then QSY to 144.385 MHz and both stations complete the QSO on 144.385. They do not work split after the CQ is answered. On 6m MS frequency is 50.370 MHz.


Tip: RX Preselection "Tune"
The used tuners are operating during receiving as frond end RX filter. This requires, that after a band change, it is always recommended to press "Tune" button, in order to get the antenna tuner also moved to the new dialed band, keeping the Rx sensitivity constant high!


 Tune Button

Tip: The S-meter and speaker audio will react if a signal strength increase will take place (typically 2-4 steps) on HF bands after "Tune" button been pushed (Works only for TX permitted (X) and (A)Users).
  

According to IARU Region 1 Permitted Transmit Frequencies.
Applied TX frequency activities are permitted only corresponding to your personal valid Amateur Radio license and license class of course and the German Ham band segments and regulations as well.


Permitted Ham Frequency Ranges of my Transceiver for
Transmitting "TX" from German Territory:
VLF / LF / MF / HF and VHF

 33 km                    8,270    RX        MGM (machine generated mode - digital) and CW - EbNaut decoder applied

2200m      135,7 – 137,8   RX        MGM (machine generated mode - digital) and CW
 630m       472,0 – 479,0   RX        MGM (machine generated mode - digital) and CW

  160m     1,810 - 2,000    RX/TX   Must reduce power below 25 %
    80m     3,500 - 3,800    RX/TX
    60m     5,260 - 5,450    RX         DL 5,3515 – 5,3665 (USB CW Digi) 15 W EIRP class A
    40m     7,000 - 7,200    RX/TX
    30m   10,100-10,150    RX/TX
    20m   14,000-14,350    RX-TX
    17m   18,068-18,168    RX/TX
    15m   21,000-21,450    RX/TX
    12m   24,890-24,990    RX/TX
    10m   28,000-29,700    RX/TX

      6m   50,080-51,000    RX/TX   Must reduce power below 25 % on this magic band
      2m 144,000-146,00    RX/TX   144,300 MHz cq call frq. in EU in USB mode

      2m 144,019 simplex RX        Livestream: Listen to my IC-E91 or FT-8100 scanning 70 repeaters 438,0 - 439,0 MHz
                                                                      Tip: Simply push "SACN" button to reach this RX Crossband ch automatically (1 mWatt on a dummy load)

Note: Check local HAM Radio regulations regarding remote control transmitting.
          For 60m in DL 4 ch recommended: 5354, 5357, 5360 and 5363 kHz USB.  
           In DL we can reach 5,358.5 KHz, it is one of the existing 5 MHz channels in the US.


Contest Operation
This remote is not a Contest Station. It has not continues operation performance!
Therefore do not use the IC-7400 for permanent contest operations.
I don't mind, if some distance test rapports will be issued!
As foreign operators, do not forget to add: DL/ in front of your callsign on my remote!


Antenna Matching "Tune" for TXing
Tip: After a new frequency been dialed / tuned please push always "Tune" button before transmitting. Make sure antenna has a low SWR (access by "Tx Mtr" command - see image below).


Meter Indication Selection (TX Mtr)
Simply  toggle between "ALC", "SWR", "PWR" and "Comp" (compressor) meter to countercheck all parameters.


   Selectable meter indications


PTT.
"TX" with CTRL+T possible or use the marked "TX" (PTT) button.


"Test" Button   –   Voice Chatting Mode  –  Intercom
Tip: This mode is like a conference mode without RF transmitting. When this button is active, the radio will not be keyed up, but the VoIP will be rerouted so (X) Users may make a conversation without keying the transmitter (PTT).


 "xxx" Buttons


"Lock" Button – Android Sys
Tip: If you want to start to transmit with the android system, I recommend to use the frequency "lock" button function first!

Before you are going to disconnect, please cancel the lock function, to avoid that other users cannot control the remote as it is locked.


"Mon" Button.
This function enables that you can monitor (listen) to all transmitted audio conversations of logged in (X) User who are transmitting. The function cannot been toggled off! 


Tuners in Use on my Remote
ANT 1 is running with the external Long-wire automatic antenna tuner ICOM IC-AH4 and
ANT 2 is running with the internal automatic coax antenna tuner of the transceiver.


Remotable HF Antenna Switch.
The IC-7400 transceiver has an internal antenna switch to toggle between:
"Antenna One"  ANT 1 horizontal 52m  long-wire (80m-6m) and
"Antenna Two"  ANT 2 vertical 2,5m VHF antenna (RX: 20-2m) and (RX/TX: 10-2m).  





HF "Antenna 1"
It is a 52 m long-wire End-fed antenna which is connected always with an automatic long-wire tuner model IC-AH4 (160m - 6m). It is my best preforming antenna for all HF bands (RX and TX mode)! 

Internal Pre-Amps: No need to use on bands 160m-30m any pre-amp it has no advantage. On the other hand, the RX will not be overload, as it has a high RX dynamic range.


HF/VHF "Antenna 2"
A vertical mounted V-2000 Diamond antenna is connected to the internal coax tuner which can be used alternatively for the bands 20m-6m. The main advantage can be, a strongly reduced urban noise floor during RX mode. However, the internal "pre-amp 2" is always required!

Advantages to Apply "ANT 2" for the Upper HF Bands:
- On 10m e.g. it is nearly a 1/4-wavelength as vertical pin.
- During band opening, DXing can be possible.
- Due to the internal coax tuner unused on the high on a roof mounted antenna 2, the antenna
  efficiency with that small vertical roof antenna is likewise a good vertical mobile pin, having
  strongly reduced noise level, compared to my long-wire mounted through the trees in a backyard!

You can compare the antenna 1 and 2  simply by remote control.
For example, listen to a station on 21 MHz and toggle "Antenna 1" and "Antenna 2" on the remote, whereby the tuner every time been pushed before listening with the selected antenna. Whereby the pre-amp must be selected.

My Experience: I apply the 6m section of this VHF antenna 2 regularly in RX SSB mode on 20 m and upper HF bands, having an ultra-low urban man made noise floor with a signal-to-noise (S/N) increase of +10 dB (tested by WSPR) against my 52m long-wire antenna on the 20m band!

Please Note: the TX reachable distance performance on 20m to15m of antenna 2 is not that good as ANT1.
But during receiving (RX) the reachable distance on 20m to10m can be better, because ANT2 is mounted high on a roof having therefore a significantly less noise floor and a omnidirectional function!


VHF Antenna.
For 6m the "ANT 1" (horiz.) or "ANT 2" (vert.) can be used.
For 2m the "ANT 2" is automatically selected. Use always with antenna 2 the pre-amp2.


Screenshot of the client software for Windows 

The Waterfall with blue background below is the Twente SDR online receiver running parallel with my client software to get an assistant indicated were are ham stations active to tune the remote to:  http://websdr.ewi.utwente.nl:8901/




Tip: RCForb Client Software and a web SDR Waterfall http://websdr.org/ in parallel giving an overview on the band activities by frequency.
What you see are SSB stations on 20m ham band in one view, utilizing a moderate Waterfall zoom function! Online SDR in the UK
http://hackgreensdr.org:8901/




Frequency Dialing Flexibilities:
Tips for Manual Keyboard VFO Scanning / Tuning.
CTRL RIGHT/LEFT =           0.1K Steps.
CTRL UP/DOWN =               1.0K Steps.
CTRL SHIFT RIGHT/LEFT = 10K Steps.


VHF Memory Scanning "Scan".
The IC-7400 memory bank (100 FM memories) will be automatically scanned, when the "Scan" button is pushed. To resume push "Scan" button again 2x.


 FM Memory Scan


Automatically VHF activity and DXing Searching "Scan".
If the memory scanner stops at an SSB frequency on 12m, 10m, 6m or 2m in "FM" mode,
then quickly switch to USB mode, it might be good DX conditions on the upper HF or VHF bands!


Convenient Frequency Tuning by Mouse Wheel Spinning.
Elegant solution: Set the mouse pointer over the VFO knob "tuning knob" and select next to it your "Steps" and leave the cursor over the "VFO" knob using the mouse wheel to step the frequency either up or down.


  Mouse wheel pointer position  –  SCROLL THE MOUSE WHEEL

Advantage of the preset 500 Hz steps: Since recent years almost all SSB stations can be reached by 500 Hz steps!


DX Cluster  –  DXing by Mouse Click Only.
How to move / change in one step transceiver frequency and band instantly and jump to a DX spotted frequency?

Simply open at top right hand side under Windows > "DX Spots" and enter your callsign and select next to it a "dx cluster server" followed by double-click to one of a listed "DX spotted station".



 
Whereby, the transceiver jumps instantly to that band and frequency! Select manually the correct mode (USB/LSB/CW) by hand.


DXing by Mouse Click Only


DXing with a Remote is Usually Limited
It should be noted, remote stations having reduced transmitting power and using multi-band antennas, among other complexities. A remote do not have the DX-business as an objective. Because, unlimited long distance DX qso will be reached through its Internet feature!


Android Handy / Tablet.
With Android system call up the DX Cluster and press "Connect" and click 2x to a spotted station, there you go. Alternatively a Windows tablet with the standard client software is suitable as well.


How You Can Connect Directly to my Remotable Station of DL4EAI?
You can access my remote DL4EAI and other remote station here or load the client software down and remote my station though it.

A direct link to my remote is here.
 
Listen With This Remote Station Online to 70cm FM Repeater Located Near Düsseldorf.
My permanent scanning ICOM IC-E91 passes received audio signals from 70cm FM repeaters to the IC-7400 on a special 2m FM cross-band frequency (1mW via dummy load).

When the cross-band frequency 144.019 MHz is tuned with the IC-7400 "VFO" and "FM" "Wide" is selected, then you hear active 70cm repeater signals online in real time on the internet side.


Automatically VHF activity and DX Searching.
If the memory scanner stops at an SSB frequency on 10m, 6m or 2m in "FM" mode, then quickly switch to USB mode, it might be good DX conditions on the VHF bands or a Satellite signal crossing!


Please Use My Memory Bank A.
A)  Remote Memory Bank: This particular cross-band frequency in addition to other stored ch by me, can be conveniently accessed from the remote memory bank in the Windows or Android client software!

Create Your Own Memory Bank B On My Remote. (Tip)
B)  Local Memory Bank: An other feature is, if the "local bank" and "Add" is selected, you can save yourself favorite frequencies with additional features into your own client software! For example: Club and DX-frequencies on various bands.


A Request of Mine.
Please do not occupy this transceiver over hours permanently in one session! Because:

     - I myself as RIG owner,
     - privileged (X) Users, 
     - guests and
     - propagation testers 
want to share this remote as well!


Remote Service for HAM Radio Applications.
The free of charge service of this private financed radio equipment should not tempt to replace own station investments! It must also not be used for commercial applications.
 

At my QSO End.
I usually reduce the TX power of my remote.


What remains more:
Well, that's about it, thank you for reading this and please send any questions,
comments or "heckles" etc. to the e-mail address linked below.
World-wide one can reach me on my remote base station IC-7400 
and locally on my simplex frequency 437.025 MHz in Düsseldorf.

Also a chat massage on my remote will reach me.

Vy 73's de Rüdiger, DL4EAI



KEEP THE HAMSPIRIT ALIVE
On My Remote!
​

Topic 7
Tips
Setting up a remote by yourself
Other Information

Screenshot of the RCForb Client Program (WIN)
List of all worldwide remote stations which are online are here.

The purpose of this brief guide is to assist the ham operator who is curious about remote operations, but uncertain whether it will be interesting enough to set up an own remote station and perhaps sharing it to friends as well. 
This information is referring to the remote station of DL4EAI, showing the components requirement appears setting up a remote in a very simple and comfortable way.

My Public Remote Equipment Setup of DL4EAI Consisting of:
   *  ICOM transceiver IC-7400  –  servicing Amateur Radio bands: 160m - 2m
   *  External long-wire automatic tuner  –  IC-AH4  (160m - 6m) for my horizontal antenna
   *  Random wire ANT 1 - in the backyard over 15m altitude is a 52m long-wire hidden in a large tree 
   *  Internal transceiver automatic coax tuner  –  (20m - 6m) for my vertical antenna
   *  Transformer power supply 13,8 V / 35 Ampere, avoids overheating and RF interference
   *  USB Soundcard Interface including a ICOM CAT interface C-IV to USB for remoting transceiver
   *  Vertical 6m/2m/70cm Diamond V-2000 ANT 2 mounted high on the roof
   *  Unsymmetrical Coaxial RF-choke balun 1-30 MHz, 50 Ohm for 200 W maximum
   *  A 2nd external sound card for the IC-7400 remote radio station and RCForb Server software
   *  Diamond MX2000 Triplexer 1-6-60 / 144 -146 MHz connected to the Diamond V-2000 ANT 2
   *  LF-UHF calibrated PWR Meter (dBm, uW, mW, Watt, Temp, Volt) made and designed by DB2DR 
   *  Desk top mike: ICOM IC-SM 6  for the remote station IC-7400
   *  Sufficient counterpoise for ANT 1 (central heating system of 11 flats)
   *  A WINDOWS fully metal covered Exone Notebook server PC without any fan. A good stable internet
   *  HP ZR24w Monitor
   *  Android tablet PC for portable operating and testing completely the remote radio system RCForb App
   *  Apple iPhone & iPad with Puffin browser (!) for instant monitoring the remote (except audio)
   *  To maintenance my WINOWS server pc and managing the RCForb client software from distance directly,
      "TeamViewer" or RD Client software is running on the WINOWS server PC and tablet as well.  

IC-7400 HF / VHF all Mode Transceiver
- RX: 0,03 MHz - 60 MHz and 2m Band 
- RX: 144 MHz - 146 MHz and 438 - 440 MHz (see feature II below).
- TX: 160, 80, 40, 30, 20, 18, 15, 12, 10 , 6 and 2 Meter bands.
​- Wiring details can be seen in the schematic block drawing below​.

Feature   I: To remote and operate this IC-7400 radio via Internet by myself, it is connected to RemoteHams here.
                  
Feature  II: Guests can tune my remoteable IC-7400 also to 144.019 MHz and listen to a Crossband online audio
​                   stream of active 70cm repeaters coming from my permanent scanning FT-8100 / IC-E91 (see drawing below). 
Feature III: Licensed hams may request full station control (perhaps including transmit capability for 80m to 2m) 

Rig and Interface
Below you can see my rig which to be connected to any USB Interface. In the photo sample below, it is a high performance USB interface used, which has integrated a CAT interface and a soundcard and the possibility for keying CW keying (DTR) on the remote. 

Plug and Play Cable
A fantastic way to configure the radio cabling between the transceiver, interface and computer is super easy. It can be supplied for individual transceiver types as an optional package on request from the interface supplier as well. 
To get an image, how it looks like and how simple it is to set up the wiring, can be seen on the bock diagram below. As one can see below, it is a simple way wiring a remote, although the setup will be a bit more complicated than other sound card interfaces.

A Illustrating Drawing of the Total Antenna Configuration and Switching of My Remote Base Station is Shown.
As an example, the diagram is illustrating the different monitoring features and antenna comfortability of the remote station of DL4EAI located in Düsseldorf. 
 

Under the pillow is an IC-Q7E, hi


Additional Topic  –  Antenna Accessories and Configuration of The Remote.
The block diagram below showing, how I have integrated the VHF / UHF vertical Antenna applied to a triplexer and the 52m Long-wire applied to the IC-AH4 tuner into my remote station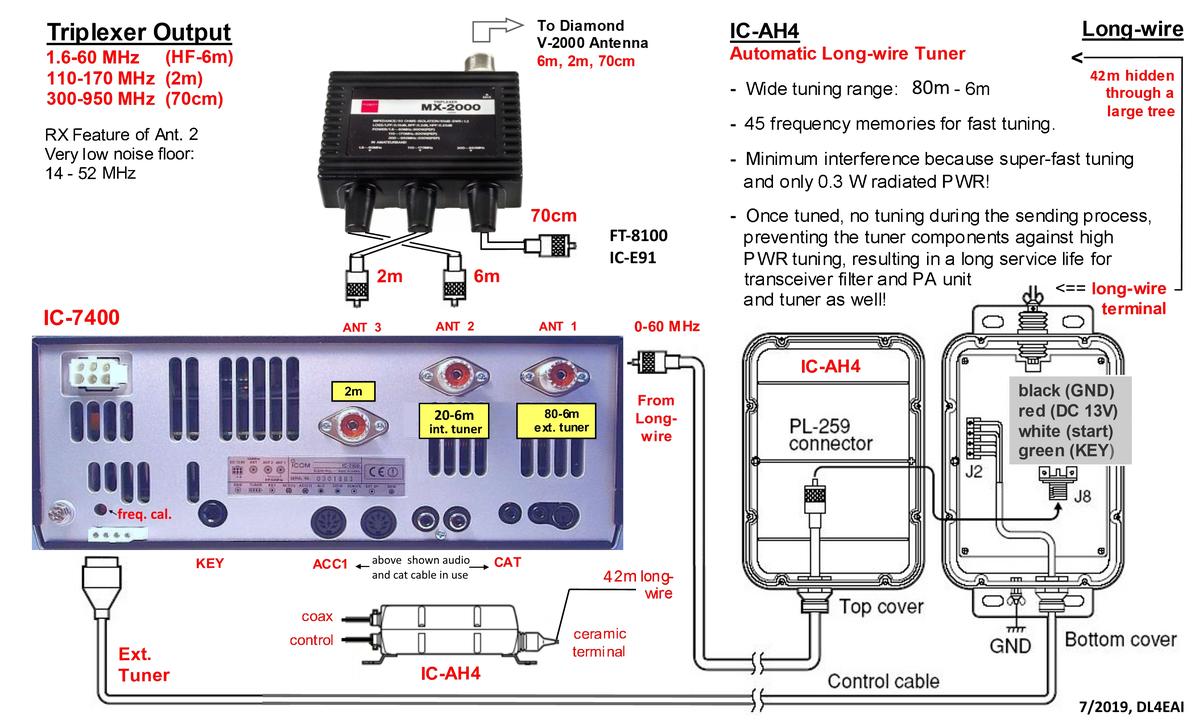 From a technical and legal view point one can say:
The owner of a transmitting equipment should always be interested to keep technical and legal problems as small as possible by preventing it.

On the other hand: the more (X) User are active on a remote, the more problems and misuse can occur. From a responsibility view point, monitoring may always be advisable.


Combining Remotehams and WSPR net 
RCForb Server has the ability to set a "Memory" as a "home" frequency. This will make the server return the radio to a favorite spot (memory) after disconnecting when no one is connected. At this point the remote owner should be able to leave the WSPR software running "decoding" whatever the radio hears.

If you need WSPR software to control the radio, you can setup Elecraft K3 emulation in RCForb Server software. I have done this in the past to report PSK propagation.
 
 One Night TX WSPRing on 40m

Legal matters
Owner of a remote base station should not worry about automatic stations mode,
because remoting is still a controlled operation, it takes an operator!
If you have any question, please feel free to contact me.
Look foward to connecting,


Ruediger, DL4EAI
Thanks  for visiting my page 73
DL4EAI:
EchoLink,
RemoteHams,
D-Star

TeamSpeak,
WhattsApp,
Zello;
Skype: dl4eai        (iPhone, iPad)
Skype: DL4EAI-1  ( monitoring my remote)