Callsigns before:
EB2DTP - EC2AHB - EA2BXV
I am licensed since 1991 with callsign EB2DTP. I was very active in VHF Contest,satellites and MS.
In 2003 I was licensed with CW exam and obtained the call EC2AHB. At the end I could work HF bands.
In 2004 I made the A class exam and obtained on 1st June 2004 the new callsign EA2BXV leaving EC2AHB.
On 14th November 2007 I obtained a 2 letters callsign: EA2CQ leaving all the previous calls.
QSL-s:
OK via BURO, LOTW, E-Qsl or Direct
My big toys:
* Icom IC-9100 * FlexRadio SDR-5000A * Yaesu FT-1000MP Mk V * Kenwood TS-2000X * Yaesu FT-847 *
My little toys:
* Elecraft K2 * Icom IC-7000 * Yaesu FT-857 * Yaesu FT-817 * Kenwood TM-D700 * Kenwood TM-271 *Kenwood TM-V7 * Kenwood TM-G707 * Drake V-UHF * Icom IC28 * Kenwood TH-D72 * Icom IC-92A * Icom ID-5100 * Yaesu VX-5 *  SmallWonderLabs PSK-20 qrp
My heaters: (for the cold weather)
* Yaesu Quadra VL-1000 * 1,5KW amplifier for VHF* SPE Expert 1K-FA *UHF EA4BQN 100 Watts - SHF 1,2Ghz Homemade 60 Watts
Antennas:
* Force 12 C4 - Dipoles - SGC-200 with long wire- 2 elements 3 bands Quagi - Diamond BB6W - 20m EH Vertical...
Satellite Station at locator IN82PU:
IC-9100 attached to VHF-UHF crossed yagis with Spid RAS azim+elev. VHF/UHF mast preamps.
Automatic tracking software MacDoppler in MacOsX
Mac addict: (life's too short to restart every hour the silly PC-s)
DL2RUM RumLogNG under MacOsX Yosemite for logging, FLDigi for digital modes.
SOTA activator & chaser: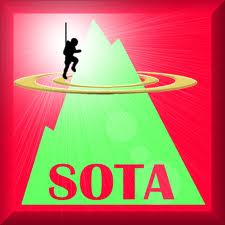 As I live in a high mountains zone and I have enjoyed the mountain since I was a child, the SOTA activity has given me a plenty pleasure activity combining my 2 favourites hobbies: the mountain and the radio. Active always on 2 m bands and sometimes also on 12m and 20m.
Expeditioner:(that was possible because I was not married yet)
* Member of FG Gudeloupe Island Expedition in 2003 as FG/EB2DTP.
* Member of CT Madeira Island Expedition in 2004 as CT9R.
* Holiday Expedition on December 2004 from Lanzarote Island IOTA AF-004 (Canary Islands) with the call EA8/EA2BXV.
* Holiday Expedition from 27th August to 9th September 2005, in Dominican Republic NA-096 as EA2BXV/HI7
* After married and having daughters expeditions are finished... for now...