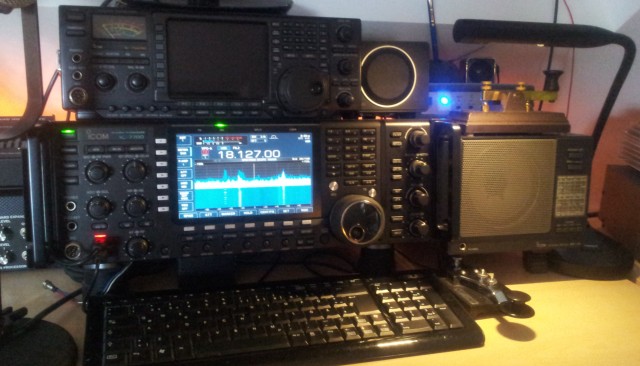 ↑ Antennas:13m (42ft) vertical wire, elevated radials, remote SGC230 autotuner at antenna base
   and a low 100m (328ft) horizontal wire loop, ladderline and a balanced tuner with Icom 7700.
↑ QTH Luxembourg, Imbringen (Amber) ; countryside north-east of Luxembourg-City, EUROPE
Amber WebCam: http://www.comnet.lu/webcam32.html
↑ Put on your glasses, you'll see part of the horizontal wire loop and a 42' vertical aerial.
↑ Q: Is there something more beautiful than ladderline wire swinging through blue sky?
    A: Yes of course!
↑ A guyed 8 band Hy-Gain AV-640
↑ VHF/UHF LX repeaters and countrywide D-Star coverage on Icom 5100 display.
↑ Old Siemens E311b receiver is big and heavy in our times (48x30x40cm 25kg).
    But it was quite a compact and lightweight commercial communications receiver in the early sixties.
↑ Tiny KiwiSDR/Beaglebone listening for and reporting WSPR shortwave signals 24/24h.
    Receiving on 1.8  3.5  5.3  7 MHz and 10  14  18  21 24 and 28 MHz
↑ Tiny WSPR-Lite transmitting occasionally on 10 MHz at 0.2 Watt; reaching ZL4SAE @18698km
↑ A single RX antenna is branched to 5 shortwave receivers via reliable Elad splitter.
↑ Eye Candy. Everything easily recognizable unless it doesn't matter.