Hello friends!
Check my 64m/210ft tower project:http://www.youtube.com/watch?v=GVY6CO2Aghs
More photos:http://www.fotosidan.se/gallery/view.htm?ID=212020
Listen to my radio here: http://80.251.203.138:8000/listen.m3u
Newest pictures last on this page.
Home Sweet Home!
View to Copenhagen, the capital of Denmark, at distance of 55km, on the other side of Öresund, the channel between Sweden and Denmark.
Bridge between Malmö and Copenhagen at 55km distance.
A foggy day. Same view all directions, up down, side to side: Nothing!
Rotator bolted in place.
Bearing mounted.
Here 2m antennas mounted. 17 element horisontal (10 meter, 33 ft boom) and 8 element vertical.http://www.youtube.com/watch?v=5uhDRwBHipY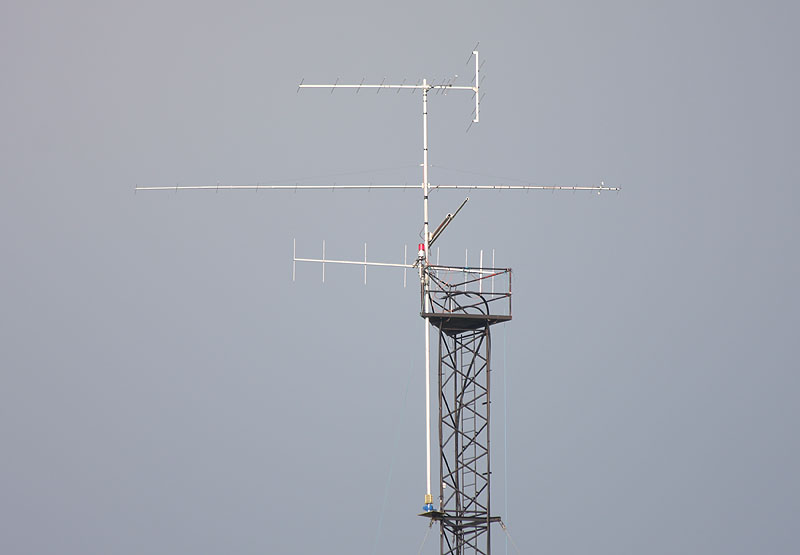 Added 15 element FM-Broadcast receive antenna on top at 68 meter.http://www.youtube.com/watch?v=Y_VfPgaa3OY
September 2013. Replaced the 8 element with a 17 element, same model as the horisontal antenna (M2 2m5wl) Also a second vertical 17 elemen was today installed on theother side.
Finally down on the ground and hungry after 8 1/2 hours hard non-stop work up in the tower. 11 AM to 7.30 PM. Installed the 2 by 17 element antennas vertically polarized :) Yes it looks like a 3 element HF beam but it is not. You see 3 pcs 17 elements 2 meter antennas, 10 meter long each. The center is the horizontally polarized and the 2 on each side are vertically. If you look carefully you also se the 15 element FM-broadcast receive antenna on the top.
Here a closer look. Check video from top:http://www.youtube.com/watch?v=oXJ_qXrmvpc
Listen to Stockholm repeater at 500 km distance (using the antennas remotely from my car):https://www.youtube.com/watch?v=1LiSDE3qdDs
With "Remote rig" the IC-7100 radio unit is at home and the display is mobile via mobile internet and also the rotator is controlled remotely via the iPad. All in the box with a battery for 20 hours enjoyment!
This setup is also perfect in the car and gives you access to your radio shack when mobile via the mobile internet modem! Driving has never been this fun! :)
73 de SM7YES.