I am from Poland, Europe. I live in the south of the country. I have a wife and two children. I am a professional lorry driver. All of my QSO I make in my lorry, usually from different parts of Europe.
I started my experience with the radio in 1990. It was CITIZEN BANDS.
My mobile station consists of:
Daf xf 105.460
Kenwood ts-480 sat
Icom e880d d-star (Digital voice)
Icom e80d (Digital voice)
D-star node dv (hot spot)
Antennae:
Diamond cp6
Sirio turbo 5000 10-12 metres
Lafayette 7900sg
and monobands 80,40,20,10 metres bands.
Best 73'
mail: sq9nku@wp.pl
73'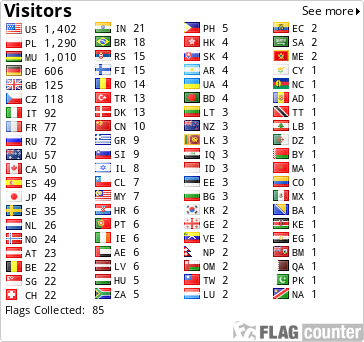 Large Visitor Globe