2E0XVX
Thanks for taking the time to check out my QRZ profile page. I am fairly new to the world of Ham Radio, (only had my license since September 2015). In these few short months I have jumped from a Foundation licence holder, to an Intermediate licence holder. I would like to gain my Full licence as soon as possiblw. Over the last two , its been fantastic and mind blowing, with two exams under my belt and a fully woring shack and three NOV's. I've made many new friends along the way, and fully enjoy all aspects of the hobby, from Project Building, HF and all aspects Digital Radio. I also run the Bandmister DMR Talkgroup 91 NET  (rotate every 4 weeks)on saterday at 16.00UTC, so please come and say hello...
2E0XVX DMR TG91 NET Controler 
I am now running three repeaters from my QTH in Mkt. Harborough, so feel free to use them if your passing by my location, the information to access them is listed below.
Simplex Gateway List
 Node 43012 is connected full time to HUBnet, this is a UK based net with over 40+ full time nodes/repeaters. If you put out a call, you will be heard worldwide. Its a very friendly hub so you can have long QSO's, but please remeber to leave a 3 second gap between overs and please keep your overs to under 3 mins so not to timeout the repeaters. Click the logo above for more information.
Node 44194 is a 4 meter link and is mainly connected to the WAN system. This is a US based net which covers the east coast USA. The WAN sysyem (wide area network) has many repeaters and privcate nodes connected from Main to Florida, so PLEASE lease a 3-4 second gap between overs and also, keep your overs to under 3mins. Click the logo above for more information
Node 43431 is connected to the UK-Cluster HUB. Please see the text below for more information.
Welcome to the |UK Cluster HUB, this HUB is based in the UK but can have worldwide connections. Please look for 43405 on your allstar node or connect via Echolink 2E0XVX-L. If you connect, please leave a good 3-4 second gap between overs, and also keep your overs to 3 mins, this leaves time to let the system re-set due to network latency.
My Shack Equipment List To Date;
2*QJE QJ1840SC 40 Amp Linear Power Supply
Icom ic-7100 Multi Mode Base Station
Icom id-5100 Multi Mode Base Station
Icom ic-2730 VHF/UHF Base Unit
Motorola GM300 UHF Base Unit (UHF Gateway Repeater Radio)
Motorola GM340 VHF Base Unit (VHF Gateway Repeater Radio)
Motorola GM350 Low Band (4 meter Gateway Repeater radio)
Motorola GM350 VHF Radio
2* Motorola UHF Radios
2* G7RPG Allstar Micro Nodes
Allstar Hub Node (maximum of 20 connectios)
6* Baofeng Walkie Talkie
SE-HF 360 Verticle Antenna
80m-6m End fed long wire Antenna
SQBM500P MK2 Dual Band VHF/UHF Verticle Super Gain Collinear
2 Meter Halo For SSB
70CM 10 Element yagi
2* 70cm Dipole 
1*Dvmega Hotspot
4*Bluestack D-Star/DMR Hotspot
2* DV4mini Hotspots
RM LA144 VHF 65 Watt Amplifier
RN LA145 VHF 85 Watt Amplifier
2* Z83  Remote Shack server2
Repeater Keeper for MB7IMH 145.287mhz with CTCSS 103.5hz
Repeater Keeper For MB7AMH 430.062mhz with CTCSS 77hz
Repeater Keeper For MB7AMH 70.387mhz with CTCSS 77hz
Radio Equipment
Test Bench Area
the bove photo is my workbench station. When designing the shack I decided to devide it into two zones, one zone for radio's and the other as a workbench zone. I can play project building without getting solder and other contaminents over my radio equipment. I'm building up a nice supply of electrical compents that will be usefull in building projects, i.e resistors, transistors, relays, voltage regulators, switches, diodes and on and on. I am also trying to add more test equipment as funds become available.
Over the past few months, I have been bulding some QRP labs whisper kits plus other usefull things that will be usefull in the coming years. Some of my time has been put to good use building an MMDVM hotspot and other DMR/D-Star and System Fusion projects. The MMDVM hotspot is working well. I have added a 2.4in NEXTION screen with a USB to TTL converter board to run the display. To make it toataly portable, I've added a 12 volt Gel battery, voltage regulator and main power. When its powered by the mains, it trickle charges the gel battery, thus making it ready to go mobile any time I please. It will run for 24 hours off the battery.
Now I have a fully fuctinal workbench and a growing stock of components (by the day), I though I would put my soldering skills to good use, so I ordered a few projects on-line and started building them. 
Some Projects I have Built
The below photos are a small 40 meter (7.023Mhz) CW QRP Shortwave transmitter kit. Its taken a while to build as it came with no instructions and no circuit diagram, so its been a labour of love.
I have had plenty of time in the shack after suffering a spine injury at work, thus resulting in me being medically signed off. To keep the brain going, I've been ordering electrical projects online and building them, this stops my mind from wandering.
Below is a QRP labs kit i build and added a few personal options. The bottom board is an Ardino Uno board which connects to the second board. This is the QRP labs shield kit, I have fitted a 20 meter L.P.F (low pass filter) and also added a SMA socket to monitor the signal produced. sitting on the shield is a AD9850 DDS Siganal moduel. which produces the frequency. I have then addes a display board as a final option. 
Below is a 5 band Valve radio kit which I have prodly built. It uses a  a long wire arial which is not shown and also a ground lead. The valve heater is powered by a 6 volt auxiliary socket, to change bands, there is a jumper pin area.
Below is my QRP labs Ultimate3S QRL transmitter kit. I have added aditional transistors to up the power to 850mW and made a power board which supplies 5v and 9v to the main board and the transmitter circuit. I have also added a relay board and made all of the LPF's. Also fiited is the GPS board with additional components, this is to allow the addition of an external GPS sensor. To finish it off, I purchesed the case and put some additional sockets to the rear.
Below is my Rossiya Valve radio kit. Rossiya is the old name for Russia, this radio is using key parts manufactured fro russian millitary and has just been released to the general public. The valve (tube) is a gas arrester, and when excessive static voltages are observed across the electrodes, it will pass high voltages "Spikes" to earth, thus protecting the equipment. The ionisation of the tube takes place if a spike in excess of 350 volts is seen across the electrodes of the tube. This radio has three working bands, the bands are listed below.
Band 1 (600Khz - 3.6Mhz)
Band 2 (1.3Mhz - 7.9Mhz)
Band 3 (6.1Mhz - 30Mhz)
Below is my work in progress Mk 2 QRP Labs Shack Clock. I have fitted a few extras, i.e, GPS boad and pig tail lead to the back plate, thus allowing me to add my GPS antenna. Also fitted, is a voltage regulator, this will keep the output voltage to a stable 5volts. The LCD display is a two line screen which is programmed by the two push buttons on the fron pannel. I will post some photos of the finish product soon as I,m waiting for some components to arrive fron Hong Kong.
Below is the latest project which is under consruction. It's a 6bit electronic kit which has now come to a gringing halt, due to a lack of 4.7k resistors. They ebay, (sent 470ohm) insted of the 4.7k ones, I have sent off for some, so as soon as its finised, I will post a video of it working.
Below is a home made single channel oscilloscope kit which ive recently built. This will prove to be very usefull when building other radio projects. The kit is a DSO062 1Mhz Analouge bandwith 20MSa/s unit which should keep me going till I can afford a good 2 channel unit.
I have picked up the digital modes very quickly since passing my foundation exam. I also keep busy writeing TYT 380/390 and Hytera DMR code-plugs for many hams worldwide. Below are some screen shots of my CPS programs that are used to write DMR code-plugs on. My code-plugs are writen in the  talkgroups way, and not BM repeaters way. The reason for this is simple, with BM's you have to faff around connecting and disconecting from reflectors, but with talkgroups, its simple, just seclect the channel of your choice and press the PTT, simple. Talkgroups are known as "user activated", so unless you press the PTT, your dont enter the room. Hope this makes sence?, if your looking for a ready to go TYT 380/390 worldwide codeplug, there is one in my link section below.
Below is my Arduino Mega and Shield and other bits that I use to load bootloaders and firmware onto the ATMEGA 328 blank chips ready for inserting onto the DVmega board which then builds up the bluestack hotspot..
I have had the pleasure of being given the opportunity to be a beta tester for the BlueDV Software by David PA7LIM . My feedback has been taken onboard and used to inprove the app. This blueDV app has improved digital radio to the point where its now posible to use your radios while mobile with minimal breakup and dropouts. Things are improving so fast, day-by-day in the world of digital radio, that its almost imposible to say what's round the next corner. . 
To build your own Bluestack hotspot,  you will first need the following parts which can be purchased from  the link below.
1 DVmega (sigle band ) Board RIGHT with jumper wire.
2 Bluestack Micro Plus Board LEFT.
Its childs play to create the bluestack. Just plug the blustack board onto the micro-plus board, fit the unit into the box and then screw the antenna on and then power up. The rest is controlled through the BlueDV app either windows, Linux or Android. Go into the settings and add your details and your away. It will work DMR, D-Star and Fusion.
Now for the shack radio equipment, the Icon IC-7100 is used for HF, 2 meter So is connected to the MFJ 993B ATU, the ATU has two switch options. Option 1 is connected to the end fed 20meter long wire, Option 2 is connected to the SE-HF 360 Verticle Antenna. The VHF/USB and D-Star. This radiHF socket is connected to the 2 meter Halo for SSB contacts.
The Icom ID-5100 is used for 2meter and 70cm use plus working my Allstar Node's
The Icon IC-2730E dual band transceiver is used for local 2m and 70cm repeaters. This is
running through another Moonraker SQBM 100P Mk2 Duel band 2/70 vertical antenna which is mounted on the custom pole 1/2 wavelength apart from the D-Star antenna.
Below are some of the HT's in then shack. These things seem to be growing by the day, ranging from Baofeng 888s to Hytrea PD785 and a 4 meter thrown in for good measure.
I've set up the 4 meter Allstar node using a Motorola GM350 radio with a Raspberry Pi 2 and a M0AQC sound fob. Im running this through a 4 meter Dipole for a time being, but I will be erecting a 70hz verticle antenna in the coming weeks, so keep checking back for updates.
Links To My Google Drive
Below are some usefull links to some of the latest software. These are files stored on my google drive and I will update the files as and when they become available. All programs have working key's so will run OK. All files are downloaded at your own risk, I will NOT be responsible for any corrution or damage to 3rd party equipment. Due to UK licencing conditions, access to all the Google links are TOTALY FREE.
TYT 2017 Code-Plug
(this is being built on daily)
https://drive.google.com/open?id=0B7L0wGbRWLIQdGhrX2s2SUxBMDg
Tytera Flash Tools v1.05
https://drive.google.com/open?id=0B7L0wGbRWLIQRTlMa0t1OTJUb0k
TYT MD-2017 CPS Software
https://drive.google.com/open?id=0B7L0wGbRWLIQNllPa2RpZ1JodGs
TYT MD380 Worldwide Code-Plug
(Updated daily with more talkgroups)
https://drive.google.com/open?id=0B7L0wGbRWLIQajB3NkVHTzNTeDg
TYT MD380 MD390 Code-Plug Editor
https://drive.google.com/open?id=0B7L0wGbRWLIQZ0NHd0VQWWx1ODg
TYT MD380 Power Alteration
(This is how to alter the output power of a 380/390 HT)
https://drive.google.com/open?id=0B7L0wGbRWLIQdUpuZWVpSWxSNWs
TYT 380 CPSv 1.34
https://drive.google.com/open?id=0B7L0wGbRWLIQMElfaHZRU2pjUjg
Pi-Star Image
https://drive.google.com/open?id=0B7L0wGbRWLIQeXN1MmZteXZGMzg
Nextion 2.4in MMDVM Screen
(This is my own design with some colour)
https://drive.google.com/open?id=0B7L0wGbRWLIQbVA5S0N6ZmZUbk0
HAM Radio Delux
https://drive.google.com/open?id=0B7L0wGbRWLIQZWJqdXJNNFJzWkk
BM Talkgroup List
https://drive.google.com/open?id=0B7L0wGbRWLIQd3N5TF9HOFRLMk0
Icom RS-BA1
Remote Software (with  Reg key)
https://drive.google.com/open?id=0B7L0wGbRWLIQeHRJeS1EX0oyMEE
TYT380 Tools Update Image
For Pi 2/3
https://drive.google.com/open?id=0B7L0wGbRWLIQU3BWU01oWjdncXM
Hytera v8.01.02.002
Firmware Update
https://drive.google.com/open?id=0B7L0wGbRWLIQMFBFam41Z2hnYWM
Hytera USB Driver
Windoes 64bit
https://drive.google.com/open?id=0B7L0wGbRWLIQRjBQQW50ZlhZSWs
Hytera MD78x Instruction Manual
(English)
https://drive.google.com/open?id=0B7L0wGbRWLIQN2ZFSFlGYzFQc2M
Hytera PD78x Instruction Manual
(English)
https://drive.google.com/open?id=0B7L0wGbRWLIQekZyd3BXTHlvRm8
Hytera MD78x Code-Plug
(Updated Regualy)
https://drive.google.com/open?id=0B7L0wGbRWLIQXzBySEkxNjlpU3c
Hytera PD 78x Code-Plug
(Updated Regualy)
https://drive.google.com/open?id=0B7L0wGbRWLIQbUxXMVljbTAwMTg
UK Scanner Directory 2017
https://drive.google.com/open?id=0B7L0wGbRWLIQMVNKdjBFS0JtMW8
BlueDV For Windows
(09395 BETA Latest)
https://drive.google.com/open?id=0B7L0wGbRWLIQbnMxbEN6NHVmQ1U
Chirp
(Latest Build20170627)
https://drive.google.com/open?id=0B7L0wGbRWLIQcURzRzRyVlZZMms
BlueDV raspberry Pi Image
https://drive.google.com/open?id=0B7L0wGbRWLIQZTRBNF9aV1J4S3M
Latest Raspberry Pi Image
(raspbian Jessie with Pixel)
https://drive.google.com/open?id=0B7L0wGbRWLIQaVpUb2hNZEE4SHc
PMR446 EEC Decision
https://drive.google.com/open?id=0B7L0wGbRWLIQend0SzJ3LVVYU0U
Weller Soldering Products
https://drive.google.com/open?id=0B7L0wGbRWLIQdUlUbUhtRWNYdzQ
Some Of My Videos
QRP labs Ultimate S3 QRSS Kit
(Finaly Finished)
The G7RPG Allstar Micro-Node
(Short video explaining what and how to use the allstar node)
Bluestack & BlueDV
(Video showing the workings of the Bluestack & BlueDV setup)
QRP Labs Clock With GPS
(Finished)
TYT MD380 Tools Crashing?
MMDVM Hotspot Pt. 1
MMDVM Hotspot Pt. 2
MMDVM Hotspot Pt. 3
DMR Radio Audio
QRP Labs Kit
DMR Airborne QSO 
Tour Of The Shack 
Allstar System
The photos below are my antenna farm mounted as high as I can get it at my QTH. The homebrew 446Mhz Dipole antenna is for Allstar node with the 2/70 supergain above that. The photo to the right is my 5.5 meter HF vericle mounted on a 12ft pole which is 6ft above ground. If you look closely you can see the HF long wire going through the picture.
My NOV Repeater Frequencys Details
 VHF (43431) MB7IMH on 145.287 mhz CTCSS 103.5hz
UHF (43012) MB7AMH on 430.0625 mhz CTCSS 77hz
Low Band (44194) MB7AMH 70.387 mhz CTCSS 77hz
UK-Cluster (43405) with echolink  connection 2E0XVX-L
You can connect to the UK-Cluster (growing bigger by the day)  via ALLSTAR NODE 43405 or though Echolink on 2E0XVX-L.  This Allstar HUB is also connected to Mount Tabor Hub (K1GMM) in Vermont USA at times, so please leave a good 3-4 second gap between overs (latency) as you will time-out my repeater and also the other repeaters connected to ther group. below is a bubblemap shot  of links on my UK-Clust Hub, it's growing all the time. Ii's a friendly hub where you can talk as long as you like and chat about anything.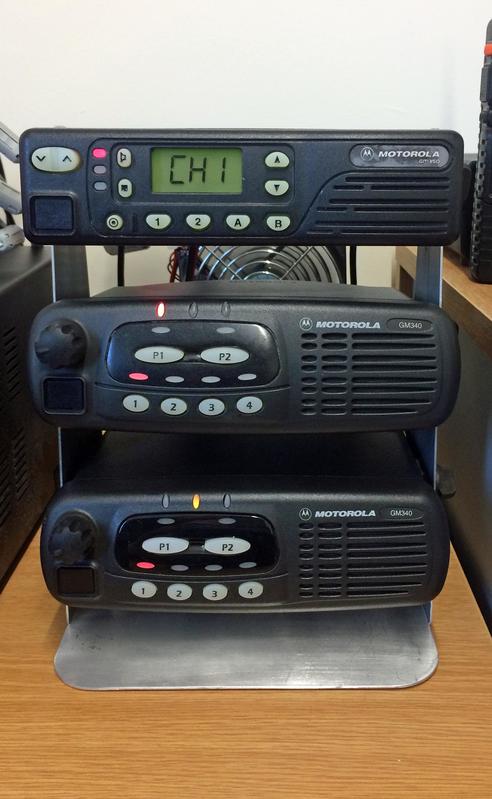 The above photos are my Allstar gateway repeaters. Above left is the repeater radio rack with the GM350 low band at the top,GM340 UHF in the middle and the GM340 VHF at the bottom. Right is the power supply with the pi's and sound fobs.
I also have two allstar micro- nodes which I use for portable use. These are contoled via a web page on the mobile phone or via DTMF keypad on the HT radio.
I also run sevral APRS Beacon 24/7 from the QTH - just serch for MB7IMH or MB7AMH on aprs.fi. I also run a Mobile APRS Beacon when out driving. - you can track me on aprs.fr by serching 2e0xvx-mobile
Now for a little background info on myself. I am now 50 years young. I left university in 1986, after gaining a degree in electrical engineering. I moved to the southeast of England, where I worked for Nikon UK Ltd as a camera technician for 14 years. My work entailed servicing and repairing customers camera equipment and dealing with all the UK main newspapers, also all of the MOD and SAS equipment. My "bread and butter" work was dealing with Lady Diana's paparazzi; this was great as I knew everything about everything and everyone. After 14 years in the job, my wife and I decided it was time sell up and relocated back to our home town of Market Harborough, as we're are not getting any younger and wanted to be nearer our families. This resulted in a complete change in career for me, I became a HGV driver and did my years working as a multi drop general haulage driver, delivering anything and everything. I worked away from home for 3 1/2 years delivering garage doors in Scotland; I then wanted a slower pace of life, so moved jobs to one of the UK's biggest retailers. I did 8 years on nights, Deker trunking and then moved onto containers. I loved the container work, running into Felixstowe and Southampton Docks. Unfortunately I sustained a spine injury, resulting in me having to give up work full time.
I also ran a business "Full Throttle Imaging". This was a photographic company dedicated to fast action motorsport; I covered British Superbikes, MotoGP, WSB, and Irish road racing plus British Touring Cars and some other car racing. If you want to take a look at some of my photos, click on the button below.
I have two hobbies, one Armature radio and the other shooting. Shooting has taken a back foot since the injury, but slowly starting it back up with shotguns first,then moving onto the high power sniper rifles I own. Below is me shooting a Tikka T3 234win rifle with a GRS tacticle stock at the home of shooting (NRA Bisley), I also have a Lee Enfield 303long branch star Mk4 (all original parts) plus a CZ 308 Tactical Stock Heavy Barrel (220gr), plus a semi auto, and also a 12 boar Berretta A400 Xcel semi auto X-shot gunplus two Daystate airguns.
My second hobby is amateur radio; I have found something that has rekindled something which has laid dormant since I finished work at Nikon. To this day, I'm loving every part of it, from project building, to chatting to fiends all over the globe.
If you would like to make a small donation for all the hard work writing DMR code-plugs and other technical matters, then please click the PAYPAL button below and give a small donation.
Below is a flag count of QSO made.

Large Visitor Globe