2E0GHX
Let's connect!
I passed the Intermediate license level mid-2013 and have since been operating from my QTH on the south east coast of England. Some of my time is spent experimenting with a homebrew antennas including a 70cm and 2m Moxon, 1/4 wave and 5/8 wave 2m ground planes plus a selection of dipoles, and more recently with HF wire antennas.

Currently running a 70cm shorty ZL special for 70cm on the local repeater (GB3HE) and a 66ft end fed G-Whip Widebander end-fed for HF work where I will usually be operating various digital modes on 20m/30m/15m/10m plus SSB. I just can't get enough of wire antennas and will be trying a couple more designs very soon. John Heys (G3BDQ), a club member who has RSGB publications including "Practical Wire Antennas", never ceases to inspire with his articles (more of his articles are on the way soon).

 

 

 

 

 

 

 

 

 

 

 

 

 

 

 

 

De La Warr Pavillion - Bexhill on Sea 2007. Image courtesy of Andy  Stanton.

De La Warr Pavillion - Bexhill on Sea circa 1936.

Bexhill on Sea, looking East towards Hastings circa 1905.

 
Update: 20th April 2016.
Where do I start .. !? What a fantastic few days HERC has had at St. Richard's Catholic College in Bexhill, where students had the opportunity to field their questions to Tim Peake aboard the International Space Station. To say that the energy there was electrifying is an understatement, and the ARISS contact with Tim went very well indeed, before a very large audience, TV cameras from the BBC and ITV and local news papers. Spectacular stuff!
To start things off, members from my home club, the Hastings Electronics and Radio Club first attended the RSGB supported Build-a-thon event at St. Richard's, where over 20 students built the Rodway II receiver, and tested them successfully, including a brief testing session which took place in the grounds outside following the PM class. The students varied in age from 9-16 years old and showed us how quickly the younger generation can learn how to solder basic components onto a PCB. The RSGB Build-a-thon at the college went extremely well, and thanks go to Richard G0ILN, Rodney, Leon G1HSM, Steve 2E0GHX, Phil G3MGQ, Mike Wade M0EDU and Mike G0JHK for making the Build-a-thon an enjoyable and education experience for the students at St. Richard's. Read further on the RSGB Build-a-thon at St. Richard's Catholic College, it was a great experience and want to see more of this going on in our locality in the near future.
To follow, a report on the college's STEM space conference and ARISS contact with Tim Peake!
Update: 10th April 2016.
The Hastings Electronics and Radio Club is delighted to announce that it will be attending the RSGB supported Build-a-thon at St. Richard's Catholic College in Bexhill,  East Sussex, on Tuesday 12th April. Two, three hour long classes are being held under supervision of St. Richard's staff, where 7 HERC members will be helping students construct the RSGB Rodway II MW/160m receiver kit. The age range of students is between 9 and 16 years old, with the AM class consisting of Foundation licence students who will be constructing the kit as part of their licence training.
But .. that is not the whole story!
Later in the month, the college will be one of the few selected colleges in the U.K. who will be taking part in the ARISS space contact event with Tim Peake, the now famous British astronaut aboard the International Space Station. The date for the contact will be revealed by the ARISS team on Monday 11th April, and may be as soon as the 15th of April, or as late as 24th April.
The contact day will take place at the college with the assistance of the ARISS team. More to follow!
St. Richard's will also be holding a two-day STEM space conference at the college, held in the capacious gymnasium where other organisations will be present with outreach activities from University of Sussex, University of Brighton, Herstmonceux Science Centre, QinetiQ, East Sussex Astronomy Society and RSGB and the QRZ Amateur Radio Group. My home club, the Hastings Electronics an Radio Club will be present also, providing an Amateur Radio History presentation given by Mike Wade M0EDU, and a full Amateur Radio demonstration station, organised by Phil G3MGQ and operated by a selection of HERC members across the two-day STEM conference with G6HH.
It has been a pleasure to work with Joolz, the lead Science Teacher at St. Richard's Catholic College, and helping to co-ordinate these events will undoubtedly be an exciting, educational and enjoyable experience for the students, staff and organisations involved with these events. Thanks to Mike Senior G4EFO, regional RSGB manager also for his help with the event co-ordination.
Hastings Electronics and Radio Club members attending the above St. Richard's College events are:
Richard G0ILN
Rodney
Leon G1HSM
Steve 2E0GHX
Phil G3MGQ
Mike M0EDU
Mike G0JHK
The STEM space conference dates are yet to be cast in stone, pending the ARISS confirmation date for contact with Tim Peake which will follow in the next day or two. To be updated shortly!
Update: 7th June, 2015.
The last few months have been busy alright and have since recently switched from using my trusty and much liked end-fed antenna to a 68ft loft mounted doublet with zig-zag end loading. This was a fairly tricky exercise as the loft's configuration was fairly cramped and hard to access in places, but I got there in the end.
The antenna has been fed with 450ohm slotted ribbon and tunes to 1:1 on 10-40m excluding the WARC bands which at this point in time is fine. 80 tunes also though I need to trim the feeder back a bit to get a slightly better match. So far so good and with the first RX session I managed to catch both sides of a distant pileup as well as an all-time first for my station, an amateur calling from Jordan, quite some way away from my QTH in England! I also wrote a brief article about my recent experiences with my end-fed antenna while using it indoors, you can read my thoughts about end-fed antennas and counterpoises if you like.

The doublet is performing extremely well and thus far have noted a much lower noise floor, easier tuning, and significantly better audio in and out. I can't wait to get one up outside at some point in the near future.

Much has happened in the last few months, and notably the Hastings Electronics and Radio Club are about to hold the new Wilf Gaye Memorial Cup event at the end of June which will be held at Fairlight Country Park in East Sussex. This new operating event is the first one, and commemorates the recent death of Wilf Gaye, one of the clubs longest standing members, Chairman and avid QRP operator.

Yesterday 6th June, I attended the Sussex Electronics Radio Fair (SERF) which is the first radio fair that the South East coast has seen for over 10 years, with the last one being held in Newhaven near Brighton in around 2004 from what I can gather. I was working with RAYNET yesterday and had a great time there, having the opportunity to meet and speak with amateurs who had come from Swindon, London, Worthing and other places which were quite some distance away. The spirit of amateur radio is alive and well on the South East Coast! Here are a few images of the event which I took yesterday, more can be found in the report I have written about the Sussex Electronics Radio Fair (SERF).




Above: Icom's stand at SERF, a buffet of very nice Icom rigs from their latest range.




Above: RF Designs stand, HF through Microwave solutions for weak signal work. Terrific stand and products.


Above: Lots of components down one side of the Sussex Electronics Radio Fair hall. There was a great deal more available in the hall also, and some very interesting and hard to find items. Quite a few people walked away with bargains and treats for their shack.
 


Above: Richard G0ILN left, and Rob M0LYD right, both good friends from the Hastings Electronics and Radio Club. Richard is a FISTS member and avid CW fan, Rob enjoys his HF work and homebrew construction. Some months ago Rob constructed an ILER-40 kit and has had good results with it at the annual club BBQ field day at Fairlight Country Park and Richard runs CW Nets to aid newcomers to Morse like myself.

Overall the Sussex Electronics Radio Fair event went smoothly and enjoyed plenty of visitors from further afield. This bodes quite well for next year with half a dozen exhibitors signing up to the next event before the day had even ended. Dave G8PUO and the team did a great job, RAYNET ensured the publics safety on the day without incident and moreover the weather stayed clear and sunny as well making for an enjoyable day at the fair for everyone. I also created a short slide-show video of the SERF 2015 event which you might like to view.

Finally, news of a new Wires-X 70cm repeater based in Rye, GB7RY run by Dan M0HOW. The new repeater forms an addition to the growing number of resources available around here in Bexhill, and will no doubt serve its users well. GB7RY is connected to Wires-X via a Yaesu HRI-200.  The repeater transmittes on 430.950Mhz and Receives on 438.550Mhz with CTCSS on 103.5hz. The repeater went live on Friday 6th March with no issues.

Good DX and 73 de Steve. (2E0GHX)
 
Update: 22nd February, 2015.
A busy start to the year, that is for sure. Having moved my shack upstairs into a new permanent location, my activity on-air has started to take off properly having configured my FT450-D with a very high performance RF choke which has been attached to the already efficient 9:1 UnUn that I have installed. The addition of the choke has reduced RFI in the shack (and the 355ft indoor end-fed antenna with 1/4 wave counterpoises) to very good levels indeed, allowing me to easily tune 30-10m without breaking a sweat. Much reading up on counterpoises and EMC over the last couple of months resulted in several experiments with counterpoise lengths and also highlighted how important it is to insulate the ends of them properly. Perhaps unsurprisingly, the noise 'pickup' on the counterpoises is remarkably high but can be tamed significantly if well insulated. More trials with them are just around the corner and will be experimenting further with highly insulated counterpoise insulated terminators using some 3 inch lengths of 15mm pvc tube and epoxy resin with the cp wire buried in the centre using a spacer to keep it centrally aligned in the tube.
Having not seen this technique used before on indoor installations where RFI issues with end-feds are commonplace due to the RF heading back to the station, I'm keen to see how it works out and will take some radiation measurements as I try this out.
Being a fan of digimodes (as is my friend Stuart G4WCP in Brighton) and with the opportunity of being able to use a workable indoor antenna setup on SSB with the new end-fed, I spent a couple of days working digimodes and had a lot of success with both local European contacts and quite a few stations further away. Two days ago to my amazement I managed to make contact with a VP8 Falkland Islands based station just under 8000 miles away using 20w, The contact was made around 9pm GMT and while brief certainly opened my eyes to how well the less-efficient digital modes can work when the conditions are favourable. My way of thinking is that if someone can make it to the Falklands using a short off-cut of wire indoors then every improvement to efficiency will yield further results that are well worth hunting for.
The contacts that I have made over the last few days have been interesting with an Indian station responding to a call on 30m though sadly my response missed the boat as the signal broke apart due to RX de-sense caused by a strong local transmission. The miscreant responsible will experience the UHF cattle-prod effect[1] again in the near future along with some real-time spectrum logging and RDF.

This month has also yielded additional good news. GB3HE our local 70cm repeater in Hastings has recently been upgraded with a pre-amplifier and is also now operating at full power giving the repeater a tremendous range which so far has had most members in the locality walking around their homes with thier dual-band handies accessing the repeater on just 0.5w. RILGES have done an first-class job with the repeater and as their site states, thanks are due to the working party who have helped to make this local repeater a reality for amateurs who will continue to enjoy using it. GB3HE was also upgraded at the end of 2014 with a 4-stack dipole to improve its range significantly and this along with the forthcoming 23cm ATV repeater will certainly gain a lot of interest.

The local 2m repeater, GB3ES is still currently offline, having been down since August 2014, and as such there is no news to report this time around.

Perhaps I will catch you on GB3HE or HF digital modes soon. Good DX and all the best from Bexhill!

73 de Steve.
 
Update: 27th November, 2014.
Well, last night at the Taplin Centre was quite superb and a very well attended evening at the Hastings Electronics and Radio Club's venue in St. Leonards, East Sussex. John Elgar-Whinney treated us to a talk and hands-on evening displaying what was apparently a small selection of his war time spy radios and two Enigma machines from his extensive collection.
Fascinated by the German-made Enigma I used it while powered and adjusted the encryption rotors to see the output on the Enigma machines display change magically to different characters upon each turn of the rotor. John explained that the 3 rotor version was capable of 59,000,000,000,000 combinations, with 5 rotor versions being able to generate many more. The Swiss-made Enigma by comparison had internals which reminded me of a very heavy-duty pocket watch movment, with the typing rail assembly having the appearance of a vehicles camshaft. Superbly made and certainly built to last, the Swiss machine's output was to a mechanically driven inked 'ticker tape' from which the message would be passed to a Morse operator ready for transmission.
In addion to the Enigma machines, John also brought several spy radios along with him, two of which were installed in their original briefcases with John answering any questions fielded to him. It was interesting to note the many original accessories which he had managed to acquire over the years including plenty of original tank coils which were tightly wound by experienced hands, crystals, spare valves, headsets, even the original power cables with ceramic tube insulators for the mains conductors at the rig end. One day I would like to see the rest of John's collection because quite simply it is one of the best collections I think anyone could possibly hope to see short of 'borrowing' Bletchley Park and making off with the goods.
Sadly the clubs chairman, Wilf Gaye (M0GYE) died this month after being a HERC club member for many years and was a very keen QRP and SDR radio, not leaving his Flex SDR out of sight at any time and using it at the clubs BBQ field days at Fairlight. Also, sadly Chris Bittan (G1TBO), a local Bexhill amateur who I had the pleasure of meeting on several occasions over the two years also went SK the previous month. Chris was a very generous, kind hearted amateur who helped me right at the start and as time went by I had the pleasure of helping him adjust his antennas as his health declined and was unable to do so himself. Phil, G3MGQ spoke fondly in remembrance of Wilf before the club and a minutes silence was observed in the memory of Wilf and both will be missed.

This brings the Hastings Electronics and Radio Club's events to an end though we will all still be active in our respective ways and are looking forward to what is going to be another year chock full of interesting speakers and events. The 2015 HERC club diary has just been published and the New Year will be starting off with a talk given by an experienced data-mode user from Brighton, Stuart (G4WCP) with his presentation being titled "Personal aspects of digital amateur radio", one which I am looking forward to already.

I also joined FISTS this month following a recomendation from Richard (G0ILN) who is a very keen homebrewer and Morse operator and after having spent a few hours here and there over the course of about a year, feel confident enough to get started on the air with it.I can see the FISTS scheduler coming in very handy with plenty of UK based FISTS members being prepared to engage in slow Morse for those who are new to the mode like myself, or those more experienced who are prepared to be patient with slower operators like me!
Good DX and 73,
Steve.
Update: 9th November, 2014.

This morning I heard some very good news from Dave (G8PUO) of RILGES (The Repeater Internet Linking Group of East Sussex). A new digital ATV repeater to be known as GB3JT on 23cm is in the making and will offer local amateurs the opportunity to use digital amateur radio television, some for the first time including myself.
The project is involving a big team effort which will see the repeater itself being constructed by participating amateurs from the Eastbourne Electronics and Radio Club (EREC), as well as other volunteers from the surrounding areas. We are very lucky to have made big strides together over the last year or two and am more than a bit excited about how the outlook for amateur radio is destined to improve on the South East coast in the near future. I should also mention that Dave is looking for assistance with GB3JT and if anyone would like to get involved then simply get in touch with Dave (G8PUO) and have a chat.
To say this is excellent news is an understatement having just recently seen GB3HE our local 70cm repeater based in Hastings, East Sussex get an upgrade with a 4-stack dipole antenna and is by all accounts performing well with superb coverage.
And there is more good news for amateurs who 'fly' around the South East coast.
Dan (MOHOW) of the Brede Steam Amateur Radio Society has recently acquired an NoV to run MB6RY, a FUSION Wires-X digigate in Broad Oak, near Brede, East Sussex which is going to provide an alternative digital voice option in addition to the growing number of D-Star repeaters which are becoming quite popular down this way.

Unfortunately the Hastings based 2m repeater, GB3ES, is still out of action despite the keepers plans to move it in August this year. Fingers are crossed that it will return to service soon. You might also like to view our UK repeaters list which is currently well underway.

In other news I recently joined the Ham Radio Forum, perhaps you will see me there some time!


Update: 29th August, 2014.
Having spent the evening moving my radio gear out into the conservatory ready for the darker months which are now starting to creep in I finished off the evening reading up on my current Advanced course subject and spent some time practicing Morse using an online application which so far has helped me up to a whole 6wpm (yes, I won't be breaking any speed records just yet!). Jakey, G3JKY who is an avid Morse fan very kindly donated some Morse tapes to help me practice, and have already been put to work. On occasion I am finding that the code makes a musical sense, and that feeling suddenly dissapears not to be seen again for some time. I just need to keep up the practice! I should also mention Richard G1ILN who also gave me some useful confidence building advice some weeks ago and hope to make contact with both of them on CW in the near future .. and anyone who doesn't mind slow Morse of course!
I spent some time trawling my logs and spent a little time putting all my eQSL cards which other amateurs have kindly during the earlier part of the year when I took my first good stab at working on HF. In number, the QSL cards look quite colourful and you can find the collection of them (and maybe your QSL card!) on my Amateur Radio FlickR account if you care to look.
With my HF rig set up again ready for use I am going to reach out as best I can with my station and see if I can get out as far as Canada/USA with some adjustments to my end-fed antenna which currently needs a bit more elevation to get over there but we will see!
Update: 18th August, 2014.
With my Advanced licence training being well underway now with the Bath Advanced Distance Learning Course (BBADL) led by Steve Hartley G0FUW, has meant my head has been buried in training materials and revision in what little spare time I have had over the last couple of months but I have spent some time researching some interesting audio topics alongside the coursework.
As I have always been a keen fan of most things audio I spent some time educating myself on acoustic resonance which runs alongside the principles of resonance found in electronic circuits.
The Kundst Tube video demonstrates standing waves in pipes very well, the harmonic frequencies of which fall in line with the length of the tube in question and whether the tube is open or closed. Interestingly after some experimentation I found that a the main 8 inch waste water pipe as used in most domestic plumbing applications is around 20-22 feet long when run from a first floor (with an ambient temp. circa 20c), which produces a sub audible resonant fundamental frequency at 25hz, with harmonics on 50hz, 75hz, 100hz and 125hz. After some testing using an inexpensive subwoofer speaker found that strange additional artifacts are caused which sound very much like whistling, chirruping and other unusual sounds, some of which are quite unpleasant to listen to, which vary according to the frequency applied. The video above demonstrates this in places and makes for a good primer in understanding acoustic resonance. The following video showcases acoustic levitation and standing wave manipulation is well worth a look too.
One other interesting point is that if one so chooses, the position in the pipe where the standing waves are caused can be controlled by frequency alone, so co-resonating (giving the impression of spaciality of sound in one place when created in multiple places) an object on the first floor using an pre-selected frequency can be achieved from the ground floor with some practice.
 
In other news, I laid in a new counterpoise for my 66ft end fed which was dug into an 8 inch deep trough with the radiator raised to about 12 feet at the end of the garden so I am now set for operating on HF again and put my TenTec to work alongside the FT-450D which has turned out to be a great rig to start out with. I have also started to get more comfortable with Morse and have been practicing up to about 7-8 wpm though still needs a lot of work but practice makes perfect.
Until next time, good DX and 73!
Steve.
Update: 28th June, 2014.
The last few months have been very busy having attended two RAYNET local emergency comms support events in Hastings and Eastbourne and set about developing new web sites to assist my local clubs and radio organisations to work better on the web and attended several meets at the local radio clubs one of which was particularly interesting recently, a talk about WW2 Royal Signal Wireless Operators given by Mike Hedges (G0JHK).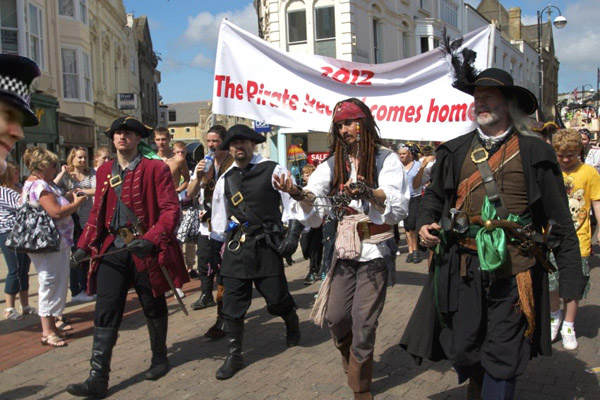 This year I will be starting my full licence exam training with my tutor Phil (GQMGQ) who he himself has been very busy producing his "Month on the Air" document which contains handy DX contest information for the coming month. It is always good to have to hand.
I've been playing with Morse code at home for a while using various tutoring programs to help me get to grips with what still is very hard work for me. Fortunately the Hastings Electronics and Radio club are in the process of starting a Morse code learning 'school' designed to assist new Morser's like myself into CW. It is a daunting prospect. With so many experienced CW'ers around me in both HERC and BSARS, the ex-signalmen tap away at baud-rate like speeds which I simply cannot keep up with at the moment.  Since I purchased my first 'scout' type straight key, a tiny wooden based unit which put too much pressure on the finger joints to use well am now seeking something a bit larger, possibly an ex-British Navy Morse key if I can find one that is still in good workable condition.
The recent HERC annual BBQ field day took place at Fairlight, its usual venue, where club members operated on HF and VHF for the whole day into the evening.
The day went well from what I have heard so far and in the morning when I was present several younger local amateurs were present (much like myself!) who were toting their rigs and quite game for an afternoon of operating. The Wx held up and it was fine and plenty of operating was done. Rob and Phil did very well and it was also good to see Wilf there too, and according to inside sources (sauces?) the BBQ was rather good too. Isn't BBQ *always* good!?
My good friend Rob (M0LYD) brought along his self-built ILER-40m radio to the BBQ field day as well as home made DDS to widen the frequency range and from what I heard it was working very well for him. Rob also entered his ILER-40 transceiver into the recent HERC Construction Evening and came in first place, quite unsuprisingly as the build was excellent. Robs effort has inspired me since to get more involved with construction myself.
My first radio project was a small mint-tin cased 40m QRP TX and looking back at when I built the little rig originally know that the project was far too small to work with for a first time project as much as I enjoyed building it. The next one will certainly be a bit more user-friendly to construct and could be a VLF receiver which has tempted me for some time as well as a 40m TX for outdoor opping. At this point in time the thought of travelling around with my FT-450D and using it for field use is just a bridge too far so a small self-constructed rig seems like the most sensible way to go.
A few days ago while at the Brede Steam Amateur Radio society shack the other day, Dan (M0HOW) a good friend of mine kindly donated a 3 EL tape beam for 2m for me to try out for RDF and simplex/repeater use to see if I can find my way into the local 2m repeater (GB3ES) which has proved to be elusive due to my QTH's geographic position which sits down in a built up area in a dip, with the repeater being situated low on the other side of a reasonably tall hill. There is talk of GB3ES moving to a suitably elevated in the near future but 6 months have passed and nothing has happened or any communication to do with it which is a shame. This hasn't impacted the popularity of GB3HE infact quite the reverse. Dave Williams and his repeater group RILGES recently aquired the NoV to GB3HE, upgraded the hardware significantly and installed it an excellent site at one of the most elevated positions in Hastings. Despite the fact that it is currently is operating on low power its range is very good indeed and is fast becoming a popular place to monitor and use.

The coming months will be busy with Hastings and Rother RAYNET events where I will be operating with other local amateur volunteers in various public events, notably the very popular Pirate Day in Hastings which each year sees 20,000 visitors come from all over the country to dress up as pirates and have lots of 'Piratey Fun'. Here is a picture from last years Pirate Day event which went very well and without any serious incidents.
There is a lot more planned this year for both the Hastings Electronics and Radio Club and the Brede Steam Amateur Radio Society including special events. The Lighthouses and Lifeboats on the Air is always a good one and now is just a few short months away. If it is anything like last year, it will be a real corker.


Update: 12th March, 2014.
Having used a homebrew 66ft longwire and counterpoise for a few weeks and getting fairly average results I picked up a G Whip Widebander 9:1 UnUn and 66ft kevlar radiator with 60ft counterpoise and have since made very good progress on 20m and 10m. The FT450D tunes the antenna easily on most bands with a low SWR and has made working datamode contacts a breeze using HRD's DRM 780. The next step is to elevate the antenna further from 2.5m to around 4m-7m in a sloped configuration.giving some push towards the South. Some experimentation is required to make the most of the Widebander and although I have yet to try it in the field believe that one is a keeper being bulletproof in most respects and easy to rig up and take down in just a few minutes.
Pictured below are the internals of the Widebanders 9:1 UnUn buried in resin and insulated with PTFE, the UnUn really is a fine performer. Long live the wire antenna!


I've not yet had the time to experiment with antenna designs as much as I would have liked due to work commitments and a general lack of free time but will in the near future be looking to buy a suitable impedance analyser and working with a selection of wire antenna designs including a few single band resonant end feds for "away day" and garden use in the Summer.
73, and good DX! de Steve.
Hastings Electronics and Radio Club
If you are interested in my home radio club, then visit HERC where the clubs commitee members maintain the monthly events, contributions and news. I am also the clubs webmaster and have a position on the committee and have recently attended (June 2013), the clubs annual BBQ field day at Fairlight where the members operated from a very pleasant location close to the South Coast in Hastings, East Sussex, England. The club is one of the largest in the South East of England with over 60 members and its club house, The Taplin Centre, is located in John Logie-Baird used to live while he was developing television. The official HERC site also has a handy page listing the many UK amateur radio repeaters along with local amateur radio news, event reports, repeater updates and more.
Brede Steam Amateur Radio Society
I joined BSARS in June 2013, a club which has it's own shack located behind the First Brede Scouts facility in Brede which is just a few miles north-east of the Hastings Electronics and Radio Club.
BSARS operates at the shack almost every Tuesday, where members are able to visit, socialise and enjoy the use of the clubs equipment including a 160m Carolina Windom and a tri-band beam on a 40ft mast as well as VHF and UHF using the clubs TS-2000 and other rigs for data modes/CW.
The club often operates special events including the Armed Forces Day at Alexander Park in Hastings, and Lighthouses on the Air among others. They are *always* enjoyable days out with the ops often making some very interesting QSO's along the way. You can visit the Brede Steam Amateur Radio Society's website and find out more about the club, it's events and of course the members.
Eastbourne Radio and Electronics Club
I joined EREC September 2014, a local club based not far from where I used to live in Eastbourne a few years ago. The club is fairly new and is run by Dave Williams G8PUO who runs a network of repeaters through an organisation called RILGES (Repeater and Internet Linking Group of East Sussex) which he also operates. GB3HE, a 70cm repeater based in Hastings provides superb coverage for amateurs from much further afield. I have met a few of the members previously including Dave himself as well as Paul M0LRE, Huw and others, all of whom have put in a lot of work and effort into getting EREC off the ground and are in the process of building more foundations for amateurs to enjoy in the years to come. To find out more about EREC, visit the official Eastbourne Radio and Electronics Club.

With annual membership costing just £5 and a young and dynamic membership with experienced members giving bi-monthly talks and demonstrations at the Pevensey-based club, you would be silly not to join even if you only had a passing interest in electronics or amateur radio. Membership to EREC is worth every penny without a doubt.

My personal web site
I have been working on a personal AR website which is almost complete and can be visited at Amateur Radio Ham if you would like to stop by and have a look.

Contact me
You can find me on twitter @amateurradioham. I keep an eye on it once or twice a day so feel free to send a tweet or follow me for a reciprocal followback. You might like to take a look at a large selection of nice amateur radio images over at FlickR on amateur radio or take a look at my pins over at Pinterest on electronics and AR, or take a look at video of the late John Taplin, founder of the Hastings Electronics and Radio Club on the 2E0GHX Youtube channel. If you prefer paper communications my details can be found right here on QRZ.com, or if you would like to drop me an email please visit my personal site (URL above) where you will find my contact email address in the footer of the sites pages.

My logs
If you need to verify any QSO information please get in touch with me and I will be happy to help. You may find my contact logs uploaded to the following QSL sites which may also help if you wish to look for
yourself.

ClubLog
HRDLog
HamQTH
QRZ CQ
eQSL
LotW account is currently being processed as of 26th Sept. 2014.
 
DX Spots
I often spot contacts and many who I am unable to contact myself, you can take a look at my DX spots on DX Heat.com

 
Some of my affiliations.