3G9A/mm will be used by the 2018 Bouvet team enroute to and from Bouvet (3Y0Z).
PLEASE NOTE: FT8 INFO:
Although they are signing 3G9A on FT8, they are really maritime mobile. No DXCC. Grid square can be calculated by checking their route/time on the www.bouvetdx.org web site. Select the "follow us" GLOBE. Look at the time markings along the route, then take the lat/lon and convert to maidenhead grid square for your QSO logged time. (note the timezone on the tracking). Here is a good link to do a conversion.
Please understand that these are approximate grid square locations. We will make every effort to provide Grid Square data in LoTW uploads AFTER the DXpedition is over.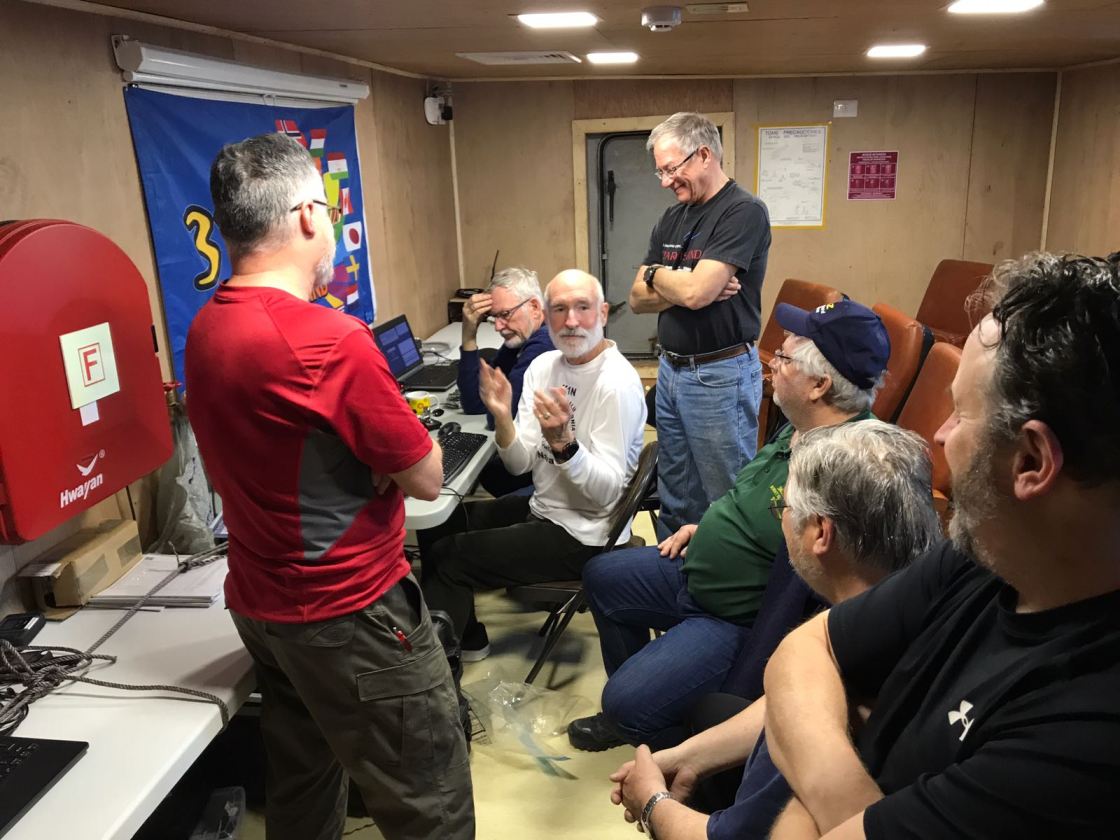 Craig, K9CT gives a tutorial to the 3YØZ team on operation of the Flex 6500 using the 3G9A/MM station for training sessions
UPDATES: more current updates can be found under the news and updates tab on www.bouvetdx.org.
January 24, 2018: Sunny, clear skies this morning provided a very nice view, as we passed the snowy peaks of the South Georgia Islands 20 miles to the south of us. Spectacular! – Hal, W8HC
Our first iceberg was sighted today about 100 miles southeast of South Georgia.
Incoming signals to 3G9A/MM are generally weak. This is due to our maritime mobile antennas and their location. Our on-island antennas will be much, much better! – Ralph, KØIR
January 23, 2018: As many of you may know, today was Nodir, EY8MM's birthday. Nodir wants to pass along his thanks to all his DX friends who have sent him Happy Birthday wishes.
An impromptu birthday party was held in Nodir's honor. The Betanzos' cook, Alejandro, whipped up an amazingly delicious birthday cheesecake!
January 21, 2018: Today was a beautiful, sunny day. We are still enjoying following seas to push us along on our journey, with entertainment provided by the albatross. – Hal, W8HC
Jamuary 20, 2018: We had an uneventful traverse of the Straits of Maglellan, and are currently just southeast of the Falkland Islands, making approximately 11 knots. At the moment, we have fair winds and following seas, and our weather forecast looks good for the next 12 hours. However, the weather can change quickly in this part of the world.
Our team is in good spirits, but one or two are feeling the effects of moderate seasickness. We have one maritime mobile station active, with most of our QSOs on 20 and 40m. We are running 100 watts to a Hustler vertical on the bow of the ship and an OCF dipole hung from the bridge area. We hope to add a second station, soon.
73, Ralph, KØIR
Jan 19, 2018: The M/V Betanzos pulled away from the Puntas Arenas pier on Jan 19, 2018 at 1240z, with 20 happy and excited 3YØZ operators on board.
Tug boats were summoned for help, due to very strong winds and rough seas that were holding the ship against the pier.
Now, it's full speed ahead to Bouvet!
Listen for 3G9A/MM during their voyage.
ETA about 12-14 days. Watch the DXpedition website for updates.
---
---
QSL via N2OO
Logs will NOT be posted until AFTER the team returns home.
QSLs will be available via N2OO.
You can use https://secure.clublog.org/logsearch/3G9A/MM after the logs get posted there.
Or you can QSL via mail to N2OO (please put 3G9A/mm on outside of envelope)
3G9A/mm via Bob Schenck, N2OO
PO Box 345
Tuckerton, NJ 08087 USA
Via Bureau: Please use OQRS or via N2OO c/o W2 QSL bureau. But PLEASE only use one method! Thank you!
DO NOT SEND VIA THE CE BUREAU