Now, 4W0VB went off the air.
US5ETV and WA4WHX have been around, helping as much as they could. Great thanks to both of them!
If you worked 4W0VB - you worked OC 148. If 4W0VB/p has been logged - you got OC 232 for yourself.
FYI 4W0VB/p was active between February 3, 2012, 09.10 UTC and February 6, 2012, 01.25 UTC
All the valid QSOs have been LoTW uploaded.
If you need a paper QSL I would suggest you request it rather directly than via the buro.
USD cash in an envelope is a very bad idea.
PayPal is perfect - my choice. 
A few QSOs are perhaps not in the log, either pirates or QRM, we will never know now.
Getting off the boat at Akrema, Atauro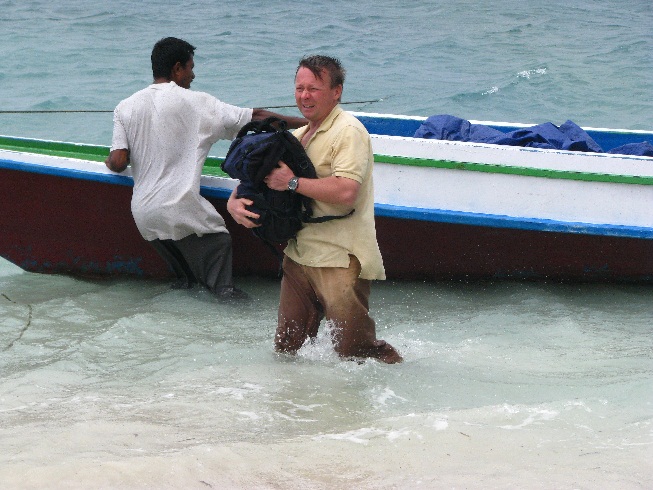 Getting our generator on land was no breeze at all. Kostia, US5ETV,
was great making sure that the gererator gets onto the ground,
and does not sink into friendly Akrema waters.
When we arrived there, it all looked like this....
(On top of us, being not expected there at all).
The cultural part of the stay included local palm tree home made
liquor sampling. That liquor sure melted mointains of ice.
Ermera. Bamboo logging. Much more complicated than
the convertional logging the majority of us is used to.
Anyone can cut or bring a 17 meter bamboo.
How one sets it up is a different issue.
Ermera lost in time and the mountains, looks like this.
People tradionally dress like this.
A few more photos can be seen here
http://www.flickr.com/photos/75552202@N03/