Hello and thanks for logging onto my qrz.com page.
QSL'ers ***** PLEASE NOTE*****  Buro cards must be sent  ***** VIA G3SZG***** 
for DIRECT, please use OQRS or mail to G3SZG (QTHR)
There are photos and information below these ClubLog features....
Check if your in my log in the table above where you will also find my 50 most recent QSO's.
You can request a QSL card in the table below, it's FREE via the bureau and the waiting time is drastically reduced.
Instead of waiting for up to 3 years, it has been reported that cards requested by OQRS have been received in 8 - 12 weeks!!
All QSL cards sent via the bureau are now printed and despatched to you by Global QSL Services (www.globalqsl.com)
DIRECT CARDS must be sent to the my address in the United Kingdom, see G3SZG for full address details, cards
sent to the Cyprus QTH will be seriously delayed.
I started as an SWL in 1961 as ISWL G-10143 and got interested in DX early on, during this time as a keen swl I was mentored and encouraged by Geoff, G3JUL and Colin G3TA (ex G3MOT) who both helped me get through the RAE and the morse test first time. My sincere thanks go out to these two amateurs who greatly influenced me and my future in amateur radio.
I received my UK licence G3SZG on the 19th March 1964 when I was 17 years old.
I spent the first year on 160 metres, AM and CW using a homebrew TX and an AR88D receiver. I then progressed to 80 and 40 metres AM and CW adding a KW Geloso convertor in front of the AR88 and a Heathkit DX40 TX. Later I moved to SSB using a KW2000 with a KW600 linear. Many varied antennas have been used over the years including a 10/15/20 cubical quad, 3 el TA33jnr, KLM KT-34 4 el Yagi, 10 metre home brew 3 el Yagi, Butternut HF9V +160.
Some photos of the UK shacks from the dim and distant past!
This was taken in 1965!
If you are interested in "eldery" equipment the line up is: (I think).......................
From top left to bottom right
1. Home Brew 160 m AM TX 6BW6 PA series modulated by an EL84
2. KW Vespa SSB TX 6146PA
3. Eddystone EA12 receiver
4. PSU
5. SWR Bridge
6. Halicrafters SX-24 receiver
7. KW600 Linear 1 x 572B
8. KW2000 Transceiver 6146 PA and matching speaker and BM-3 Microphone
9. KW E-Z Match Z match ATU.
The following photo is of Don (ex G3UDM now VE7UDM) and myself taken around 1966 / 1967.
T
he photos below are of the shack at various QTH's in the UK
Currently the antenna system is a Dumax 4 band (40-20-15-10) loaded 6.8 metre vertical mounted on a 6 metre steel pole. This antenna is made in Hungary and although tuning is quite sharp it seems to work OK
Also I use an old tri-band 6, 2 and 70cms colinear for local working.
I use a Yaesu FT-1000MP into a FL-2100Z amplifier with a K1EL Winkeyer and a FL-7000 amplifier currently lying sick on the side.
I took early retirement and moved 2 days later to Cyprus in 2001 and was issued with 5B4AHK in 2003. Before that date I operated as 5B/G3SZG.
If you require a QSL card from me I do QSL 100% on all cards received.
I strongly advise you to use the OQRS QSL service provided by ClubLog
I no longer send cards out for every QSO. If you want to be sure of receiving a QSL card from me please check if you are in my log first
Providing the contact exists, go to the OQRS form which provides you with the facility to request a card via the Bureau, this will save at least half the waiting time for my card to reach you. Alternatively you can request a card to be sent Direct on payment of $2 through PayPal.
If you use the Direct service please make sure the PayPal delivery address is where you want the card posted and that you pay the PayPal fee.
+ OQRS saves time and money!
+ You don't have to send your QSL
+ When using OQRS to request direct QSLs, you don't have to pay to mail your card to me
+ When using OQRS to request bureau QSLs, you save time from you to your country's buro plus your buro to the 5B buro and from the
5B buro to my QTH. There are huge time savings to be had, it's a win win situation.
+ When using OQRS to request bureau QSLs, not only do you save a lot of time, but you help to cut down the workload of your local
outgoing buro and the Cyprus incoming buro.
+ There is no reason NOT to use OQRS!
If your QTH is in a country where there is no Bureau service or the Post is erratic please consider joining LoTW and ClubLog.
ClubLog has a whole raft of useful information and services focused on your callsign - including the OQRS service I am using here. I highly recommend it as an added bonus to your enjoyment of the hobby, and it costs nothing to join.
Club Log is an online league table and statistics system for DXers and a dxpedition log hosting tool. The address for Club Log is www.clublog.org. Please consider signing up if you haven't already: it's free, and your participation will improve the usefulness of the database!
My log is normally uploaded to LoTW on a regular basis.
I upload to Clublog at the end of each operating session or the next day.
If you wish to request my paper QSL, here are the options, in order of preference:
OQRS - via Club Log log search - bureau and/or direct QSL'ing options are available on-line.
Direct - QTHR as QRZ.COM at top of this page!
Via bureau - Please try the OQRS bureau request in preference to sending your QSL via the bureau.
Normally within 24 hours of receiving your OQRS request for a buro QSL I check the log and upload a file to
Global QSL. They 
print and send out the cards on a regular basis. Glocal QSL despatch the QSL cards once
they have 500 cards for a foreign buro 
or every 3 months which ever comes first. (That's what they told me)
If you do send a card via the bureau please wait at least 2 years for a return card, if you send me a card you WILL get a card in return but PLEASE be patient and don't send a second request and card for at least 3 years after the original card is sent. Extra cards are a waste of time and money and slow up the worldwide bureau system. If you haven't received a card from me then e-mail me with the full QSO details and the date you sent it to your QSL bureau and I will investigate and reply to you with the details.
NB... I DO NOT accept or acknowledge QSL cards from eQSL.
Please use LOTW whenever possible.
SWL's............. please note that in order to get my QSL card you need to provide information on at least 2 of my QSO's along with the RS(T) I gave and received along with the calls of the stations I was in QSO with.
Failure to do this will not produce a card.
Only a date and time is NOT enough (you could have got the info from the cluster!!)
Send your QSL card via the bureau only as a last resort and PLEASE remember
that I DO NOT use e-QSL, Sorry.
Well if you have got down this far this is a Google map of my location on the west coast of Cyprus,
about 20kms north-west of Paphos.
The island off the coast and in my photo at the top of this page is Gerronosis Island (IOTA AS-120).
Not to be left out is our wonderful cat called Monte, often caught calling CQ Dog X-Ray!
The following photos were taken down at the harbour / beach which is all part of the Agios Georgios village.
It's a great place to float your boat!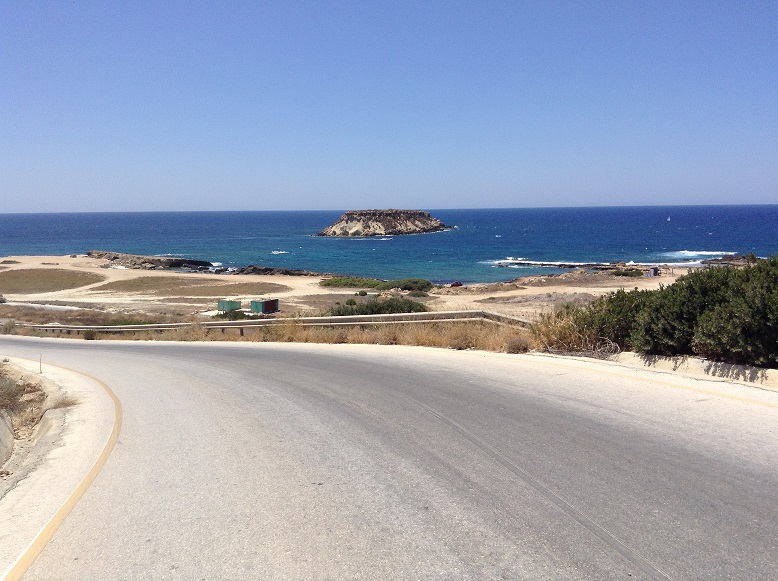 Geronnisis Island AS-120
The Harbour, Agios Georgios
The Church above the harbour The small harbour beach
The Island from my friends power boat
�