I started my ham radio adventures while at high school by joining the school's
radio club 5B4ES. I got my personal 5B4MF licence in 1982 at age 15.
In 2012 I celebrated 30 years on the air and surpassed the 100,000 QSO level.
In September 2011 I was delighted and proud to see my 11-year old son pass
his HAREC exam and receive his own callsign, 5B4AMF - but this means that
there will be competition for the station's mic in the years to come!
My main interests in Amateur Radio are DX-ing, Contesting and building antennas.
Station Description: Current station set-up comprises of Yaesu FT1000MP MkV with 6m transverter, Ten-Tec Omni VII and an Expert 1K-FA linear acquired in Nov 2011. For antennas I have a KLM/M2 KT36XA for 10/15/20m, a Cushcraft 40-2CD for 40m (also used for 17m), 2 sloping dipoles for 80m (East and West), 2 inverted-Vs for 160m, a 4el homebrew monoband yagi for 6m and a short beverage in NW direction. The last addition to my antennas is a homebrew 2el Moxon for 12m built in February 2011 which enabled me to work 20 new countries on this band within 9 months from installation at a temporary small height above the water tanks.
If you hear me operating on CW during nightime, mainly on 30m, chances are that I am working remotely from the TV room using my laptop while keeping company to the XYL. I do this through the Omni VII which has network capability. This method works pretty well, except it takes some time to change back and forth between my logging program and the CW sending software and so there is a slight delay until I come back to the callers.
For logging I use my own logbook software which I wrote in Microsoft Access.
QSLing: I answer all QSL cards received and verified by my logbook. Direct QSL cards with self-addressed envelope and enough return postage (ie 1 IRC / 1$ for Europe, Middle East, North Afica and 1 IRC / 2$ for rest of the world) are answered directly (usually within a week). If no return postage and self-addressed envelope are included then direct QSL cards are answered via bureau. PLEASE DO NOT SEND DIRECT QSL CARDS VIA REGISTERED MAIL as I need to take time off work and waste one hour to go to the Post Office to collect them in person. Bureau cards are answered via bureau. I send out bureau cards about 2 times a year. I also use LoTW and Clublog where I upload my logs every 1-2 months.
DX-ing: When I am on the air DX-ing I try to listen to as far away stations as the conditions allow and then work my way to the stations nearer to Cyprus. Please respect this and don't break in when I am trying to listen for the weaker far-away stations. Remember what you feel like when you are trying to work a DX station and the DX station only works stations in his vicinity! Also remember that within the confines of my city QTH I have high noise and no special receiving antennas and therefore sometimes it is a real challenge for me to copy weak DX signals. especially on the low bands.
Here are my band statistics as of 18 Jul 2015:
| | | | | | | | | | | |
| --- | --- | --- | --- | --- | --- | --- | --- | --- | --- | --- |
| 6m QSOs | 10m QSOs | 12m QSOs | 15m QSOs | 17m QSOs | 20m QSOs | 30m QSOs | 40m QSOs | 80m QSOs | 160m QSOs | Total QSOs |
| 2357 | 31741 | 4968 | 26118 | 2785 | 23296 | 2070 | 9962 | 4888 | 3560 | 111745 |
| 2.1% | 28.4% | 4.4% | 23.4% | 2.5% | 20.8% | 1.9% | 8.9% | 4.4% | 3.2% | 100.0% |
I have worked DXCC on all 9 HF bands and 6m and I stand at 339/340 on the DXCC Honor Roll.
DXCC Country totals

| 6m | 10m | 12m | 15m | 17m | 20m | 30m | 40m | 80m | 160m | ALL |
| --- | --- | --- | --- | --- | --- | --- | --- | --- | --- | --- |
| 123 | 313 | 311 | 332 | 327 | 333 | 292 | 321 | 270 | 125 | 339 |
My near term DX-ing goal is to improve my DXCC entity totals on the low bands. I am also waiting patiently for a Heard Island DX-pedition to reach #1 Honor Roll. Zone 1 on 80m will complete my 5BWAZ effort which was at 198 zones since the late eighties.
Contesting: When I operate in contests I use a contest call.
From 1998 to September 2012 I used the contest call H22H. Search H22H
From October 2012 onwards I am using the contest call C45T. Search C45T
I enjoy working (in SSB) in CQ DX, CQ WPX, CQ 160m, IARU, RDXC and IOTA contests with occasional multiplier handouts in other contests.
I am a member of the Nicosia Contest Group and operate from our contest station located a short distance outside Nicosia using our contest call C4A.
Special Calls and operations: Over the years I have operated the following calls:
- 5B25MF in 1985 for the 25 years of the Cyprus Republic Search 5B25MF
- H25MF in 1987 for the 25 years of the Cyprus Amateur Radio Society Search H25MF
- C40A in 1989 for the IARU HF Contest Search C40A
- 5B40MF in 2000 for the 40 years of the Cyprus Republic Search 5B40MF
- H22H in contests 1998 - September 2012 Search H22H
- C45T in contests since October 2012 Search C45T
- 5B4MF/P from various portable locations such as the ones below Search 5B4MF/P (but note that this searches all 5B4MF/P logs together)
- 5B4MF/P on 16/17 August 2008 fromKiti Lighthouse CYP-004
- 5B4MF/P on 26 September 2009 from Ayios Georgios island, IOTA ref AS-120 (Coastal islands of Cyprus Group).
- 5B4MF/P from 19-21 July 2013 from Ayios Georgios island, IOTA ref AS-120 (Coastal islands of Cyprus Group).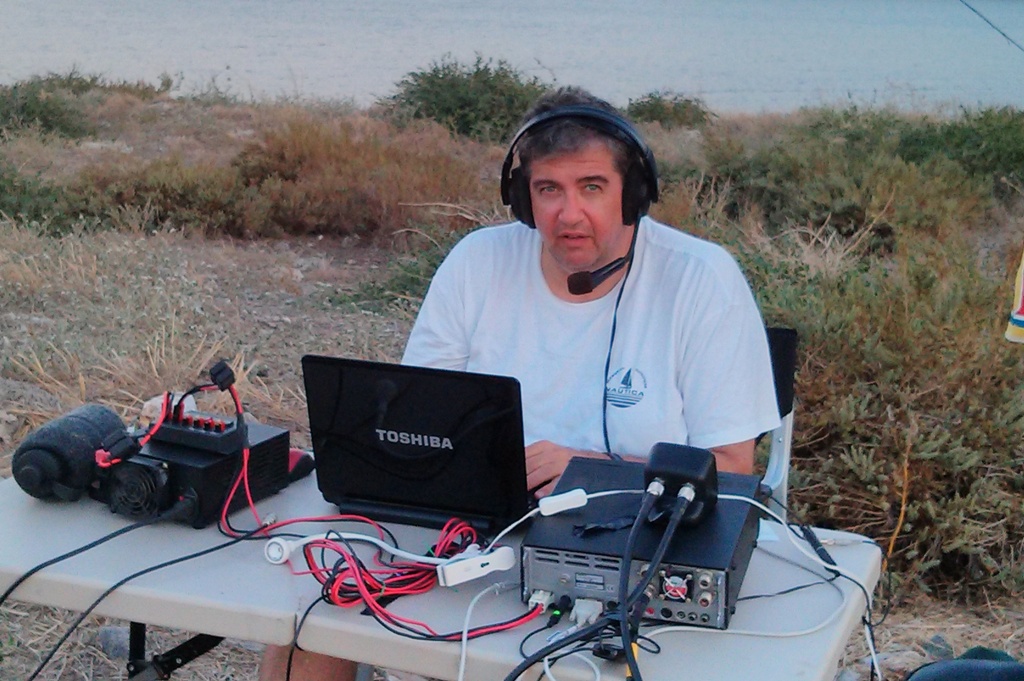 73 and CU down the bands.
Spyros