Cap Corbelin Lighthouse DXpedition week end
29, 30 ,31 October 2015 and 1, 2 November 2015
OPERATORS :
---
QSL Via EA3GSS
---
Email -contact@ara-dz.org
http://www.facebook.com/aradz.ara
RADIO CLUB ALGIERS
---
Previous DXpeditions and Contests
Dxpedition
Relaxing week end
in Boulimat village
Situated 250 Km est coast Algiers in Bejaia City
LOCATOR JM26LT
NOV 14, 15 2013
---
Mount Murdjadjo and castel Santa Cruz
Wilaya of Oran
Locator : IM95QR
429 meters
NOV 1st 2013
---
LIGHTHOUSE CAPE Colombi in CHLEF

ARLHS ALG-042
Locator JM06LK
Oct. 10, 2013
---
Islet Colombi
IOTA AF-094
Locator JM06LK
Oct. 11, 2013
---
Dxpedition
IOTA AF-104
ARLHS ALG-023
WLOTA 3104
Srigina Island - SKIKDA LH 3104 - Locator JM37KW
From sept. 19-21, 2013
---
IOTA AF-094
ARLHS ALG-052
Arzew islet LH 2292 - Locator IM95 UV
From 29th august to 31st august 2013
---
Lighthouse DXpedition
Ain-Turk Wilaya d'Oran
QRV FROM 6 - 7 - 8 june 2013
---
Lighthouse DXpedition
QRV from 1st to 3rd May 2013
was QRV
7X2RO-7X2DE-7X5QB- 7X2GK- 7X2MV
Massi 7X5/1388 - Abdou 7X2/1588
---
Lighthouse DXpedition
QRV from 11 to 13 April 2013
Was QRV
7X2RO - 7X2GK - 7X2DE - ABDOU 7X2/1588 - SID 7X2/1543
---
Palais des Rais - Bastion 23
First WCA DXpedition to Algerian Castle
QRV from 20 to 30 March 2013
was QRV
---
50th anniversary of the ARA
Rules of the contest
Definition:
The contest for the 50th anniversary of ARA creation.
To obtain the Diploma you must totalize 50 points.
Goals:
Allow OM's and SWL's from Algeria and outside to obtain a diploma and a special QSL card for the event.
Objective:
To inform the world about that particular event.
Participation:
All Amateur radio, radio clubs and SWL can participate in the contest on all modes and all HF bands alloARAwed.
Dates and times:
From
march 01st 2013 at 23:00 UTC
to
May 31st, 2013 at 23:00 UTC.
Valid Contacts:
- The same station can be contacted once per band.
- Correspondents must exchange their respective reports.
Points:
-Official Station (R.C Algiers)7T50ARA=15 points.
-Official station on expedition7T9A=15 points.
-Radio Club Station =10 points.
-Ordinary7Xstations =05 points.
Reports:
-Copies of the logs must be submitted to the contest manager ARA:
Po Box 01 RP Alger ALGERIA
before 31 december 2013.
-Copy of the log must be written in uppercase.
Participation Fees:
The cost of the diploma is 15 U.S. Dollars or 10 Euros. (Costs of printing and delivering)
Penalties:
-QSO with a nonexistent 7X call sign.
-Absence of the QSO on the 7X logs.
-For an incomplete call sign the contact will be cancelled.
Getting the diploma:
The station that has obtained at least 50 points can ask for a diploma.
Conditions of participation:
By entering this competition, the competitor agrees to respect its rules, the common rules and the courtesy in use between ham radio operators.
---
50eanniversaire de la création de l'ARA
REGLEMENT DU CONCOURS
DEFINITION:
Le concours pour le 50eanniversaire de la création de l'ARA est une manifestation mémorable des activités des radioamateurs Algériens.
Pour obtenir le Diplôme il faut totaliser 50 points.
BUT:
Pour l'obtention d'un diplôme et d'une carte QSL spéciale:
Faire bénéficier les OM's et SWL's Algériens et étrangers
OBJECTIF:
Faire connaître au monde entier cet événement particulier.
PARTICIPATION:
Les radioamateurs, les radio-clubs et SWL's participent au concours en tous modes confondus, sur toutes les bandes décamétriques autorisées.
DATES ET HORAIRES:
Du
01 Mars 2013 à 23:00 GMT
Au
31 Mai 2013 à 23:00 GMT
LIAISONS VALABLES:
La même station ne peut être contactée qu'une fois par bande et mode.
Les correspondants doivent échanger des rapports d'écoutes.
POINTS:
- Station Officielle (R.C Alger) 7T50ARA =15 points.
- Station Officielle en Portable, en Expédition ou en contest 7T9A = 15 points.
- Station Radio Club = 10 points.
-Stations ordinaires 7X = 05 points.
COMPTES-RENDUS:
- Les copies des logs doivent être transmises au contest manager de l'ARA:
BP 01 Alger RP ALGERIE
avant le 31 décembre 2013.
- La copie du log doit être écrite en caractères majuscules.
CONTRIBUTIONS:
Le coût du diplôme est de 15 Dollars US ou 10 Euros. (Pour les frais d'impression et d'envoi).
PENALITES:
- QSO avec un indicatif 7X non existant.
- Absence du QSO sur les logs 7X.
- Indicatif incomplet : QSO annulé.
OBTENTION DU DIPLOME:
Toutes les stations ayant obtenus 50 points valables ou plus.
CONDITIONS DE PARTICIPATION:
En participant à ce concours, le concurrent s'engage à en respecter le règlement, les règles communes et les règles de courtoisie en usage entre les radioamateurs.
---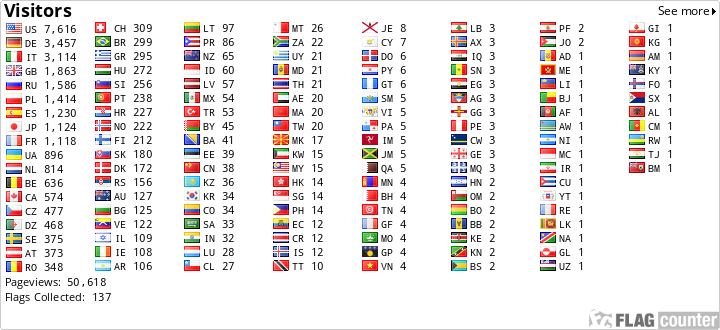 ---
Large Visitor Globe