Update May 1, 2013: 8Q7KP went QRT on Apr 30th. We uploaded the complete log to clublogs on May 1, 2013. All log correction emails have been answered. if anyone still has a disconnect, please drop w4vku a note

[June 13,2013] - We have opened all but about less than a 100(both 8Q7KP & VU7KV) paper Qsl requests via mail. We have logged the callsigns to our database and uploaded the QSO's for the donors to Lotw. The QSL card design has been finalized and the cards should start going out in another 4 weeks or so.

[June 4, 2013] - We have uploaded the QSO's to LOTW for those that applied via Clublogs. The QSL card is still being designed. It is

planned to be a double or foldable card. It is at its second iteration and i think another 2 rounds of review will be required prior to printing.

------------------------------------

April 23, 2013 - April 30, 2013
VU2PAI (Pai) & W4VKU (Krish) will be active from Bodu Finolhu, South Male' Atoll in the
Maldives ( IOTA AS-0013)
QSL route : OQRS is now open. We prefer OQRS. Please make sure your Qsl info is correct on QRZ.com. Use OQRS, Save
the trees. Link to OQRS https://secure.clublog.org/logsearch/8Q7KP
However, if you must send direct QSL, then please send them to W4VKU for all direct Qsl's.
Please use nice colorful postage stamps instead of the postoffice printed postage label.
We are working with Arrl to get 8Q7KP approved for Dxcc credit. So please stay tuned.
Donations: We have not sought any sponsorship, but will gladly accept donations
to defray the cost of the operation and a big thank you to those that have made a contribution.
Special request from vu2pai while sending qsl via direct:
Postage stamps for my stamp collection will make me happy :-) !
if possible you can send me a few mint stamps (unused and uncancelled) from your country.
I Specially like to collect stamps on envelopes from your country or if you have saved any envelopes with stamps on it you have received
while exchanging QSL's from other DX stations.
Our Sincere thanks to Fun Island resort for their support in preparing for the operation
We had tried to plan the operation several months ahead of the trip and from half way around
the world. I have no words to thank Abdul Matheen and Abdul Zamir for their support. They
have bent over backwards to help us. Right from helping us with the resort engineering team
to setting up the yagi to getting anything that will help us setup the stations or handle the
logistics in the backgrounbd, they were at the top of their game. We owe each and every Qso
to them. If there is another ham radio activity planned in 8Q7, you can bet that it is going to
be from BoduFinolhu. The location cannot be any more perfect for the placement of the
vertical and the yagi and at the same time it blends well from the aesthetics for other guests
in the facility. The house reef is excellent, the food is great, the people are wonderful and we
are in paradise making Qso and unwilling to sleep :)
If you are planning another ham radio activity from 8Q7 or even a simple holiday in 8Q7,
please feel free to contact us or even Mr Matheen/Zamir direct at the resort. We will be
glad to connect and help.
------------------------------
The plans are for 2 stations running the following equipment
Elecraft K3/Acom 1000
TS480Sat/Tentec Hercules II
Antennae : Two Butternut HF9V placed right into the salt water, 2Ele steppir for higher bands
QSL: We plan to setup OQRS and also upload logs to Lotw/eQSL/QRZ.com
You can also email us at our home calls if you need to contact us:
Update: April 24,2013(4:30am Maldives time(23:30Z)
We have the 2 ele steppir up and running. It was around 2pm on the 23rd when we got to the island.
We set to work and installed the yagi in the heat. It is like stepping into a sauna, when one gets out
from the A/C room. The vertical is partially assembled. On account of having not slept the prior night
in preparations for the trip and heading to the airport at 3am, we were unable to stay on the air all night.
We had a reasonable rest at night. Today , the 2 verticals will be installed and hope to go fully operational
in our evening. Only 1 station is up at the moment and VU2PAI was up yesterday on 15m ssb. Today
the second station will be up and running. We have the SIM data cards, but our modems were not
compatible for the 2G network here. We will be working on sorting that issue soon. Please stay tuned.
Update:April 24, 2013(3:15pm Maldives time)
The vertical is up and we will be using it for the second station
Update:April 27th, 2013
We have been running 2 stations at most times. At our nights, we are running into a problem with QRM.
The neighbors are not happy with us on SSB at night. Two of them have switched rooms 2 days in a row.
We are trying to accommodate them and either stay low on our voice levels or switch to CW and RTTY. Oh well.
We are also looking for LP openings on 10/12m, so we can get into the West coast. On our sunrise, we will look
into 40m and 30m again. There is S9 noise on 80m. We might go QRT on Apr 30th after the morning here say 0500Z
and take the antenna apart and pack up. Our boat will leave very early the following morning and we think is better
to not mess with repacking 200kg of gear at the last couple hours (amps, antennae and long runs of LMR400 is not light).
VU2PAI has been running CW and SSB. W4VKU has been running SSB and RTTY.
Update: April 28th, 2013
We were on 17m last night for hours. The band was hot. Thanks to many stations that complied to our requests to obey
instructions. It only helps us mow down the pile quicker.
We are aware of an issue where 10m Qso's were logged as 20m Qso(Mostly JA runs). We will fix this soon. So do not worry.
We have installed realtime logging on the second computer and hope it will be reliable. We will look for 40m to NA-W coast
tonight. We will also look out for 10/12m to NA. We are aware of requests for 10/12m runs to EU as well. Hope to do as much
as possible. Appreciate your co-operation.
If you email me for log related issue, please write "Log correction request - " in the subject. I will then work on it
when time permits. Right now, we want to give you the new one, but don't worry, your Qso's will be fine. We are taking regular
backups. Also uploading so far manually to clublogs once a day from all computers.
Pictures
Pai is grounding the vertical ( perhaps it will be the secret of 59++++ reports)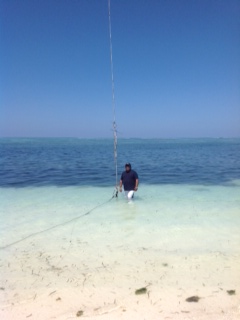 5Radials for the vertical and is doing way better than the yagi on 30/40m. Running just 400w on SSB/Rtty