1969                                                                                                              2016
NICE TO MEET YOU AND THANK YOU FOR LOOKING ME UP ON QRZ.COM !!
I  got licence of Amateur Radio in January 1969.
   My two greatest hobbies are home brewing  radio equipment  and  oil painting. I built my first AM  hf
radio station when I was 19 years old. I made extensive use of  Geloso spare parts which were quite easy
to get  in those years  (as can be seen in the b/w photo above).  I  conducted pioneer work in Amplitude
Modulation  on  short  waves  with  home  made  tube  equipments.  In the  early  70's  when  SSB  was
becoming the preferred mode, I embarked on the construction of  SSB equipment mostly  using  hybrid
circuits.   For   a considerable   time   I   also  carried  out  experiments  on the microwave frequency in
particular on 1.2 - 2.4 and 10 GHz using FM/SSB/ATV/WI-FI modes.The last qso on 10 GHz was made on
22/08/2016 in full-duplex  (20 mW) with 9H1ES Fortunato in Malta, with signals of full scale deflection.
Recently in December 2014, I constructed and finalised a new multiband HF portable  transceiver.  It is
completely solid  state using the AD9850 DDS for frequency generation, a 9MHz KVG quartz  filter in
the  IF  chain  and in order to achieve a  high dynamic front-end receiver, I used 4 x J310 fet  (matched)
for balanced mixer. The power output  is  abt  30 watts.  In  1983  I was awarded the  DXCC certificate
for  my  first  200  worked  Countries,  I  currently  have  over  300  Countries  worked  and  confirmed.
The new digital communication techniques:  SDR, DRM, Internet, etc. are proving to be quite interesting
and I  still  get  a  trill  when  experimenting  with  these digi  modes,  however I still love the good old
analogue radio systems.
_____________________________________________________________________________________________________
Ho conseguito la Licenza di Radioamatore a gennaio del 1969.
   Le mie  più grandi  passioni sono la costruzione di  apparati radio  e  la pittura ad olio. Ho realizzato
la  mia  prima stazione radio HF in AM quando avevo 19 anni,  utilizzando  alcuni  pezzi della  Geloso
(puoi vedere nella foto in b/n sopra).  Per molto  tempo ho avuto il piacere di lavorare sulle microonde
a 1,2 - 2,4 e 10 GHz  nei modi:  FM/SSB/ATV/WI-FI. L'ultimo qso sui 10 GHz è stato fatto il 22/08/2016
in full-duplex (20 mW) con 9H1ES Fortunato in Malta, con segnali di fondo scala. Negli  anni 1960/1970
sono stato anch'io un pioniere dell'ampiezza modulata sulle bande decametriche con radio "fatte in casa"
tutte a valvole. Poi ho sperimentato trasmettitori ibridi in SSB autocostruiti. Recentemente a dicembre
del 2014  ho costruito un nuovo transceiver portatile per le  HF  allo  stato solido con DDS AD9850, 
filtro a quarzi della KVG, mixer  bilanciato di ricezione con 4 fet J310 (selezionati) per  un  front-end ad
alta  dinamica (fantastico  l'AGC !). La  potenza  d'uscita  in trasmissione  è di circa 30 watt. Ho lavorato
il DXCC nel 1983 con i miei primi 200 Paesi (adesso ne ho più di 300 confermati).  Le nuove tecnologie
digitali  di  comunicazione:  SDR, DRM, Internet,   ecc.  dimostrano di essere molto  interessanti, ma la 
vecchia radio analogica resta sempre la mia preferita.
My homebrew radio equipments (TODAY):
PORTABLE HF SSB TRANSCEIVER

80-40-20-15-10 mt, all solid state, DDS AD9850, balanced mixer with 4 fet J310, balanced
modulator and product detector with 2 X MC1496G, crystal filter 9 MHz  KVG XF-9A, final 2 X 2SC1969 in push-pull with abt 30 watts output.
Dimensions: 8 cm (H), 26 cm (W), 25 cm (D).   NO KITS ! 

Made in December 2014
INSIDE CIRCUIT RECEIVER PART
ABOVE CIRCUIT TRANSMITTER PART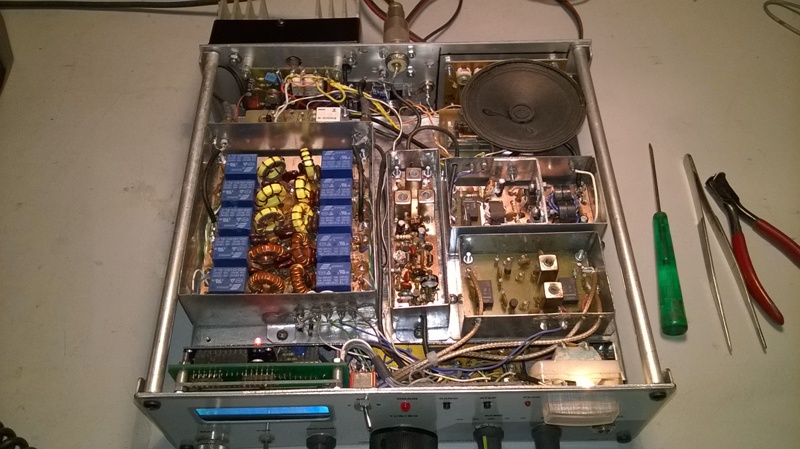 HF TRANSCEIVER COMPLETED
HF SSB/AM/CW RECEIVER   5 bands - 10 tubes - The I.F. 9 MHz transformers  and  ceramic rotary change band switch are
home made - SSB quartz filter 8 poles SF0922B (SHOWA), selectivity 2.3 KHz at -6dB  4.1 KHz at -60dB - Input preselector within about 10 KHz of
bandwidth - Sensitivity 0.3 uV/20dB - IF rejection better 50dB - Spurious rejection better 50dB - PTO Drake - Stability after warm up will not drift
more than +/- 50 Hz.
Made  in October 2010
Above receiver
Inside receiver (Rev. 2014)
                                                             Schematic diagram HF receiver
HF SSB/CW TRANSMITTER  5 bands - Hybrid. 9 MHz ssb exciter with: Germanium transistors, 4 X 1N34 diodes for ring-modulator, 
quartz filter XF9A  (KVG). High stability PTO Drake by FLL circuit (Frequency Locked Loop) - RF final tubes 2 X 6146B (class AB1), about 100 watts
output.   Made in April 2012
Aluminum clear CHASSIS
Inside SSB/CW transmitter
Above SSB/CW transmitter
                                                            Schematic diagram HF transmitter
HF SSB/CW STATION (complete line)
 HF WATTMETER 1,5 to 30 MHz/ 100-200-2000 watts - Made in December 2012
                                                                                                                    
                                  THIS IS MY FIRST HF SSB/CW TRANSMITTER

  
               
Hybrid, 9 MHz ssb exciter with germanium transistors, 4 X 1N34 diodes for ring-modulator, quartz filter XF9A (KVG), homebuilt mosfet
VFO and FLL circuit (frequency locket loop) for high stability - RF final tubes 2 X 6146B (class AB1), abt 100 Watts output. 

-




Made in January 1970  (rev. 2009)
                                          
HF AMPLITUDE MODULATION/CW TRANSMITTER -  5 bands, all tubes, similar Geloso G 222 - The VFO (as the 4/104S),
plexiglass tuning scale and modulation transformer for two 807 in push-pull (class AB2) are home made - RF final tube is one 6146B (class C)
modulated 100% of plate and grid screen for high level AM - Excellent audio quality - 50 watts carrier power output - Made in August 2011
                                                 Above AM/CW transmitter
inside AM/CW transmitter
                                               Schematic diagram AM hf transmitter
 VFO 5 bands (homebuilt) for HF amplitude modulation transmitter (similar to 4/104-S Geloso)

PORTABLE HF SSB RECEIVER -

three bander

80/40/20 mt ,

all
9 MHz ssb crystal filter LABES FQ9/5  -  excellent AGC - product detector with MC1496 - AD9850 DDS - homebuilt cabinet,
dimensions: 7 cm (H), 23 cm (W), 20 cm (D).  solid state, high dinamic front-end with 4XJ310 FET balanced mixer - 

NO KITS !! 

Made in October 2015
(Rev. 2016)
PORTABLE HF SSB TRANSMITTER:

 

Balanced modulator with  MC1496 and  home made ladder crystal filter. DDS AD9850,




final  2 X 2SC2166 in push-pull, the power output is abt 20 watts. Homebuilt cabinet, dimensions: 7 cm (H), 23 cm (W), 21 cm (D)




Made in April 2016
 

Building home made HF transmitter - Step by step (no kits)

2016

       

MECHANICAL ASSEMBLY
My last new HF line equipment - Made in April 2016
Simple low cost superetherodyne 40 meter Receiver with DDS AD9850 and ladder crystal filter.  Made in March 2017
Construction of 9 MHz  ladder crystal filter for SSB HF receiver
SOFTSTART FOR TL-922 KENWOOD
(modif. 2013)
---------------------------------------------------------------------------------------------------------------------------------------------------------------------
-------------------------------------------------------------------------------------------------------------------------------------------------
       

VOICE RECORDER FOR RADIO

 
                           

Made in 2013

                              
OLD VHF 144 MHz TRANSVERTER (I.F. 28 MHz) - Final tube QQE06/40 in class AB1 for abt 70 Watts output - Made in 1978
MICROWAVES:
Old 10 GHz  Homebrew equipment - Gunnplexer for WBFM in full-duplex - IF 30MHz -  Antenna HORN 53cm long
with 25dB gain - power output approximately 20 mW (+13 dBm).  
MADE in 1986


VHF 50 MHz TRANSVERTER all transistors (I.F. 28 MHz) - RX MIXER with two mosfet BF961 - TX final  with one 2N6082 for 10 Watts output - Made in 1997
Home made PADDLE KEYS in metal brass
Home made old vertical key in metal brass and two bearings.
Home made domestic receivers:
 "Antique radio - abt 1930", 3 tubes,  AM, reaction circuit  - Made in 2011  
AM radio, 2 transistors, 1 I.C. audio output, reflex circuit - Made in 2011
                                                                                NEW !!! 
FM RECEIVER 88-108 MHz (only), with 6 tubes: EL84, EABC80, EF89, ECH81, ECC85, DM70. All home made, including the I.F. 10,7 MHz
and power supply transformers.
Made in October 2017
OLD NIXIE CLOCK - Dimensions 7,5 cm (H), 12 cm (W), 14 cm (D) - 12 VDC - 3.2768 MHz xtal oscillator -  Made in December 2016      
Homebrew optionals for my Drake line:
Noise Blanker for R-4C - Made in 2009
PLL synthesizer for free quartz band R-4C - Made in 2010 - rev. 2013
INSTRUMENTS:
DIGITAL INDUCTANCE/CAPACITY METER - 1% precision - Made in September 2015
TWO TONE GENERATOR - LOW DISTORTION 0,5% - SINE WAVE  700/1900 Hz for analysis transmission power output to oscilloscope and dummy load.          Made in 2013
*************************************************************************************************************************
T

his is my second hobby, THE P

A

I

N

T

I

N

G

:
STILL LIFE (Oil on canvas 50X70 cm)

1991
OIL LAMP WITH BOOK (Oil on canvas 40X50 cm) 2006
PORTRAIT OF MY DAUGHTER with the great DE CHIRICO (Oil on canvas 60X60 cm)

2004
Antonio DE CURTIS "The great comedian TOTO' " (Oil on canvas 40X50 cm)

1990
MY SIAMES CAT (Oil on canvas 30X40 cm)

1990
MY COUNTRY HOUSE  (Oil on canvas 30X40 cm)

1982
STILL LIFE "Sicilian oranges" (Oil on canvas)

2003
WARM SUNSET (Oil on canva
s
40X50
cm)

1991
VASE WITH FLOWERS (Oil on canvas 40X50 cm)

2003
RAGUSAN LANDSCAPE (Oil on canvas 50X70 cm)

2004
RAGUSAN LANDSCAPE (Oil on canvas 50X70 cm)

2005
RAGUSAN LANDSCAPE (oil on canvas 100X40 cm) 2014
SICILIAN PRICKLY PEARS   (oil on canvas 100X40 cm)

2014
RAGUSAN

LANDSCAPE (Oil on canvas 50X70 cm)

2004