2012 JOTA Activity Operators : TB1BAM-TB1BCC-TA2AGN-TA1ATR-TA1AOY-TA1AES-TA1DY-TA1EF-TA1HZ-TA1UT-
YM2SFT is the club station of Turkiye Izcilik Federasyonu http://www.tif.org.tr/Scouting and Guiding Federation of Turkiye. The station is located on the Asiatic side of Istanbul, not far from the Fatih Sultan Mehmet Bridge which connects the two continents, Europe & Asia.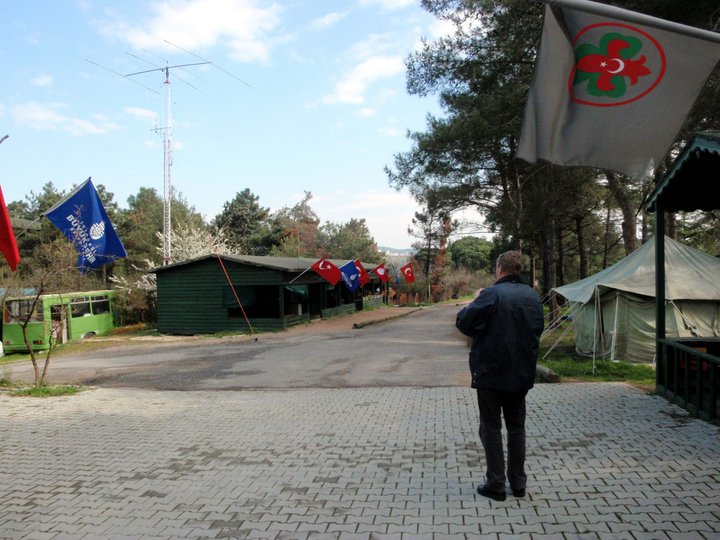 Although in previous years, various wire antennas were used, as of October 2010, a new 13m high tower was erected and a Cushcraft A4S antenna was put on. For 40m and 80m inverted Vs were in use but main operation was done with A4S. At the beginning of May 2011, the A4S has been taken down and replaced with a 2 element SteppIR. The Cushcraft, after some retuning, will be put up the new planned tower.
The rigs that are used are Kenwood TS140S and Kenwood TS570D. Operators bring in their own equipment to use or test at times. The station is now used by OH2PM of Radio Arcala Team as TC2X.
VHF system will be added as time permits. APRS system was working ashttp://aprs.fi/info/a/TA2KN so it will be "renamed". An ASELSAN 4025 UHF rig and AZDEN antenna is placed for UHF ham frequencies and intercamp communications.
Scouting & Guiding Federation of Turkiye is much pleased to have a contact with you. QSL cards are sent twice a year to the relevant national QSL bureaus every December/January and June. Therefore, if you are not in a hurry for something special (like DXCC appl.) please wait for your bureau to do the work ! :)
Plans for the second tower antenna setup are discussed. The new 21m tower is now getting painted and during the summer of 2012 the antenna work will go ahead.
If you are in Istanbul and want to visit the station please e-mail ta1hz@tcswat.org .

Large Visitor Globe