QSL:
LotW - Primary
QSL Paper Cards, Bureau or Direct (I still enjoy trading cards and I have a box of new ones)
eQSL (I don't use this system but I upload to it on occassion)
I enjoy all aspects of amateur radio but CW (radio telegraphy) and antennas are my favorite parts of the hobby. I do dabble in contests and DXing but I also really enjoy operating portable with homemade QRP gear. You may find me anywhere on the bands from 160 m to 70 cm (sometimes 3 cm) from my small city lot but usually you'll find me operating QRP near 7030 kHz or working DX at the bottom of the bands. I do like to rag chew too.
I also enjoy using my 1960 E. F. Johnson Speed-X 114-520 bug shown above and I often use it. Even though I've been doing CW since the 1970's I only started learning how to use a bug at the start of 2014. I really enjoy using it and I strive to send good with it. If I sound like a typical bug user sending 15 WPM code with 40 WPM dits just send me QLF so that I will know to QRT. If you can't tell I'm using a bug then that is the way I hope it sounds.
If you worked me on 40 m while I was QRP at 2 Watts then you may have worked my QRP station shown in the above photo. It is my home brew 40 m rig built around the SW-40+ kit, NORCAL Keyer, and the Hendricks Digital Display. The paddles and end fed half wave antenna coupler are also home brew. This is the complete station and I often take it to the field or onto my back patio. The station including antenna and power source fits in a small canvas military tool bag. I've worked the world with this little rig.
My primary rig for big contests, etc., is a Yaesu FT-897D shown above. I've used the heck out of this rig from 160 m to 70 cm including several Field Day's when the ambient temperature exceeded 107 F (42 C)! As of this writing I've had about 10,000 QSO's with it.
The main antenna that I use from 160 m to 6 m is an Inverted-L that runs vertically up the side of my home's chimney for 6 m (20 ft) and then horizontally through a tree for about 14 m (46 ft). The antenna is tuned at the base with an SGC SG-237 autotuner and that is fed with RG-213 that is buried in the ground for 30 m (100 ft) to my station on the other side of the house. My antenna's ground system consist of nothing more than a copper ground rod stuck into mostly limestone rock. It could greatly benefit from an extensive radial system but I just don't have room for it. My main band is 40 m and the antenna base is at a very high impedance on that band, consequently the antenna performs best on that band.
73,
Steve Yates - AA5TB (ex-KA5DUU 1979-1990)
"I don't always run QRP, but when I do, I prefer CW."
PG-9-14109 - General Radiotelephone Operator License. (since ~1983)
WFE - Shore station in Houston, radio operator and technician, 1981-1984.
http://groups.yahoo.com/group/NORTEX_QRP/
AK QRP Club - # 135
AMTA (Antenna Measurement Techniques Association) - since 1996
ARRL (American Radio Relay League)- since 1979
BVARC (Brazos Valley Amateur Radio Club) - Vice President 1987, President 1988
DFW Contest Group
GORC (The Great Outdoor Radio Club) - # 119
GQRP Club - # 9304
IEEE - Antennas and Propagation Society
LMRA ARC (Now extinct) - past member
NAQCC - # 57 (North American QRP CW Club)
NORTEX QRP Club
NRHARC (North Richland Hills Amateur Radio Club) - intermittent member
QRP ARCI (QRP Amateur Radio Club International) - # 9101
QRP-L - # 1624
SKCC (Straight Key Century Club) - # 110
Tarrant County RACES - # NW-089
I adhere to the following:
"FCC Rules Part 97.3(a)(4):

Amateur service:

A radio communication service for the purpose of self-training, intercommunication and technical investigations carried out by amateurs, that is, duly authorized persons interested in radio technique solely with a personal aim and without pecuniary interest.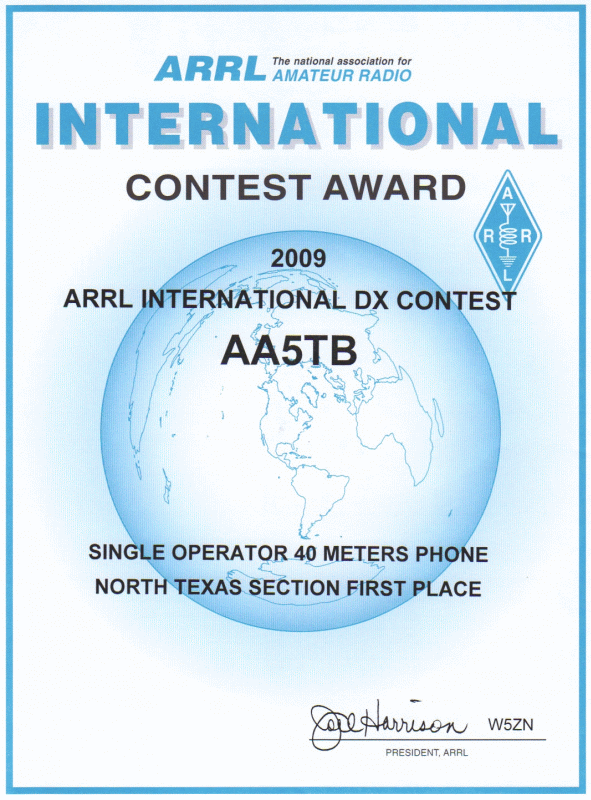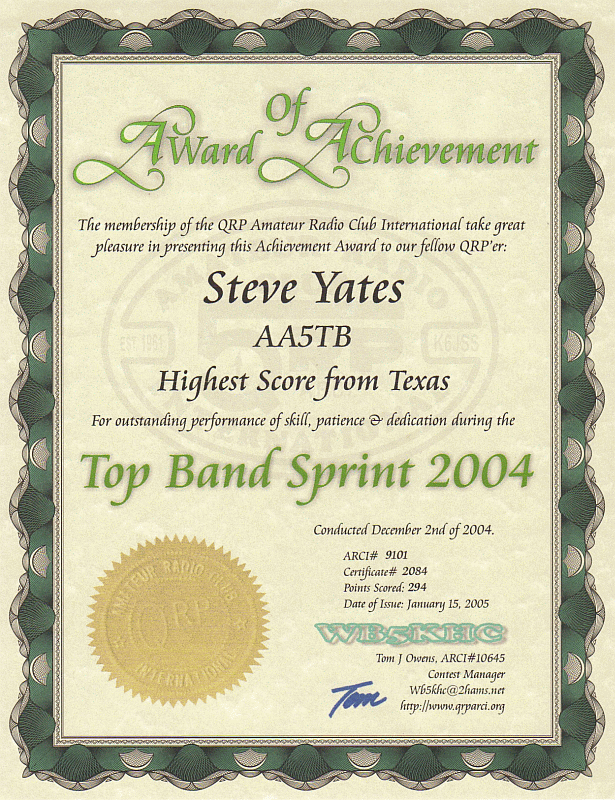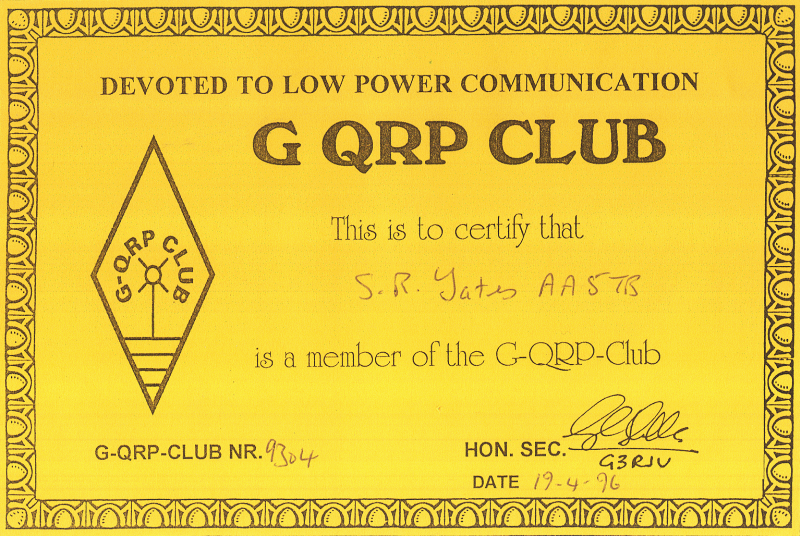 The End