I upload to LOTW and ClubLog regularly. I also try and stay up to date with my log here at QRZ.com.
I was originally licensed as KA8KHM back in the late 70's. My Elmer was my High School Vocation Electronics Instructor, Howard Hale. He not only taught us young men Communication Electronics, he also tried to instill within us a sense of responsibility and direction. Three of us accepted his challenge to go for our Novice tickets. Once we had them in hand, we had the freedom to use the TenTec Century 21 transceiver that he brought in and set-up in the class at the end of lecture, while the rest of the students just had to study course related material. I bought and built a HeathKit HW-8 QRP transceiver and have fond memories of getting up in the middle of the night to work 40m DX using the pair of perpendicularly oriented 40m dipoles I had strung up in the trees of our family's 3.5 acres of country ranch. Unfortunately, life got in the way of my interests in radio and my Novice ticket lapsed.
Fast forward to 2015. Nearly 30 years later, I decided to get my Technician Class license. This decision was mainly driven by my interest in flying First Person View (FPV) radio controlled models. Thanks to a couple of other fellows that I work with, I jumped back into radio after getting my Tech license by picking up one of the Baofeng handy talkies. I couldn't believe I could get a full function two meter handheld for 35 bucks! I never was much into voice however and found myself wondering about QRP and CW. I sniffed around for a used HW-8 but after stumbling on to Elecraft's line of radios decided to go that route. I ended up buying a used and nicely optioned KX3 off of this site. I have since added the K1 and KX1 to my radio inventory. There is a lot to catch up on now that I have returned! SOTA, NPOTA, LOTW, ClubLog, DX spotting networks and etc. Having the Internet, something that was still decades away my first time around, makes the hobby quite different. A callsign lookup is only a few clicks away and an email to almost any OP that you contact is a viable option.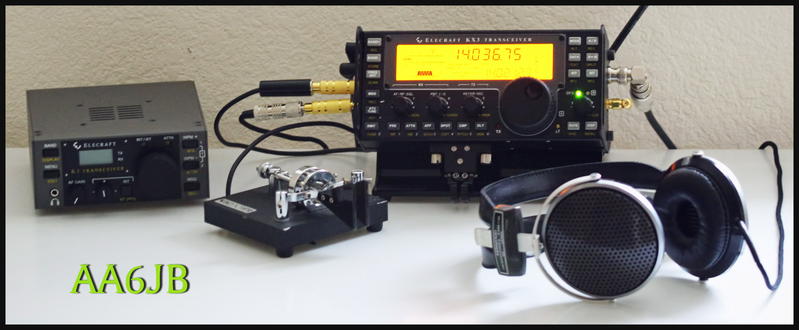 I started out with an end fed 41' wire at about 15 feet but have since "upgraded" to a True Talk 102' G5RV at about 25 feet. I used a Spiderbeam 17m pole, splitting it so that the botttom six sections support the center of the antenna, the next three sections above that suporting one end off the top of the sound wall next to my development located home and the other end strung up into the trees. About 3-4 feet of each end "wraps" downward due to space constraints.  I am really stretching the bounds of my postage stamp sized property with this antenna and hope my neighbors are understanding. Since erecting the G5RV however, the DX has been fantastic! I have been blown away by my DX contacts the last few weeks. All on 5-15 watts out of my KX3?! Spain on 40 m ... Christmas Island ... Marquesas Islands ... Japan on 40m ... several contacts to Russia ... West Malaysia ... New Zealand on 20m, etc. LOVING the hobby all over again!
And another photo of my Elecraft KX3. I just downloaded and installed DX Suite. What an amazing series of applications!